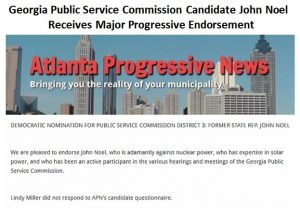 (Editor's note: a previous version of this post was published May 9)
Georgia Public Service Commission candidate John Noel is a longtime Democrat. He was elected to the General Assembly as a Democrat in 2002. He's been involved in Democratic politics and voted in Democratic primaries and runoffs, not to mention general, special, and Atlanta city elections. If there was an election, he'd show up and vote. He's attended every Democratic convention since 1992, when he was an intern for the Clinton/Gore campaign. Those are some serious bona fides.
On the other hand, one of his opponents, Lindy Miller, not so much—at least not until  recently. Going back two decades through voting data shows that before 2012, while Miller was registered to vote in Georgia, she didn't vote in state Democratic primaries. She also didn't cast a ballot in general elections to choose Georgia's statewide officials, although she did vote every fourth November in presidential elections in 2000, 2004, and 2008.
The third candidate in the PSC race, Johnny White, has a record of voting regularly, at least in general elections, though not so much in primaries recently, and he skipped the 2008 presidential election—a big one to miss. He also skipped the recent PSC Candidate debate, so it's impossible to regard him as a serious candidate.
Back to Miller: Records show that for more than a decade, she cast no primary votes, no runoff votes, no special election votes, and no municipal votes. She didn't even bother to vote in governor's races. So, it looks like she didn't care who ran Georgia's government until approximately (or maybe exactly) when she decided she wanted to be one of those people.
In 2012, Miller entered the Win Leadership Academy, a yearlong training program for women who want to run for office. Guess what? That's the year Miller started being a Democratic voter by exercising her franchise in the primaries.
She's been voting as a Democrat regularly ever since, so now she cares. Good for her! But why didn't she think it was important to vote as a Democrat—or cast a ballot in Georgia's statewide races—before she decided to enter politics? Some people have suggested that she may not have been eligible to vote in state elections when she lived in Canada, but DeKalb County Board of Elections Director Erica Hamilton informs me that this is not the case: There are no such restrictions as long as the Georgia voter's registration is current. And for Lindy Miller, they were.
It's also significant that Lindy Miller hasn't publicly addressed the issue of her voting registration, but I'm leaving a space for her to response right here.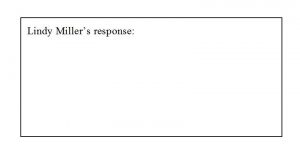 It's been … a while. Don't think she want's to talk about it.
Some people may not care about this, but many will, and for Democrats who want to support candidates who have a strong Democratic record, the choice in this race is clear for this and many other reasons: John Noel.
Disclosure: I'm a Will Rogers Democrat and support John Noel in the Post 3 Public Service Commission race.

Liked this post? Follow this blog to get more.