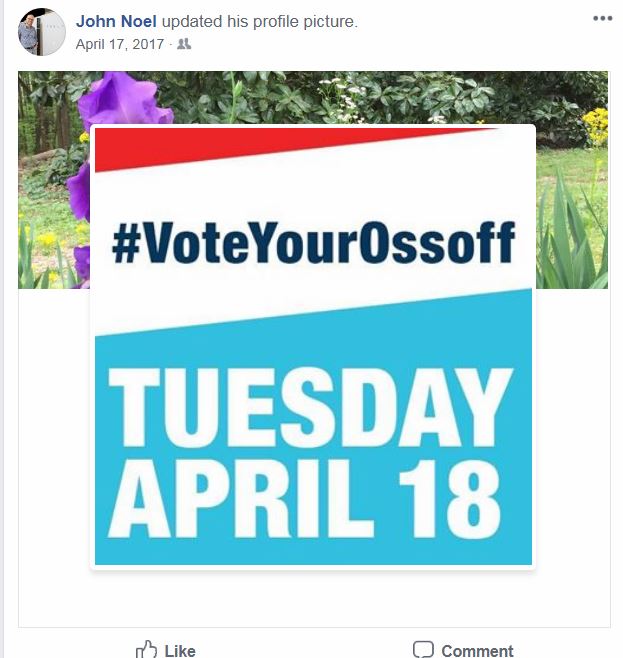 Jonathan Grant
@Brambleman on Twitter
After watching the video, I don't know what Georgia Public Service Commission candidate Lindy Miller did to earn Jon Ossoff's endorsement—or even how much it's worth these days—but it deserves some discussion. First of all, Miller calls Jon Ossoff "one of my favorite leaders in Georgia." I like Jon, too (I spent hundreds of hours trying to flip the Sixth District last year), but I wouldn't call him a leader just yet. But hey, we tried!
In his endorsement of Miller, who's running against John Noel and Johnny White in Georgia's May 22 Democratic PSC Primary, Ossoff talks about sustainability like it's maybe a bad thing, but Lindy Miller will save it! This is tacit acknowledgment that Noel is the sustainability candidate. He's also the environmentalist candidate, and Miller took a weird shot at that during a televised debate. (I think he won it, but you can watch and judge for yourself.)
Noel also happens to be the only candidate in the race running a statewide campaign, which is key to winning in November. Miller remains stuck in an Atlanta bubble, but she's been copying John by claiming she's campaigning all over the state. (Reality check: not so much.) And after she saw that Noel is a fighter, she started claiming she's one, too. Hmmm. On April 9, Miller told Hall County Democrats that Georgia Power's misbegotten $27 billion-and-counting Plant Vogtle "will not be shut down," which sounds more like rolling over than fighting. But it's music to utility officials' ears. Other oddities of the Miller campaign: No signs of … yard signs, and no acknowledgment of volunteers, but maybe endorsing her counts!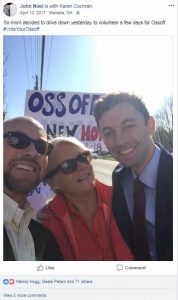 In the video, Miller makes no mention of volunteering for Jon, so I'm guessing she didn't. Yes, I know she doesn't live in Georgia's Sixth Congressional District. But that didn't stop hundreds–probably thousands–of volunteers from coming in from outside the Sixth to work for Ossoff. One of those folks was Noel, who also donated $1,000 to Ossoff's campaign. Another: Noel's Mom, Karen Cochran, who came down from Nashville, Tennessee to work in Ossoff's campaign. Family values!
In the end, what is, is. Volunteering in a political campaign can be a thankless task, and that's certainly true in this case, but Noel's not complaining. After all, he's got a boatload of endorsements from leaders who actually lead, like Sen. Max Cleland, Atlanta City Council President Felicia Moore, and my personal favorite, State Rep. Scott Holcomb.
One final note: Noel isn't the only candidate who worked to support Ossoff's campaign and got stiffed in response. I know that's politics, Jon, but in the long term, it's not sustainable.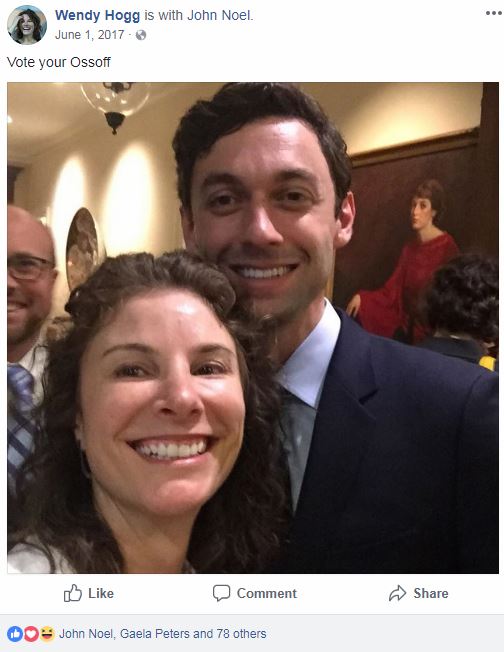 Liked this post? Follow this blog to get more.