By Jonathan Grant
@Brambleman
In about 70 hours, Georgia's polls will close in the all-important runoff elections. You know who you are. You know who you want to win. If you want to help cajole others to vote, I've included some flyers you can share, including a pdf you can download and/or share with yrou friends via email. It's important to let people know about Democratic Georgia Public Service Commission Candidate Daniel Blackman. Most people don't know much, if anything, about the PSC, which regulates Georgia Power Company and other utilities in the state, and there's a danger that people will simply pass over the contest, even though it's Democrats' chance to break the Republican stranglehold on statewide offices. Vote for Daniel Blackman and tell other people to, as well.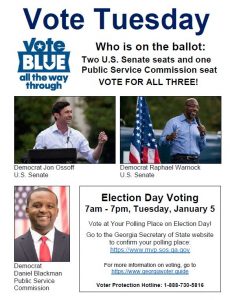 If you haven't done so already, make plans to vote Tuesday at your local polling place, of if you have an absentee ballot, drop the completed ballot in one of your county's drop boxes. If you have a ballot and decide you want to vote in-person, take the ballot to the polls with you to have it canceled. That will save everyone time and headaches. For more information on voting, go to the Georgia Secretary of State's My Voter Page. If you have problems, call the Voter Protection Hotline: 888-730-5816, You may talk to my wife, Judy!
Here's a pdf that's an identical image of the photo above. Further down you'll see a more generally-themed flyer. Feel free to print them up and hand them out or share them on social media! Download Blackman pdf. 
Blackman_Vote like your lights depend on it

All three candidates: Ossoff, Warnock, Blackman
Download and print the pdf or you can email or post the photo above on social media to remind your peeps to vote!
Generic.ElectionDayFlyer (1)


Liked this post? Follow this blog to get more.