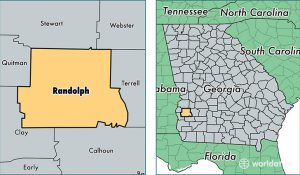 Jonathan Grant
@Brambleman
For the past couple of weeks, the Randolph County Election Board's plan to close 7 of 9 polling places in the majority black county has been big news not just in Georgia but all over the U.S. and even internationally. The controversy built to a crescendo yesterday with the firing of the elections consultant who came up with this incredibly stupid idea. The Board's 2-0 vote this morning was anticlimactic, especially since the county attorney had already said, "I would be the most surprised person in Georgia if this passed."
Dead, for this election cycle. Enter stage far-right: Georgia Secretary of State and gubernatorial candidate Brian Kemp, to claim credit for being a champion of democracy.
I was the first to publicly oppose the plan to close GOP precincts in Randolph County, which is under Democratic rule. Today, the Board of Elections – who are empowered to make these decisions – finally did the right thing and rejected the proposal. https://t.co/BwM2uijN12 #gapol

— Brian Kemp (@BrianKempGA) August 24, 2018
This is a lie, of course. Why does he bother? Receipts that show otherwise are readily available. Kemp issued a statement through his office about a week after notices about the proposed change appeared in the local paper Aug. 9. The ACLU was on the case the next day. Impressive response time, if I do say so myself. (Disclosure: I'm a member)
Randolph County residents: Come out to your Board of Elections meeting this Thursday, 8/16, to have your voice heard on a proposal to close or consolidate six of the county's nine polling places! Follow the link to RSVP to join us there. https://t.co/C9lnUPR7bC pic.twitter.com/LDH0J9gVJG

— ACLU of Georgia (@ACLUofGA) August 10, 2018
On Aug. 14, ACLU of Georgia Legal Director Sean Young lodged a complaint, and he appeared at a meeting in Cuthbert to protest the plan.
As the issue blew up, the AJC reported: "Republican Brian Kemp, who as secretary of state oversees elections, said through a spokeswoman his office advised the county to ditch the proposal." So, in reality, he couldn't be bothered. Also, it should be pointed out that the Secretary of State's office recommended Mike Malone, the consultant to Randolph County who came up with the plan, after Malone was referred to the Attorney General's office by the State Elections Board over some hijinks in a 2015 election he supervised. Please retire, Mike. (Note: Malone was fired the day before Randolph County abandoned its proposal.)
Around the same time, Democratic gubernatorial candidate Stacey Abrams put out a press statement: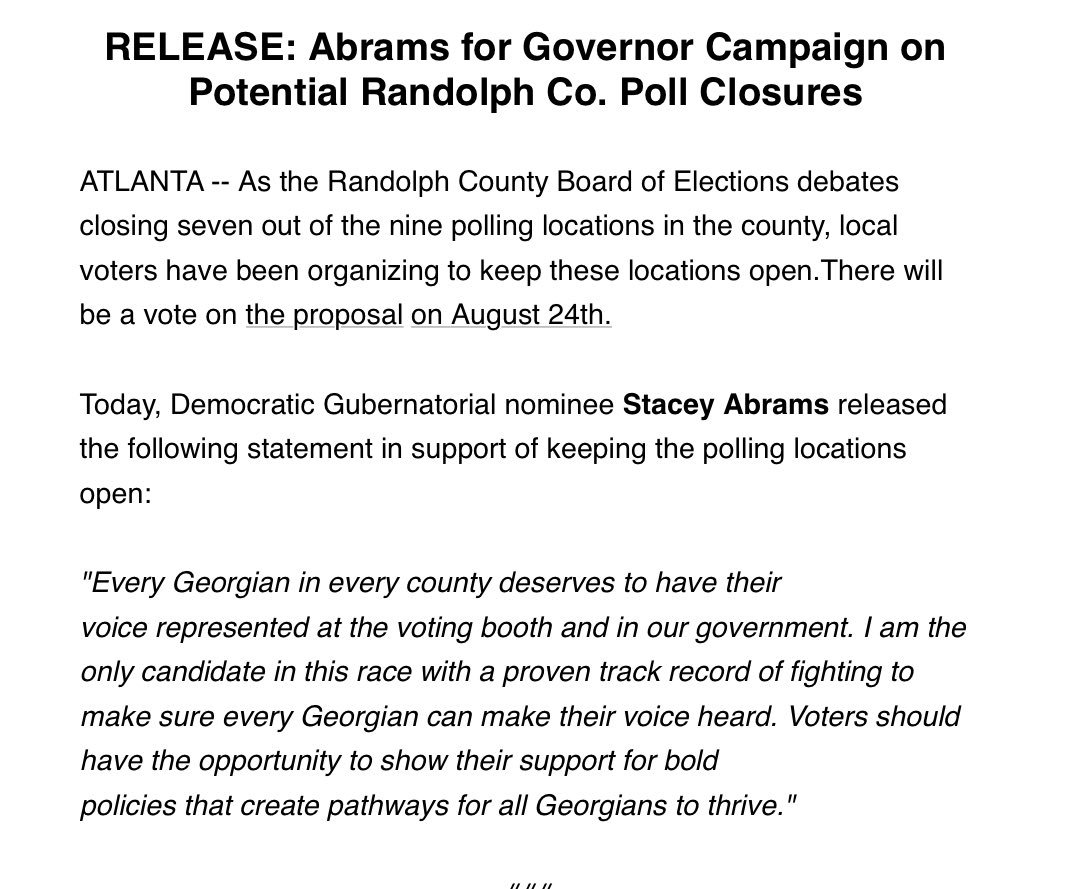 We could have guessed that about her, of course. Anyway, Democrats don't complain about Republicans voting. They complain about Democrats not voting. Also, Abrams founded the New Georgia Project to register voters. Bona Fides. NGP and grassroots volunteers were down in Randolph county to collect petition signatures and fight the proposal.
Abrams and Kemp have fought each other for years on the issue of voting rights. And let's face it: Kemp's record in Secretary of State has been less than sterling (see NY Times opinion piece) – so much so that he's been called an "Enemy of Democracy." (Spoiler alert: lots of receipts.)
Bottom line: The idea that he was first to protest is laughable. Maybe he just doesn't want to admit publicly that the ACLU exists, other than to hate on it because the group uses "laws" and "courts" to make him behave properly.
There is a funny twist to the story. When a data geek started examining Randolph County voting patterns, he discovered the polling places slated for closure were in Republican-leaning portions of the county. (See Tweet thread below.) This got the Georgia GOP, which came late to the game, a little riled up, but it really doesn't change anything. Regardless of who it would have affected more—and who do you think that is, anyway, Democrats are especially primed to fight it now, because Democrats tend to believe that if you take away anyone's rights, you're on your way to take away everyone's rights.
ICYMI–Last night I found reasons to be skeptical of narrative around Randolph County, Georgia's plan to close polling locations. 1st, the two largest precincts–the ones they want to keep–are Democratic and have most of the D voters. Most of the ones set to close are more R. pic.twitter.com/sohW7n5Vgy

— Xenocrypt (@xenocryptsite) August 23, 2018

Liked this post? Follow this blog to get more.