(Original post published  Jan 24, 2014)
Wanted: I'm looking for firsthand accounts from people who marched with Hosea Williams in Forsyth County in 1987. You can email me at info@thornbriarpress.com. I'd love to hear your story. And if you've written an account, I'd be happy to reprint it here.
Updated Jan. 19, 2018: Molly Woo wrote to me: "Worked as a reporter for the Forsyth County News at the time of the marches – remembered the scenes a few years ago, in this post
---
Last year, I posted an account of Hosea Williams'  two Forsyth County marches.  This year, I wanted to focus on first-person accounts of participants. Below are the memories of three marchers. I interviewed Joe Beasley of Atlanta and Jo Marsh of Knoxville, Tennessee. Sherri Carbone-Cruz of Oakland wrote her account in response to my request. I've also published a guest post by Ronnie Johnson.
***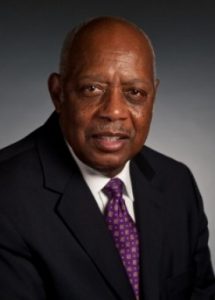 Civil rights leader Joe Beasley, founder of African Ascension and the Joe Beasley Foundation  marched with Hosea Williams during the second Brotherhood and Anti-Intimidation March in Forsyth County on January 24, 1987.  Back then, he was just another face in the crowd of 25,000 marchers.Beasley, born in Fayette County, Georgia into a sharecropping family, enlisted in the Air Force in 1956. He had been an advocate for civil rights in the military, and when Dr. Martin Luther King Jr. was assassinated, he decided to devote himself full-time to the cause of civil rights.  After his retirement from the Air Force in 1978, Beasley went to work with Rev. Jesse Jackson's PUSH organization in Kansas City.
"When (Hosea Williams and his small band of marchers) made their first visit up there, they were attacked by the Klan. I wasn't there at that time.  But the second time, I think there was a lot of enthusiasm because people from all over the country gathered, people that don't hardly even get involved in marches, and they were very energized by what had happened up in Forsyth County. Because black people were run out of the county (in 1912) and their land was taken, it just incensed people to the extent that they just weren't going to take that."
He discussed some similar events that occurred in Alabama about a decade before the Forsyth County marches, in Decatur, Ala., when a small civil rights protest resulted in Klan violence that nearly killed the Rev. Joseph Lowery and his wife. "Outrage over that led to people from all over the country converging in a demonstration there. That's the first march I was involved in after leaving the military," Beasley said.
Nearly a decade later, a similar dynamic led people of good will (and bad) to converge on Forsyth County.
Beasley said he rode a bus from the King Center, traveling with a group led by  Cameron Alexander, pastor at Antioch Baptist Church.  "There was a lot of enthusiasm. People were saying, 'We're not going to be intimidated. We're going to push back.'  The Klan didn't know what to think. We had so much police protection."
Beasley said he marched in the middle of the mile-long crowd and called it "a day of high energy.  What we wanted to prove was that we were citizens of the United States and we wanted to go and live anywhere in this state and not be intimidated by haters. We were able to accomplish that and we felt vindicated.  It was a great day.  The police did a great job and the Klan looked like a bunch of idiots, which they are.  People showed they weren't going to tolerate that kind of foolishness, so I think it was a great day. I was glad to be a part of Georgia history."
Beasley said, "The march helped to cement Hosea Williams's legacy of being a great man.  I went on to become quite close to Hosea. I was the last guest on his television program before he passed on."  Hosea Williams died in
Beasley went on to say, "We're at a very precarious point in history now.  On the one hand, we've got an African-American in the White House.  On the other hand, I don't know that we have the kind of society Dr. King was envisioning, or that Hosea envisioned.  He wanted people to live wherever they could afford to live."
***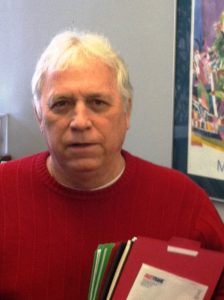 Not only was Jo Marsh a veteran of the Forsyth County marches, but he also participated in the street demonstrations during the 1968 Democratic Convention in Chicago. How's that for a progressive pedigree?During a recent conversation, Jo said:
"I was in Knoxville, and I read that the group was attacked.  I thought: This isn't right. I'm going to get involved in the second march. I called the SCLC and actually talked to Hosea. Somehow–I don't know how—he was in the office."  (Marsh said he'd met Williams back in the late 1960s during a civil rights event, but that Williams didn't remember him.)
"I told him I was going to Cumming. He said to me, 'Do not go to c by yourself. Come to Atlanta and meet us and go with us.' My friend Mike heard about it, and he wanted to go, too. Anyway, we took off from Knoxville around 3:30 that morning (Jan. 24, 1987), and we drove down to meet the SCLC people at the King Center. When I got there, there were a lot more people than I anticipated.
" I talked to somebody from the SCLC and asked, 'Where do I put my truck. And he said, 'Park it right here.' So there was my red Toyota pickup with Tennessee tags and dice hanging from the mirror parked on the sidewalk a few feet away from the reflecting pool (and Dr. King's tomb).
He remembers seeing a line of charter buses at least two blocks long and wild numbers about participation being thrown around—up to 100,000, "but I think the number was closer to 25,000. 100,000."
"We got everybody on the buses and took off.  As we headed up the highway toward Forsyth, police moved everyone off so it was just our caravan of buses heading up there. On every overpass we went under, there were officers with rifles guarding us.
"Some of the older guys– I was about 40 at the time—our role was to remind people of Dr. King's nonviolent protests, because when these (younger) guys saw the Klan outside yelling, they had a tendency to jump out of their seats, stick their heads out the windows, and yell back. And that's not what we wanted to happen.
"We got up there and it was a full day. We marched into Cumming and went to the courthouse.  The Klan was primarily on one side of the road. And what they were hollering were racial epithets and things like that. Everybody was shocked at what they were yelling in front of their children. You know, just hollering and screaming. (The marchers) were well behaved."
Marsh recalled Dick Gregory speaking as several helicopters hovered overhead.
"Things were tamer as we marched out of Cumming. We hadn't had anything to eat all day, and I remember stopping at a convenience store up there. The three white guys working there were shocked at the sight of four busloads of black people getting off and coming into he store, but we had a good laugh."
Needless to say, it was a long day. By the time we got back to Atlanta, it was dark. I really felt good about the day."
***
Sherri Carbone-Cruz writes:
"I am originally from Atlanta, now living in Oakland, CA. At the time of the March, I was 26 years old and lived in Meriwether County (Georgia). I rode up on a bus with a group of church members, including Rev. Wright, from Tennessee, and was the only white on the bus. I will never forget the banners of support and people cheering from the overpasses of the interstate. We had one scare going up, as apparently someone threw something at one of the buses ahead of us and the State Patrol initially thought it was a gunshot. The atmosphere on the bus was very tense after that, and one of the instructions Rev. Wright gave was for the men to keep the women in the middle of the line, and "you protect our ladies."
Arriving there was almost a surreal experience. I will never forget some of the signs that some of the residents were holding up: "Niger (sic) go home!" Some of the more hateful ones were being held by small children. But the one I will always remember most is the local with duct tape over his mouth, holding a sign that said "Forsyth Resident Not Allowed to Speak Out Against Racism.". The march itself was quiet on our end, but you couldn't miss the sound of the KKK chanting and ranting at the courthouse. There were a couple of people injured from being hit with objects thrown at us. And I will definitely never forget who brought up the rear ,.. the Guardian Angels."
---
---

Liked this post? Follow this blog to get more.