Photo hat tip @jennycohn1
---
Update: Suprise–they didn't listen to us.
Action item–Deadline Monday: Submit written comments on Rule 183-1-15-.03 Optical Scan Recount Procedure by end of day Monday, February 17 to Jasmine Shannon, Secretary of State Elections Division 2 Martin Luther King Jr. Drive, SE 8th Floor West Tower Atlanta GA 30334 or email to jshannon@sos.ga.gov.
The issue is scheduled for decision on Feb. 28 at the same address, Room 1816. Meeting starts at 9:00 a.m.
---
By Jonathan Grant
@Brambleman
You may have noticed elections officials in Georgia have problems running elections properly: Long lines, outdated equipment, voter purges, sham investigations of political opponents. (Not that one. This one, which is …  checks notes … still open.) I could go on. Let's just say Georgia has developed a bad reputation, much of it richly deserved.
The State Elections Board's proposed rule on election recounts isn't going to help.
Background
Georgia is instituting a new voting system, and has already ditched its ancient touchscreen system with a new touchscreen system of ballot-marking devices. It has not been a completely smooth transition. Nevertheless, barring system failure, what we'll see when we go to the polls to vote are humongous iPad-looking devices to vote on, not completely unlike the old touchscreens. (Their size has raised privacy concerns.) Under the new system, a ballot with our choices will be printed, along with a scannable bar code which contains the same information, but we take that on faith because we can't read bar code.
This new system was purchased following passage of House Bill 316 in 2019, largely on a party-line vote. Democrats favored hand-makred paper ballots, in line with the advice of election-security experts and advocates, who made a compelling argument–cost, security,  reliability—to no avail. Republican legislators—and the overwhelming majority of local elections officials, like 95 percent of them—wanted to stick with the touchy-screeny thing. There's much more to all this, of course, and if you want to know more, go on Twitter and type #HandMarkedPaperBallots. It is a very busy hashtag.
By the way, many states use a hand-marked paper ballots. Not Georgia. We're special!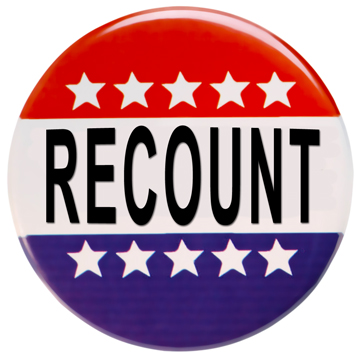 ---
Let's check our work!
The main reason to get rid of the old system, other than the infirmities of age and obsolescence, was the impossibility to conduct an audit, because non paper trail.The gizmos would simply tell you what they already told you. That doesn't seem like an effective way to do an audit … or a recount, does it?
In fact HB 316 specifies, "Audits performed under this Code section shall be conducted by
manual inspection of random samples of the paper official ballots." The State Elections Board will have to come up with rules for audits by the end of November.
But as for recounts, the state is heading in exactly the opposition direction with this proposed rule, which states:  "The recount shall be conducted by tabulating all ballots utilizing ballot scanners." Which means recounts will rely on bar codes. The  proposed rule would require optical scanners used in the recount to be tested against a hand recount for accuracy.
Here's some interesting language from HB 316, now embodied in the Georgia Code: "'Incorrect outcome' is when the winner of a contest or the answer to a proposed  Constitutional amendment or question would be different from the results found in a manual recount of paper official ballots."
Other than that, as far as I can tell, HB 316 is silent on the issue of manual recounts v. scanned recounts, although the law does authorize the SEB to set up rules for recounts.
So there's that. In a recount, the machines will tell you what they told you, just as they would have in the old system, if you'd asked them. And if there was something wrong with what they told you in the first place, they're not likely to tell you that, nor or they likely to tell you any different the second time around. And under the new rule, if it's approved, elections officials won't look to see if anything went wrong.
For reasons of accuracy, trustworthiness, and security, a manual or hand recount election recount would be the best way to go. After all, elections officials are making a big deal out of making sure voters check their printed ballots to make sure their votes were cast properly. Why shouldn't elections officials do the same thing when the results are challenged.  So, the standard for accuracy rests with manual recounts. And it seems like the standards for audits should apply to recounts, doesn't it?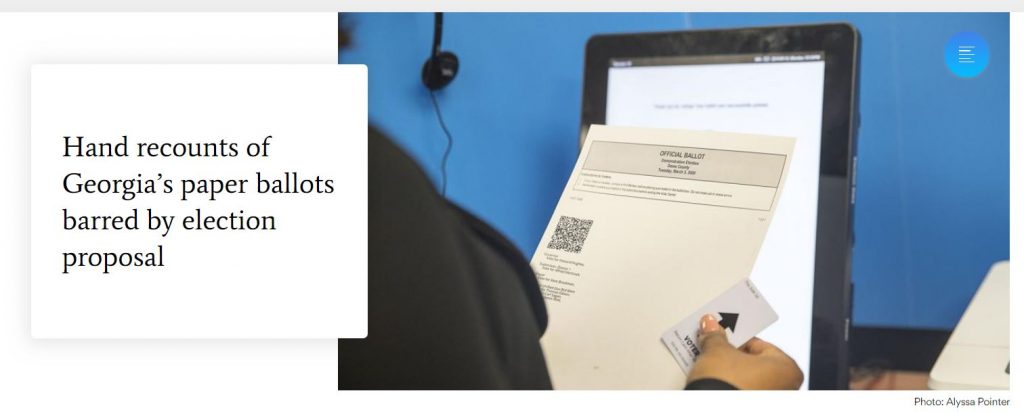 ---
Media coverage has been unflattering
This proposal for recounts does not match what Secretary of State Brad Raffensperger repeatedly said they would be.Sadly, there hasn't been much coverage on this issue, but what there is has been damning. The proposed rule has left the editors of the Savannah Morning News baffled:
Voting integrity is worth $120 million to Georgia taxpayers but seemingly much less to state election officials.

Georgians just made a huge investment in our elections with the purchase and implementation of a new election system. The most valuable improvement, without question, is the ability to verify results by hand recount using printed ballot backups.

The State Election Board is threatening to turn the entire overhaul into a nine-figure waste of money.

Chaired by Georgia Secretary of State Brad Raffensperger, himself a supposed champion of the "physical recount," the State Election Board is considering a rule that would leave the counting to the computer. In the event of a recount, the backup ballots would be run through the counting machine a second time rather than be physically reviewed and counted by local election officials.

The move is preposterous on several levels.
Mark Niesse of the AJC wrote a must-read article headlined "Hand recounts of Georgia's paper ballots barred by election proposal" In it, he writes:
Niesse pins down Raffesnperger on his prior statemetns: "Because we have a human-readable ballot and that it drops into a box, we'll be able to do a physical recount," Raffensperger said in an interview with The Atlanta Journal-Constitution on July 30, the day after the state awarded a contract for the new voting system. "We can go back and do a count-by-count of every single ballot to say, 'This is what it was.' "

He repeated his assertion that there would be a physical recount to WALB-TV on Tuesday, and he made the same claim to Georgia Public Broadcasting in July.
Do better!
We can do better. I sent an email to the State Board of Elections today, closing by writing, "That this rule is even being proposed suggests a measure of contempt, perhaps unwitting, for election security concerns. Surely we can do better."
You can write them, too, if you want to demand hand recounts. Scroll up to the action item for the contact information. Since the deadline is Monday, I recommend email. The board is scheduled to vote on this rule Feb. 28.
State wants to recount by barcode. Wrong!
Written comments must be received on/before Feb 17, 2020 addressed to Jasmine Shannon by mail:
Secretary of State
Elections Division
2 Martin Luther King Jr. Drive, SE
8th Floor West Tower
Atlanta GA 30334
or email to jshannon@sos.ga.gov https://t.co/1RPF9Koc6l

— Jonathan Grant (@Brambleman) February 10, 2020
Below: Rule 183-1-15-.03 Optical Scan Recount Procedure
Proposed Rule 183-1-15-.03

.

Liked this post? Follow this blog to get more.