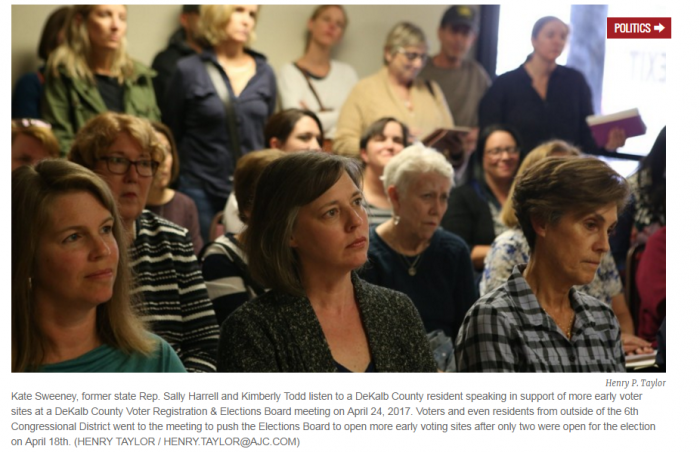 I intended to sit down and write a strictly biographical piece about Sally Harrell, but first I want to address some drama that's been playing out over the past few days in Georgia's 40th District State Senate race. It seems Sally's opponent got on Facebook and attacked her as the "establishment candidate," backed by "the elite."
Some kind of deal was made!
Well, no. Here's the link to what I'm talking about—a secondhand, anonymously-sourced claim that Sally made a deal to get out of this year's Sixth Congressional Race in exchange for support for her state Senate campaign. Which is ridiculous on its face, because anyone who's been a three-term state legislator and geared up to run for Congress would be capable of A) coming up with the idea of running for State Senate and B) waging a vigorous campaign whether she was supported by the establishment or not.
If you look behind the complaints and indignation, you'll see fear and resentment about honest competition—along with some trolling by the Republican incumbent and a Democratic candidate who should have known not to take the bait. Sally's opponent has run against Millar twice before and lost by double digits each time (63-37% in 2014 and 56-44% in 2016); despite those results, she believes she's entitled to run unopposed in the Democratic primary in 2018. That's not what democracy looks like.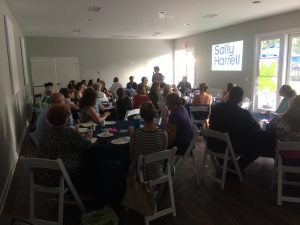 Meanwhile, Sally's building a formidable campaign. And it's not top-down, either. It's organic, fueled by small donations and grassroots volunteers. (Disclosure: I'm one of them.) Forty key volunteers recently attended a campaign strategy meeting. These are the organizers of the organizers, and there will be more.
The recent Congressional election has energized Metro Atlanta Progressives—and make no mistake, Sally is Progressive. Many of them have rechanneled their energy to help Sally flip GA40. Not because the "establishment" told them to, but because she asked them to. Or in many cases, they knocked on Sally's door and said they want to help.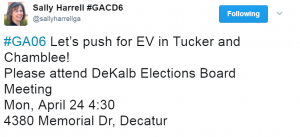 Sally—who announced her candidacy to replace Congressman Tom Price and later withdrew in favor of Jon Ossoff—generated huge political goodwill during the race. She worked to build the Democratic Party and increase its chances for success both in the Sixth and in future local and state races. She canvassed for the 6th District Task Force. Along with activists from United We Stand Dunwoody, Pave It Blue and other organizations, Sally organized the successful drive to increase DeKalb County's early voting sites for the June runoff. She rallied for Jon, and, of course, endorsed him.
There was no quid pro quo for this endorsement. No deal. In fact, when she withdrew, she was deeply disappointed and in no mood to negotiate. I know, because I was an early volunteer and I was disappointed, too. But we live and learn, dust off our backsides, and move on. I ended up working full-time as an independent grassroots volunteer to elect Jon Ossoff. My wife, Judy, was a precinct captain. We put in hundreds of hours of work, and like so many others, we learned a lot that we plan to use in future elections.
Anyway, about that "deal": I know it's hard to prove a negative—that something didn't happen, that an anonymous claim is untrue. But consider this: It's significant that there was a gap of seven weeks between Sally's withdrawal (February 15) and her endorsement of Jon in April, two weeks ahead of the primary. The timing and the fact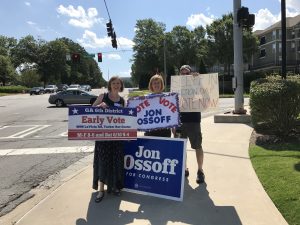 that her endorsement wasn't immediate and automatic, strongly points to the lack of a "deal." Sally made those disconnected, separate decisions in her own time, on her own terms. And there was no "deal" for a reciprocal endorsement from Ossoff. To put a point on it, there has been no such endorsement. I don't think Sally expects one, but I doubt that she'd turn it down.
In any event, she showed class throughout the campaign. Call me old-fashioned, but I think that's something to look for in a candidate. It's what other people have seen in Sally over the years, and endorsements from elected officials are rolling in. Here's one:
"I strongly endorse Sally Harrell for Georgia Senate District 40. As a DeKalb County Commissioner, I worked with Sally on local issues when she was in the Georgia House of Representatives. Sally is a true leader. She broke barriers for women in government by being the first woman in Georgia's legislature to serve while becoming a new mother. She leads by example and works to bring attention to issues that aren't commonly brought to the table — such as healthcare for women and children. She has always worked to make sure government is accessible to the people." — Hank Johnson, U.S. Representative, 4th District
Sally is also supported by State Sen. Elena Parent, and State Reps. Scott Holcomb and Michele Henson. So yes, she has establishment support. But not as part of any deal. You can read them here.
Here are the factors fueling the alarm and rumor-mongering by her opponents.
Demographics: The current 40th District was designed—all right, gerrymandered—to be a safe space for Sen. Fran Millar, who moved from the state House to the Senate following the 2010 election. He also famously said that the Sixth District hadn't been drawn for a Democrat to win. He's not a big fan of early voting either, by the way. (More on those issues later.) Unfortunately for Fran, the demographics of the district have changed since then. More apartments, more diversity, more young people. Both Hillary Clinton and Jon Ossoff prevailed in the 47 precincts that make up the 40th, which means that the district is definitely flippable by a strong Democratic candidate, and Fran knows it. That's why he's trying to sow division and discord among Democrats by trolling on social media, claiming Sally is the candidate that's been picked by "the elite." (Note to Fran: Stay in your lane, Senator.)
Competition: Some Democrats fear that primaries will sow division and make it easier for Republicans to win. It certainly doesn't have to be that way, not if the campaigns are issue-oriented and avoid personal attacks. Primary contests also generate attention both in the media and engagement among voters and activist groups. As Sally notes, "Primaries are good for the party because they generate discussion." While her opponent wants to run again, without competition, it's not going to happen. Don't be surprised if we see additional candidates. Let's be sporting: The more, the merrier!
A side note: At one point, Sally put out a Facebook Poll asking people what office she would run for. This was, she admits, an attempt to gauge public support, create some buzz, and get contact information from supporters. Her Democratic opponent tried to make this controversial, as if it showed indecision, lack of direction, and, God forbid, opportunism. Come on. It was a Facebook poll!
Now, back to the original question: What makes Sally run?
Sally is a social worker both by training and temperament. When I asked her what led her into the field, she shared a childhood experience that had a lasting impact.
She told me about Lisa, a girl she knew in fifth grade when she was a girl in Indianapolis. Lisa wore the same clothes day after day and had a very close relationship with her older brother, who was very protective of it. Lisa got "Fs" in everything.
"I'd never seen a kid who got "Fs" on everything, and this made me curious, so I invited her to my house, and I helped her study for a spelling test," Sally said. "Lo and behold, she got an "A," so I knew she could learn."
Lisa left school eventually. Some time later, Sally saw a TV news report about kids who'd been found living alone in a rat-infested house after their parents had been hospitalized. It was Lisa and her brother.
"It left me with a desire to help people, knowing they can be helped. I get emotional when I think of that. That's why I went into social work.
Growing up and reading about government in the newspaper, I thought government was all about taxes, and paying as few taxes as possible. But when I took this class, Social Welfare Policy and Social Welfare Institutions, I realized that, if used correctly, government could be a powerful tool in helping people live fulfilled lives. And that stuck with me."
After getting Bachelors and Masters Degrees from Georgia State University, Sally began a career in social work with the Georgia Council on Child Abuse, and later, Healthy Mothers, Healthy Babies. An interest in public policy and a belief that government could be a force for good led to her to run for the Georgia House of Representatives in 1998. In a swing district, she defeated Republican opponents by large margins.
Interestingly, she was also the first Georgia legislator to give birth while in office. Check out the news segment  about it here.
In 2004, redistricting and the requirements of raising a family pulled her away from elective politics, but she remained active in the community, leading a Girl Scout Troop, serving on the administative council at her church,and co-president of the Emory-Lavista Parent Council. Then came 2016, and the election of Donald Trump, which caused her, like so many other Democrats and Progressives to become more active and join the Resistance.
When Trump signaled that Tom Price would be the Secretary of Health and Human Services, Sally sought her family's support before announcing her Sixth District candidacy. Her kids, now teenagers, urged her to run. With the support of her husband Jay, who doubles as her campaign manager, Sally announced in late December. Not long after that, I became involved in her campaign, and I can tell you that her withdrawal was painful both for both Sally and her supporters.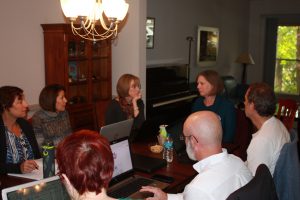 In the ensuing months, grassroots support for Sally grew as she worked with other volunteers and activists to flip the Sixth and rebuild Georgia's Democratic Party.
She said several people (I was one) had urged her to run for the 40th. "The 40th drew more and more of my interest, especially after I realized that Hillary had won those precincts. The demographics had changed, so it wasn't necessarily a Republican district anymore." She also learned that it only took one more Democratic victory to destroy the GOP's supermajority in the Senate, and with it, Republicans' unchecked ability to place regressive state constitutional amendments on the ballot without bipartisan support.
She'd also learned from her experience and in discussions with other lawmakers that the atmosphere in the state Senate "was more collegial than the House, with a more serious atmosphere, and pportunities for bipartisanship on issues of policy. And I'm more about policy than politics."
Nevertheless, politick she must, and so she persists, moving forward with her campaign with the backing of both "establishment types" and grassroots supporters who see her as the Democrats' best candidate to flip Georgia Senate District 40 from red to blue.
Jonathan  Grant
@Brambleman on Twitter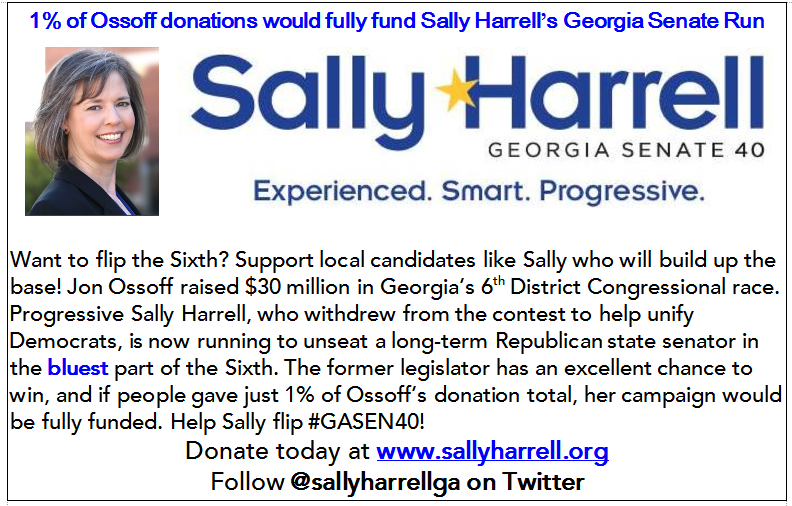 Liked this post? Follow this blog to get more.