Exciting news in Georgia: Georgia Democrats snatched three legislative seats y from Republicans.
"The results are a rejection of Trump – it's clear as day," said state Rep. Scott Holcomb, D-Atlanta. "Republicans who continue to embrace him can start the countdown on their political careers."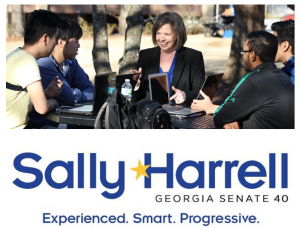 However, if we're going to kick out entrenched GOP incumbents–if we're actually going to Flip Georgia's Sixth Senate District–we need to support  strong local  candidates running campaigns within that district like Sally Harrell in Georgia's 40th Senate District and Jen Jordan  in the Georgia 6th Senate District runoff December 5.
It's true: Jon Ossoff received $30 million in donations in his Sixth District race. And just 1% of that amount would fully fund @sallyharrellga's state Senate campaign. Read more about what she's up to. Or donate.
Local Democratic candidates build local teams that benefit Dems up and down the ballot! So if you really want to flip #GA06, do the math, invest locally and build from the grassroots!

Liked this post? Follow this blog to get more.