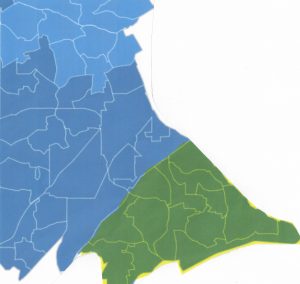 As you may already know, early voting turnout in Georgia's Sixth District runoff has been phenomenal. Already 143,328 people have voted in this super high-profile race district-wide. Turnout will most likely eclipse the typical midterm November election. In a special election. Amazing. I've never seen anything like this. And what a learning experience! We're going to come out of this battle-hardened.
With some absentee ballots still out, we already know that a third of the Lakeside-Tucker area's  registered voters have cast ballots in the runoff. Proximity to Tucker Rec Center is likely driver for higher EV turnout, with some notable exceptions. I have no clue why Henderson Mill's EV is so high; Hawthorne Elementary Precinct, the victim of a polling place shift to Warren Tech, has been alerted to the change by the County Board of Elections, and importantly, has been subject to aggressive GOTV activities by precinct captain Amanda Kelly and her colleagues. Pleasantdale, the target of rallies and leafleting since early voting began, has a very respectable showing. If you need more evidence that rallies work (They do! They do!), volunteer efforts to leaflet and canvass apartments on Pleasantdale and Dawson Blvd. have increased during this past week, yielding a seemingly remarkable result: One-fourth of the total EV from Pleasantdale came in the last three days, June 14-16.

Briarlake and Lakeside, which both have typically high turnouts, will no doubt have a stronger showing at the polls Tuesday than their vote-spent neighboring precincts.
Warren Tech continues to lag, and so does Embry Hills, to an extent. There is an early-morning rally Monday planned within the precinct, at the intersection of Chamble-Tucker Road and Mercer University Drive. An afternoon rally at Embry Village Shopping Center will provide the campaign some much-needed visibility in relatively lower-turnout areas. There are ample opportunities to boost turnout on election day as well. Amanda and Warren Tech precinct captain Margie Lee-Szymanski are looking for help to direct and increase the flow of voter traffic from Hawthorne to Warren Tech on election day, as well as boost turnout in Warren Tech.
Pleasantdale, will be the scene of a major GOTV effort, headlined by a Saturday afternoon appearance at Pleasantdale Park by Jon Ossoff and Rep. John Lewis.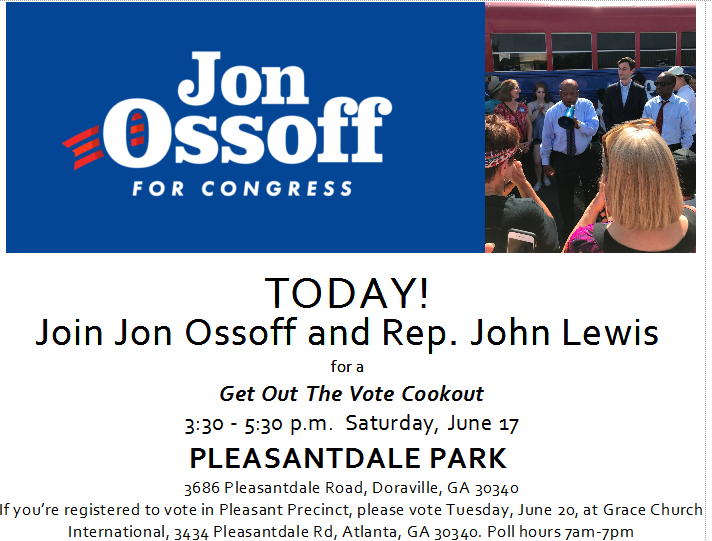 * * *
I emailed a blurb about the event to 11 apartment managers in the precinct, and flyers will go out into apartments before the rally. Election-day volunteer staffing and GOTV signage are planned for Pleasantdale. I'll be up at Grace Church International. I've been telling anyone who would listen that Pleasantdale Precinct is one of the keys to an Ossoff victory. I believe we could see a substantially increased turnout in Pleasantdale, which, due to a lack of attention, had a meager 24 percent turnout in the primary. If you want to sign up to work Pleasantdale Tuesday, here's your chance!
There is another concern, as well. While Tucker Library precinct turnout has been high in early voting, low turnout during the primary suggests a great deal of confusion among voters about its status as an election-day polling place. Therefore, we're trying to station someone there to help redirect misplaced voters to their proper poll site. Several shifts still available!
If you'd like to help out in any of these hot spots: Pleasantdale, Hawthorne, Warren Tech, or Tucker Library, send me an email at jandjgrant@bellsouth.net and I'll put you in touch with the proper precinct person.
Now let's go out and Flip The Sixth!

Liked this post? Follow this blog to get more.