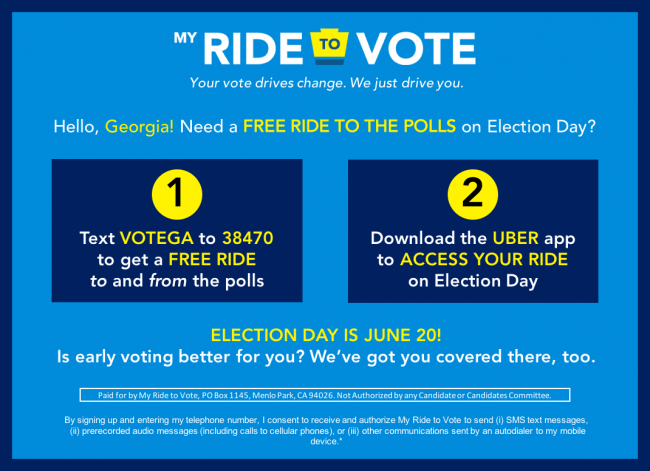 My Ride to Vote is a nonpartisan program that gives voters with transportation issues rides to and from polls using the Uber app. To learn more, visit the website.
Everyone should know about this, and getting the word out quickly during the Georgia Sixth District is  crucial, especially since Saturday voting is almost upon us. The best way to spread the word? Persuade apartment managers to do it for you by sending out the digital postcard in an email blast to residents.
This means contacting leasing agents/managers in your precinct and making a pitch: You'll send them an email message they can forward to residents in their complex. If they want to send the digital postcard themselves, that's fine, but you'll want to make it as easy on them as possible.
This inolves legwork and a follow-up, but the results can be amazing. Yesterday afternoon, managers for more than 1,000 units on Pleasantdale Road committed to getting out the message. If you'd like to tackle this crucial GOTV measure and need guidance and sample emails, contact me at jandjgrant@bellsouth.net

Liked this post? Follow this blog to get more.