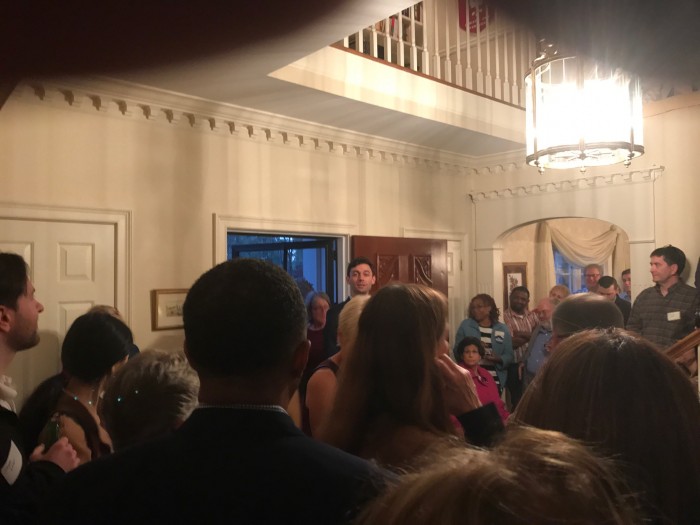 Judy and I met Jon Ossoff this evening at a Meet and Greet in the Northlake area of DeKalb County. The Washington Post sent a photographer as well, but we'll have to wait and see how well his photos of me turned out. Jon is the front runner in the special election to replace Tom Price.
He's an impressive candidate with a positive message that should resonate in Georgia's Sixth District. He is nothing like the person the GOP SuperPac hate ads depict.
We're both impressed. I've volunteered to put up yard signs for him—if they'd only quit running out of signs! BTW, if you live in DeKalb County or North Fulton, the Ossoff campaign is holding street rallies tomorrow (Saturday, April 8). Show up and help him out. Here's more info. 
Also, you can show up at the Chamblee Campaign Office—3652 Chamblee Dunwoody Rd, Chamblee, GA 30341—at 10 a.m. tomorrow (Saturday, April 8)—they'll put you to work canvassing and making calls on Jon's behalf. He said they've already knocked on 35,000 doors, but there's so much more work to be done and a short amount of time to do it. Right now, he's polling in the low 40s but hopes to clear the 50-percent-plus-1-bar on April 18.
Early voting is going on right now. Monday, DeKalb opens up another polling location at the Dunwoody Library (5339 Chamblee Dunwoody Rd, Dunwoody, GA 30338). Visit the campaign website for more details.

Liked this post? Follow this blog to get more.