By Jonathan Grant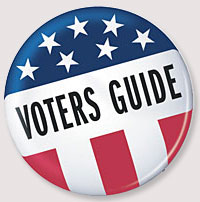 I am working on a team of Georgia grassroots volunteers who are creating a statewide Voter Guide. (The Guide is nonpartisan, although I'm not.) This ambitious project will link voters to candidates throughout the state in Congressional, Constitutional offices, and legislative races–maybe even down to local county and city campaigns, but we'll see about that. It will be online and include answers to questionnaires, so you can see where candidates stand on issues.
My self-appointed task in this is to collect contact information for legislative candidates: 236 in all. I will also publish information on this website, so feel free to subscribe. You can also get updates on 2018 races by following me on
Twitter
 and liking 
Brambleman's Facebook page
. Just saying.
Because I'm not completely crazy or stupid, I'm asking for help. So … if you–yes, you– know any GEORGIA LEGISLATIVE CANDIDATES or STATEWIDE CANDIDATES, please send me the information by email (jandjgrant@bellsouth.net) or via direct message on Twitter. And if you ARE such a candidate, what are you waiting for? The guide will include Republican candidates, as well.
Here's what we need for candidates: Website, Facebook account, Twitter handle, INSTAGRAM account, email address, and phone number. We already have contact data on Congressional candidates. (Hat tip to @PeachResist. Follow her on Twitter! Seriously, she's like Radio Free Georgia.
You can see what we've got so far.  But there is so much more to do. Any help you can give me on this is appreciated. Let's turn Georgia blue!

Liked this post? Follow this blog to get more.