Candidates: Nina Blackwelder (R), Jill Prouty (D), Marcy Westmoreland Sakrison (R), and Philip Singleton (R). Click names for websites.
---
Click for info on voting in Tuesday's election
Read the latest post: "Why does Marcy Westmoreland Sakrison fear the librarian?"
What's at stake: Georgia House Seat 71 (map). The suburban/exurban Atlanta district contains a large section of eastern Coweta County and a slice of Peachtree City in Fayette. The jungle primary is September 3; if no candidate receives a majority of the votes, a runoff will be held Oct. 1.  Audio of the hour-long forum is available at bottom of this post.
One of these candidates is not like the others 
All three Republican candidates seeking to replace resigning Rep. David Stover stressed their conservatism and support of President Donald Trump, and all failed to differentiate themselves from their GOP competitors. Instead, they tried to out-MAGA, each other, touting their Second Amendment and anti-abortion bona fides. And don't forget to build the wall!
Democrat Jill Prouty, director of Peachtree City's library and a small business owner, has had enough of that. At the candidate forum Wednesday evening, she told the audience of about forty at Newnan's Central Education Center that she was a "lifelong Republican who turned Democrat two years ago."
"When Trump won the primary, that was the end for me," Prouty said, noting that the GOP had turned away from truth. The only pro-choice candidate in the race, she cited reproductive freedom and the Second Amendment as other points of disagreement with the Republican Party. Prouty expressed her willingness to look at gun safety laws, but did not offer details at the forum.
Indeed, there was a cookie cutter quality to the three Republicans' positions on the issues, although they all vied to be the Trumpiest candidate. All three are vociferously anti-abortion, with both Nina Blackwelder and Philip Singleton citing their endorsements by anti-choice groups. Marcy Sakrison criticized Georgia Right to Life for its opposition to HB481, a problematic piece of legislation banning nearly abortions past the six-week stage–a time when women may not even realize they're pregnant. Worth noting, none of the GOP candidates believe HB481 goes far enough in preventing abortions.
Prouty called the HD481 a bad bill and believes such anti-abortion measures are an invasion of privacy, saying, "I don't want to take that right away from the women." She has received the endorsement of the pro-choice Georgia's Win List.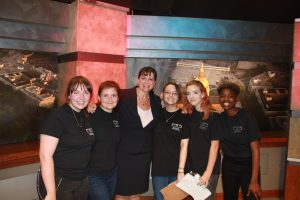 All three GOP candidates support  abolishing the income tax and instituting the Fair Tax, a regressive sales tax as high as 23 percent that could adversely impact the poor. This on top of GOP tax cuts that favored the wealthy and increased the federal deficit. Sixty-three percent of Americans believe the wealthy aren't paying their fair share of taxes.
Meanwhile, Prouty's campaign focuses on mental health issues, healthcare, and expanding Medicaid in Georgia. While a majority of Georgians favor such an expansion, all three GOP candidates are against a broad increase in healthcare coverage for poor citizens, instead favoring Gov. Brian Kemp's more limited plan to obtain a Medicaid waiver, which has recently hit a snag.
Side notes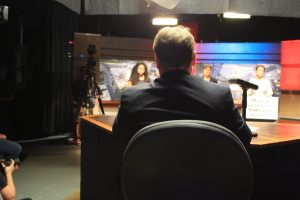 Sakrison—whose father is former Congressman Lynn Westmoreland, and whose resume includes stints in the George W. Bush White House and on the staff—would have to be considered the establishment candidate, claiming endorsements from three local legislators. Interestingly, while she pointed out she was a school teacher, she avoided mentioning she worked at a private school. Singleton, an Army veteran, pitched himself as a political outsider, although he holds a post in the Newnan Republican Party. There seemed to be a little friction between the two of them. Sakrison bristled at the notion that coming from a political family was a negative, and pointed out she'd never run for office. In closing remarks, Singleton called it a "contentious campaign" and cried foul over some "underhanded, old political tricks going on," but didn't name any suspects.
So, the race could get more interesting, since there really isn't much difference between the candidates, just special offers. Singleton favors term limits; nonprofit director Blackwelder said she would donate her legislative salary to charity.
The TV production of the forum was produced by students in the audio-video department at Newman's Central Education Center. I'll post a link when it's available. Meanwhile …
Listen to the forum
Here's the audio of the candidate forum.

Liked this post? Follow this blog to get more.