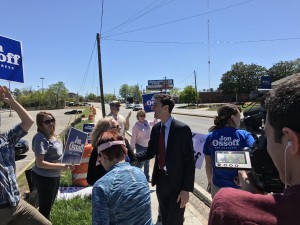 On April 18, Jon Ossoff fell less than 4,000 votes short of an outright victory in Georgia's Sixth Congressional House primary. There's ample reason to believe those missing votes were DeKalb's to give, and there's a movement afoot—operating separately from the Ossoff campaign—to boost turnout in #GA06's bluest county in the June 20 runoff and deliver DeKalb to Jon Ossoff bigly.
It's a two-step process:
Step One: Improve Early Voting
EV was deficient during the primary. During the first week of EV in DeKalb, in-person ballots could be cast only at the county Elections Board offices on Memorial Drive, several miles outside the Sixth District. Only during the second week of EV was an additional site opened, at Dunwoody Library, in the far north end of DeKalb. There was no Saturday voting at all inside district boundaries, and making everything worse: Atlanta traffic. The map below, produced by Nate Cohn of the New York Times, clearly shows the problem.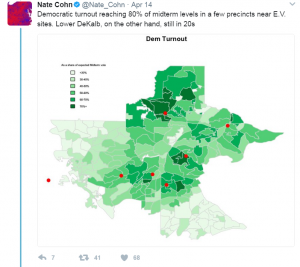 Obviously, something had to be done. Sally Harrell, who persisted, Pave It Blue, and other local activists and organizations have worked diligently to get Chamblee and Tucker approved as EV sites with extended hours and days of operation. The Board of Elections will make its decision May 11, and there is reason for optimism (nevertheless, if you're a DeKalb resident, we urge you to sign the petition before it is presented at that meeting). H/T @JohnZiegler2017
Increased Early Voting has a dramatic positive effect on overall turnout, as data analyst Tom Cisewski pointed out in his April 24 presentation to the Elections Board.
Step Two: GOTV–Get Out The Vote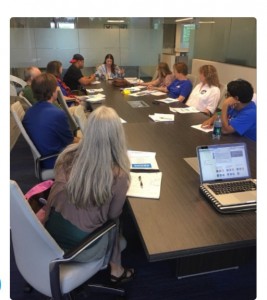 There's a need to push EV throughout DeKalb. Due to my familiarity with the area, I'm concentrating in the 13 Sixth District precincts east of I-85, working with the Progressive Turnout Project to canvass low-turnout precincts—hopefully, at least a half dozen. First we need to talk about Pleasantdale, a large precinct bordering Gwinnett County with 1,000 more voters than average. Unfortunately, turnout was only half that of the average DeKalb precinct. Pleasantdale Road is lined with large apartment communities, many of them gated.

I've been regularly working election days at Pleasantdale for the past decade, since I started waving signs for Hank Johnson in 2006. I've also done it for State Rep. Scott Holcomb, my favorite politician. While I'm not actually a constituent, I can see his district from my house!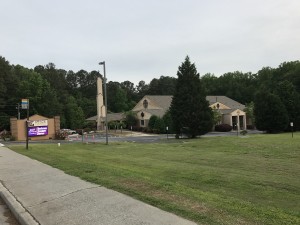 Currently Pleasantdale voters cast ballots at Grace Church International (3434 Pleasantdale Rd, Atlanta, GA 30340). However, local House districts have been carved up recently and at times Pleasantdale Elementary School has served as the polling place instead. Add all this to the fact that many Pleasantdale residents, newcomers to Atlanta, drive toward nearby I-85 and Norcross as much or more than Tucker. It's easy to see how they could get confused or even discouraged from voting, especially in a special election when they think there's no easy way to cast a ballot.
Volunteers needed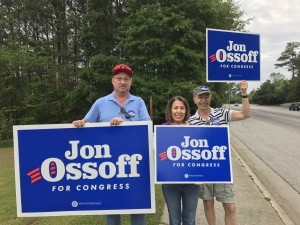 We'll also be staging visibility rallies keyed to reminding people to vote, both during Early Voting, which begins May 20, and on June 20. We'll need lots of people for that.
Honk your #ossoff if you see out there. Or better yet, park your car and join the fun!

Liked this post? Follow this blog to get more.