Update on Early Voting in DeKalb
Tucker Rec Center IS Available as #GA06 Early Voting Site
Backround: DeKalb County is considering adding Early Voting sites for the Sixth District runoff. Citizens have called for Tucker Rec Center to be added, along with Chamblee Civic Center.  Current policy only allows one early voting site, at Memorial Drive, several miles outside the district.  While it may not be the intent, the effect was voter suppression. Using Tucker would open up Early Voting to tens of thousands of people in the Southeast section of the Sixth.
The Board is waiting until its May 11 meeting to to decide. Early voting starts May 30. No guarantees. There was a signal from the board that a site would be added, but there are no guarantees, and we need two sites to adequately serve DeKalb County. Tucker is second on citizen lists.
Update: I  spoke to director of Tucker Rec Center yesterday. He says there is no problem setting up facility for Early Voting 7 a.m.- 7 p.m. After Monday's DeKalb Elections Board meeting, there was some pushback suggesting that Tucker couldn't be used for Early Voting due to Summer Camp. However, other rooms beside auditorium are available. In the past, I've voted in a back hall room. The facility director recommended a room near front doors that met requirements and had been used as poll before. Minimal cross traffic with summer campers. People can park at St. Andrews Church, too.
If you're a DeKalb County, Georgia resident, you can ask the Board of Elections to open Tucker Recreation Center  as an Early Voting site by
Sending a letter to Voter Registration & Elections
4380 Memorial Drive, Suite 300  Decatur, GA 30032-1239
Emailing voterreg@dekalbcountyga.gov
Fax a letter to 404-298-4038
Tweet to @DeKalbVotes  but send a letter
You may want to come to the next meeting, when the Board decides this issue. A period for public comment precedes the presentation of agenda items, although the agenda is set in advance.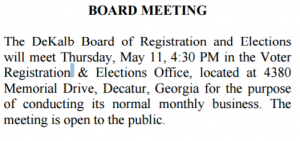 Liked this post? Follow this blog to get more.