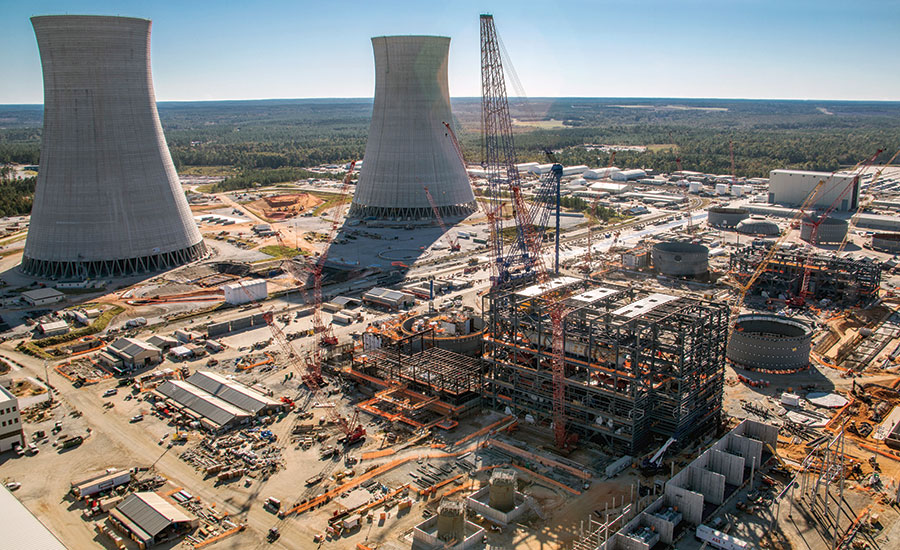 John Noel showed up to speak at a Georgia Public Service Commission meeting today, ready to talk solar and conservation but mainly no Vogtle. He was not allowed. So he look a picture (above).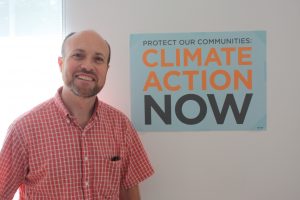 Vogtle is the subject up for debate at the commission. The commissioners haven't really been debating Vogtle, of course. Shoulda, but instead the five merry Republicans have been rubber-stamping utility requests like Harpo Marx. Commissioners are so deep in bed with Georgia Power/Vogtle that they've been reaching over and shutting off the company's alarm clock every morning for years.
Now, a wake-up call. Or two. Hell, make it twenty-five billion.
Despite gaming the system completely and constantly getting its way at the Commission and Georgia General Assembly, Southern Company and Georgia Power have problems. Things have gone south on Vogtle. Tension and nerves are starting to show. A strong Democrat has shown up to challenge the commissioners, and suddenly Georgia Power sees a future without "Yes Men" to tuck it in.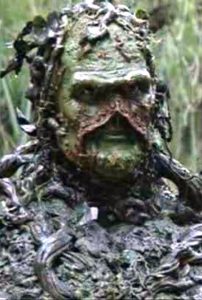 Particularly noteworthy: PSC staff testimony states it's not worth it to complete Vogtle. Chairman Stan Wise may hate his staff more than John Noel, because it's forcing him out of bed. Wise is up for re-election in 2018, but perhaps he sees the writing on the cooling tower wall. He's ready to bolt: He wants to vote one last time to do whatever the Power Company wants, then run off and join the utilities. Guy said it out loud. To newspaper reporters.
His resignation will have the added benefit of rigging the election. By quitting mid-term, Wise gives Governor Deal a chance to appoint a crony, who becomes "incumbent" in time to raise lots of cash from utilities and their allies for 2018. Rumor: It's Tricia Pridemore, a GOP activist who recently announced that she's running for Wise's seat.
Wise wanted to cast his pro-utility vote in February, but suddenly the GOP tax bill has him rattled. He wrote a letter to Georgia Powerr the other day pointing out that if the company cancelled Vogtle by Dec. 31, it would gain $150 million. That doesn't seem like much money given the billions and billions and billions that have been thrown into the money pit over by Augusta. Seems more like a fig leaf. Just saying.
Is Wise really going from "I will die for you" to "We need to kill our baby by the end of the year"?  Maybe. We'll find out December 21, proper procedure be damned. In any case, Wise must have been feeling edgy today, because a little of John Noel was more than he could stand. John's, uh, said some things in the past. Looks like some of them may have left a mark. Because Wise was petty. Pretty much.
Noel issued a news release about today's events, which included this nugget:
Noel's exclusion from public comment on continuing Georgia Power's estimated $25 billion nuclear power plant expansion near Augusta came after one announced candidate, Libertarian Chris Vachovetz, had already testified. When Wise called Noel's name, he noted his status as a PSC candidate and said Noel had "other forums" to express himself. Refusing to hear Noel's objections, Wise called the next witness. A few minutes later, he called Democrat Lindy Miller to the podium. When it was pointed out that she, too, was a candidate, Wise gave her the same discourteous treatment, but it was clearly the high-profile Noel who caused Wise to proclaim his "new rule."

"I wasn't a big fan of Wise before this nonsense, but this is ridiculous," Noel said.
Other stuff:
Read "John Noel runs with the sun"
Watch video feature "Sticking it to the Man!"
Visit John's website
On Twitter: @NoelforPSC 
Follow John on Facebook

Liked this post? Follow this blog to get more.