So I went to the DeKalb Board of Elections today and it was the most boring meeting ever. How boring? It took them twenty minutes past start time to muster a quorum!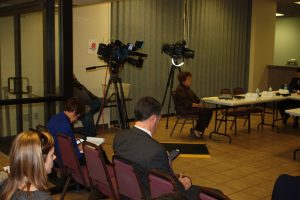 But the news media showed up–five reporters, including three TV crews. The BOE was certifying the election results from last Tuesday, and sad mayoral candidate Mary Norwood was there. As part of her recount strategy, I guess. I'd never met her before, so I said Hey. I don't live in Atlanta, or Atlanta in DeKalb, just DeKalb.
Anyway, they certified, which is housekeeping, and Mary Norwood talked to the cameras and the media covered … well, nothing, really. During public comments, I took the floor and told them about how Fulton County was messing up on public access and asked the DeKalb BOE—which is better than Fulton's, I think—to post their rules and procedures for public access to election night vote-counting. Because in the months and years to come, people are going to be real interested.

Liked this post? Follow this blog to get more.