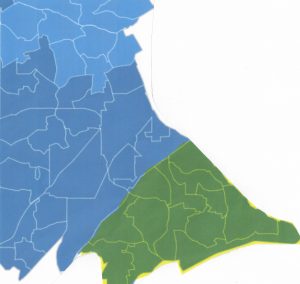 I'm Scott Holcomb's yard sign guy, and over the past decade, I've regularly worked the area east of I-85 for Democratic candidates: The Tucker-Lakeside precincts, what I call "The Lower Thirteen."  And I've gotta tell you: I've never seen anything like this year's Sixth District Race. Nothing comes close to the frenzied energy of the countless volunteers in this race.. And if you think there's a lot of confusion, this is my 12th campaign, and I can assure you that there is always confusion. It's an integral part of the game, especially for volunteers.
The Ossoff campaign has directed a great deal of resources to this area recently, having opened up a Tucker office on Fourth Street across from the self-serve car wash. BTW, I endorse the car wash, having used it for twenty years.
Early voting starts Tuesday, May 30, and it's good that Jon Ossoff is rallying the troops at Tucker Recreation Center Tuesday at 8:30 a.m. Opening the Tucker site (along with Dunwoody, Brookhaven, and Chamblee) for early voting was a key victory for DeKalb voters. Sally Harrell, Pave It Blue, and other activists deserve our thanks for pushing this at the DeKalb Elections Board.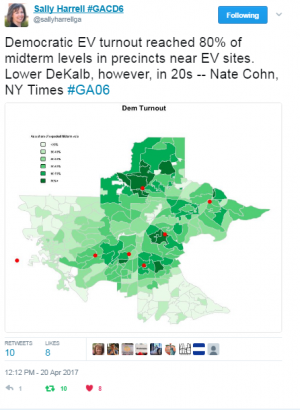 We know how important it is because not having Tucker Rec open for early voting during the primary dampened turnout, as noted by the New York Times (and Sally Harrell).
Had I missed a bunch of apartment complexes? I'd identified apartment complexes in the area for precinct captains and canvas operations, but overlooked Tucker Library. On closer inspection, I found two off Lawrenceville Highway near the Gwinnett County line. But still … turnout was 10 percent less than its sister Tucker precinct and 14 points less than Midvale Elementary, also next door.
So what was up with that? Turns out I'd already heard the answer: The fact that Tucker Rec Center was closed to early voting not only suppressed turnout throughout the Lakeside-Tucker precincts, but especially frustrated nearby residents.
2017 GA-06 Primary Turnout & Results in Tucker-Lakeside Precincts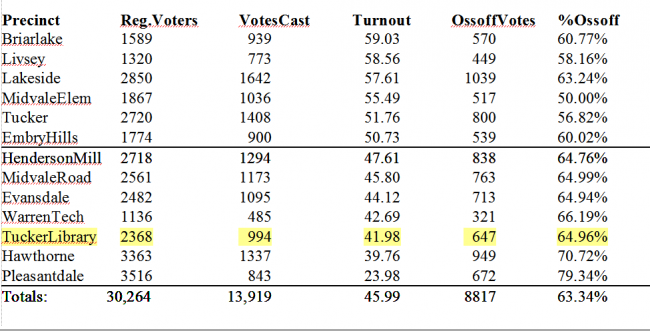 I've heard from several sources, including a local precinct captain and the director of the Rec Center, that people were turned away from Tucker Rec not only during early voting, but also on April 18. Apparently, they're so accustomed to voting early at Tucker Rec Center that, when the option was taken away, they didn't vote at all. I know, I'm not impressed either. But we're talking about nearly 300 people here. So, it's good that Jon is pushing people to early vote and publicizing the Rec Center's openness for business. But, come June 20, we may need to have people stationed at the Rec center to guide them to the proper polling place, Tucker Library.
Consider this: A ten-point increase in Tucker Rec voting, to 52%, would mean an additional 272 votes total and at least 176 votes to Ossoff's margin in this precinct, Tucker Library voters go for him at a 2-1 clip. The way things are breaking. Early voting drives overall voting. That's why there are at least four rallies in DeKalb on opening day. Ossoff's Indefatigable Visibility Chairman, Brian Wertheim, is smart to hold a rally at Dunwoody Methodist Church Tuesday as well, especially since the days of operation and site location have changed since the Board of Elections announced its decision (after the AJC published a story about it).
Don't be surprised if you see Jon add 1,000 votes to his primary margin from early voting alone in this section of the county. Now, we ahve to persuade more people who live in apartments to vote, even if means neglecting to canvass that tempting split-level for the ninth time.
Meanwhile, there are  vulnerabilities. While my wife is going great guns as the Midvale Road precinct captain, as of Sunday night, the Midvale Elementary Precinct doesn't have a captain. There's a real danger of losing that precinct, because it is the reddest one in the Lakeside-Tucker area. Jon got 50 percent in the primary, and any slippage means we'd be looking at a big, red wart on the election map June 21. I don't want that. Do you? Can we get a little help for Midvale Elementary. (P.S. Evansdale Elementary Precinct doesn't have a precinct captain, either.) There are strong precinct captains on either side of Evansdale and Midvale Elementary, but aren't they already doing enough?

Liked this post? Follow this blog to get more.