Above: No animals were harmed during the filming of this ad
---
By Jonathan Grant
@Brambleman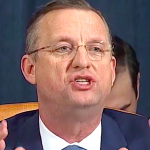 Kelly Loeffler, Georgia's selected U.S. senator, is all about #MAGA. She was appointed by Gov. Brian Kemp to go up to Washington D.C. and … do what she was told, apparently. Unlike Rep. Doug Collins, who is running against her, she is genuinely inauthentic. Collins is as authentic as hell, and will get in your face about it. He sports a Deliverance vibe, which is fitting, since Georgia's 9th District is Deliverance country. Loeffler's home turf is the New York Stock Exchange, which her husband runs. Culture clash!
Kemp supposedly picked Loeffler to appeal to suburban women who are turned off by Donald Trump for reasons that are obvious to suburban women. Like Saturday's retweet of the audio of a man going to the restroom on an open mic. Will Loeffler denounce the president's tastelessness? No. The breaking of wind is now music to her ears.
The problem with Kemp's plan is that Loeffler cannot afford to put a micron of space between herself and Trump, for fear that Collins will find a way to cozy up even tighter to Trump. Collins was, after all, Trump's chief defender on the House Judiciary Committee during impeachment proceedings. That may not save him. The establishment is lining up behind Loeffler, cause she's got $20 million of her own money to spend on her campaign. Collins is feisty, though, and thinks Trump will remain neutral in the race.
Do I think Donald Trump will betray Doug Collins?
Yes, I do.
Anyway, part of Loeffler's universal obsequiousness to Trump is her fervent embrace of the Second Amendment. She went so far as to post a video of her herself in hunting garb, walking along a dirt path, lookking much like a hunter on her way to shoot some animals. Thing is, she couldn't shoot the animals, not legally anyway, because she lacked an essential requirement to be a hunter. If she'd been smart, she would have bought a hunting license to support Georgia's fish and wildlife programs, if nothing else. Stand with the shotgun people.
Disclosure: I grew up on a farm and used to shoot things. Thinking about going fishing when the election's over and I will get a license if I do.
From today's AJC Jolt.:
The other day, U.S. Sen. Kelly Loeffler posted a picture of herself in a camo blouse and orange safety vest, with a shotgun over one shoulder. One of her critics quickly discovered she couldn't have been using the weaponry to hunt.

The Republican incumbent doesn't have a Georgia hunting license, according to an Open Records Act request obtained by The Atlanta Journal-Constitution.

The request was filed by American Bridge, a left-leaning group that's working to unseat the financial executive — even as she attempts to boost her conservative credentials and fend off a challenge from Republican U.S. Rep. Doug Collins.

Zach Hudson, a spokesman for American Bridge, said she's "trying to portray herself as a hunter when the record shows she's never even had a hunting license."

Loeffler's campaign declined to comment.
Here's the ad. And of course Doug Collins had to fire back. See his tweet below hers.
I say Poser
Collins fires back 

Liked this post? Follow this blog to get more.