Update: After the Atlanta Journal Constitution linked to this post and published an excerpt in The Jolt (last item)  those YouTube videos were deleted. Sad! But here's the one I originally posted (see description later in blog post) as an MP4 file:
Jonathan Grant
@Brambleman
Question: If you're a proud deplorable who believes—among other things—that Barack Obama is a corrupt Muslim terrorist with a fat-assed ugly wife, how do you campaign against a popular Democratic incumbent in a state House District where Trump received only 35 percent of the vote?
By cutting the crazy talk?
Sounds like a plan. Just one problem: the videos.
All about the Donald
"I was a huge Trump supporter," Ellen Diehl said in one of her many livestream videos. "That's what got me involved in politics." As a Trump delegate at the 2016 GOP convention, she liked to show off her talking Trump doll, which she'd purchased several years earlier. So yeah, she'd been been sitting on the Trump Train for a long time. And now she had somewhere to go!
Last year, Diehl served as events coordinator for Bruce Levell, the Trumpiest candidate in the Sixth District Congressional race. "If you want to destroy Trump, vote for any other candidate," she proclaimed before ultimate victor Karen Handel earned a spot in the runoff against Jon Ossoff and won her support. During the campaign, Diehl was a fire-and-brimstone Evangelical for Trump, posting dozens of livestream videos—her "Call to the Nation"—to spread the gospel according to Trump. Her attitude, in a nutshell: "When it comes to supporting President Trump, there are no gray areas." She thinks Trump is a genius.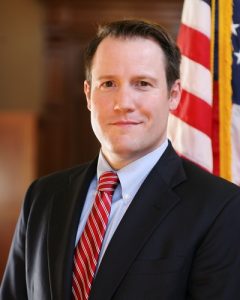 While her audience was small, the nation caught a glimpse of Diehl in August 2017, when she appeared on CBS Evening News—sandwiched between two black MAGA women—to support Trump's controversial defense of white nationalists ("fine people on both sides") after the deadly Unite the Right rally in Charlottesville, Virginia.
In one YouTube video, she said, "I don't know anybody who's racist." Low standards alert: This means she doesn't know any Nazis or KKK members.
She quit posting the vids on YouTube that month, when she announced plans to run for an unspecified office that turned out to be North DeKalb's House District 81 (Northlake-Tucker, Chamblee, Doraville, Brookhaven and a small slice of Gwinnett), represented since 2011 by Rep. Scott Holcomb, one of Georgia's most prominent legislators.
She seems nice
Diehl is an insurance consultant (who hates Obamacare) and lives in Chamblee with her two dogs. She doesn't share much personal info on her website or Facebook pages, but she dates her DeKalb history back to 1974; she attended Peachtree High School.
In her bid to unseat Holcomb, Diehl has moved away from spouting hardcore Trumpism, at least in public. She bills herself as a conservative, but her social media posts are light on the issues, instead focusing on parades, party functions, and community events. She does selfie-chats upon occasion, like the time she crashed a DeKalb Democrats' breakfast meeting. She's photogenic, her post pics show diversity, and she has the cutest way of getting GOP politicians to endorse her. Her webpage doesn't carry strident personal or partisan attacks. The positions she lists are mainstream Republican, more or less: She's in favor of mass transit and the Second Amendment. She states, "I do not believe that healthcare is a right, but it's a necessity" and seeks market-based solutions. She's pro-life, but she's willing to forgive you if you have an abortion.
She doesn't publicly criticize Scott Holcomb, nor does she appear to admit he exists. Her slogan: A Better Diehl. Her campaign is so disciplined, it's surprising that she didn't pull her videos, which are quite revealing.
About those videos: dialing up the deplorable
Livestreamed at home with her cell phone, often with a life-sized cardboard cutout of Trump in the background, the videos—on Facebook, Periscope, and YouTube—mix politics and religion. She's "The Prayer and Share Lady," and she leans heavily on the Bible (her "fact-checker"), especially the Old Testament. But Donald Trump is also her religion. "If anyone's going to represent for Donald Trump and America, it's going to be me," she decalares.
If her campaign messaging is all about A Better Deal, the videos represent The Raw Diehl, and they're much more useful for gaining insight on Diehl's thoughts, ideology, and character than her campaign's pablum. Here's the video referenced at the top of this post.
Key quote (starts at 8:42): "…Barry Soetoro Hussein Obama was Muslim, let him say what he wants. Let him go around going (makes high-pitched tongue trill) or whatever they do. I don't think that Michelle is going to wear a burka. She's ugly enough to wear a burka. Oh I said it. And she gonna need an extra large. Did you see how big her butt was on Inauguration Day?"
She insults Obama constantly, calling him "Obozo," or more formally, "Hussein Obama Bozo." Then there's the birther-friendly "Barry the Muslim." Diehl wants to put him in a special jail cell with Hillary. She likes to accuse the former president of corruption, "skimming money off the top and giving it to his Muslim terrorist friends." Or lining his pockets.
Know this, if nothing else, about Ellen Diehl: She believes that ISIS equals Islam, and Islam wants to kill us all. Her hatred of Muslims and fear of terrorism is so great that she rails against admitting Syrian refugees to the U.S., despite their status as victims of a conflict the United States bears large responsibility for creating—and having no record of terrorism.
She's a Christian soldier, marching off to war. Trump's dog whistles and religious bigotry become the voices in her head. "There is a spiritual battle and we are fighting it," she says, aiming to bring America "back to the Christian Nation we were founded to be."
She points out that Islam is viciously and murderously anti-gay, and in the same breath, mocks gays with a lisping, effeminate accent. As far as she's concerned, it doesn't matter that the Trump administration's LGBT policies mark a huge step backward for civil rights and the nation, as long as we're not throwing gays off buildings!
She's prayerful, like a good Baptist, and often prays for prosperity, regarding wealth as a sign of Providence. Hmm. I wonder: Is "Sevenfold Financial Harvest" a Bible thing? (Asking for a friend.) She prays for Trump businesses to prosper, but then again, he is always in her prayers.
The prayers are often, if not usually, partisan: "God, you chose Donald Trump for such a time as this. Your word in Isaiah 45 and Cyrus and Donald Trump tells us the story that you are with Donald Trump … Lord, Let the left then turn in on themselves and just devour themselves, God, let them fall into their own traps and their own snares and destroy themselves that we would just stand back and watch the fight in amazement." Another one: "God, that we will stand still and watch you annihilate the left. Thank you, Lord, for the destruction you are bringing to them."
By the way, she gives DeKalb a raspberry for being blue. I don't know how literal she's being when she equates Democrats with demons, but she does it often  enough to suggest we should take her seriously if not literally. She calls Democrats demoncrats (also Demobrats) and mentions going to a rally to "cast out demons."
She frequently hates on the left and mainstream media, so it's no surprise she watches Tucker Carlson and Sean Hannity on Fox to get talking points. Here's one of hers: "At a Trump rally, people would chant 'Build the Wall!' At a Hillary Clinton rally, or one for Maxine Waters, or Al Gore, the crowd would chant, 'Rip out babies! Rip out babies!'"
She also likes to body-shame not just Michelle Obama, but also members of Pantsuit Nation: "Your fat butt looks fat in white. Sorry. Did I say that? Yes I did. Everybody get over it. Get over it!"
She's such a steadfast follower of Trump that none of the videos I saw (and I saw more than enough, believe me) show a sliver of daylight between the two. The border wall: Build it!  She even says, "Donald Trump is the Wall."
Anyway, her president is doing great things. Fabulous. Fantastic. She foresees a Trump Dynasty. He'll win re-election with 80 percent of the vote, and be succeeded by Mike Pence, Don Jr., and Ivanka. Not mention of Eric, because there are limits.
The videos are many, and yet they are one. I don't think I watched them all, because a little goes a long way, and they are repetitive. Seeing her is like observing someone act out @realDonaldTrump's tweets, with an added dose of old-time religion–-Church Lady on a bad acid trip. Or maybe a title character for Omarosa's best-selling book.
Can Diehl win?
It's an uphill climb to begin with, given the district's demographics and Holcomb's strong record. Her attitudes put her at odds with the vast majority of voters in an ethnically diverse district that includes several miles of Buford Highway, so people are likely to be put off by her Trump-worship and intolerance—if they find out about it.
Due to her activism, she's known in Republican circles, and she looks to be campaigning hard, but her fundraising has been anemic so far. She has the support of  local pol Fran Millar, who's been showing increasing signs of Trumpiness himself in recent years.
I've heard speculation that Republican House leadership doesn't want to pick up the seat. Perhaps they don't want to deal with even a well-scrubbed and better-behaved version of Jason Spencer. Remember him? Republicans don't want to!
Anyway, here's a link to the videos. The quotes I pulled are scattered throughout. Judge for yourself.
Disclosure: I was already for Scott, but this is ridiculous.

Liked this post? Follow this blog to get more.