Jonathan Grant
@Brambleman
Raw Diehl of the Day #1
This isn't one of her greatest hits, but since she deleted them, we're gonna play 'em all!
Choice Cuts
(at 1:24) "Then later, Zeresh says to her husband Haman, 'You better stop trying to go against Mordecai because God is with him, it will be fatal to continue opposing him. So, the left, it will be fatal for them to continue opposing Donald Trump. I mean it. I'm so, so, so, so serious."

(at 2:20) In her prayer from protection for Donald Trump and his administration, Diehl adds, "That we would pray protection over ourselves against this nnNnnnnNnnnn (makes gesture) global witches' coven that is trying to create pandemonium and wreak havoc on our souls."
Background: The real Diehl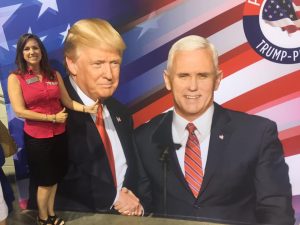 Ellen Diehl is a hardcore Trump supporter who operates at a near-fetish level and mixes politics and religion. In 2017, she made a scores of livestream videos and posted them on social media. Then she decided to run for state House District 81 in North DeKalb against Rep. Scott Holcomb.
Diehl's videos are revealing, even disturbing. They raise questions about her fitness and ability to represent a diverse district—or any district. Remember Jason Spencer? She's a "kinder, gentler" version, but definitely Islamaphobic. She hates Democrats, too. Calls them demoncrats. Thinks Michelle Obama is fat and ugly and her husband, the 44th president of the United States, is a Muslim terrorist. After you see the videos, ask yourself: Do I want this woman anywhere near pending legislation? And why is veteran GOP Sen. Fran Millar supporting her?
I wanted people to get to know Ellen Diehl, so wrote a Brambleman post about her, and it got some attention. When the Atlanta Journal-Constitution picked up my post, Diehl decided her videos weren't helping her campaign and stripped them off the Internet real quick-like.
Final Jolt: If you're GOPer running in a heavy Dem state House district, you might take down that YouTube calling Obama a Muslim, body-shaming his wife: https://t.co/zMLZEpMqAI

— Jim Galloway (@politicalinsidr) September 4, 2018
At this point I should point out that my father was a historian and my mother was a librarian, so …
yada yada yada
… I'm gonna to post the videos, starting with this one today. It's undated, circa mid-2017. I'm not showing them in order, but that doesn't really matter. As I stated previously, they are many, yet they are one.
This gem is short, just over three minutes, and contains a Bible lesson (Old Testament, as usual) that quickly turns to modern politics. There's always a prayer too, and this one's witches (she talks about demons a lot).

Liked this post? Follow this blog to get more.