When looking at Georgia Public Service Commission races, it's no surprise to see utility money flowing into GOP incumbents' coffers. It's the way they play the game. The shocker this year is that environmentalist John Noel—who is definitely not counting on utility support in his bid to unseat Chuck Eaton—has the most cash on hand of any candidate, Democrat or Republican.
With only three months to go before the primary, this should be especially alarming to the competition. Not only that, but the news follows a whirlwind day in Athens for Noel that included a half-dozen media interviews and an enthusiastic response to his message:
Ruth Pannill, president of Young Democrats of UGA, saw Noel speak at the Athens-Clarke County Democrats meeting a couple weeks ago and knew she wanted him to visit an upcoming meeting.

"I've never heard anyone talk about changing environmental policy in Georgia the way he does," Pannill said. "He's a candidate that cares deeply about the environment and the people of Georgia, and everyone in Georgia should vote for him."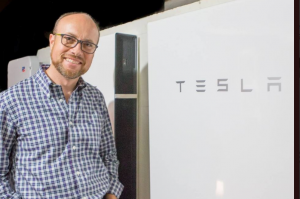 So, Noel has momentum. "I am excited to have wide support," the former legislator and energy efficiency expert said in a statement about his finances. "This disclosure demonstrates that there is only one candidate in this Primary who practices efficiency. While I have spent less than 20%, my opponent has burned through nearly half of her contributions."
The Northwest Atlanta resident has raised nearly a quarter-million dollars and was holding on to nearly $191K at the filing deadline. Democratic primary opponent Lindy Miller has only $155K cash on hand. While her fundraising total was higher than Noel's, she's running an expensive campaign, with bills for fundraising consultants, legal and professional fees, and payroll totaling nearly $115K. Noel has spent only $40K. Maybe it's because he drives an electric car. And has a solar-powered campaign office.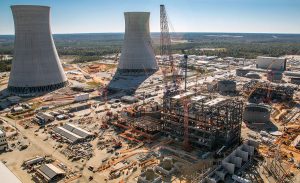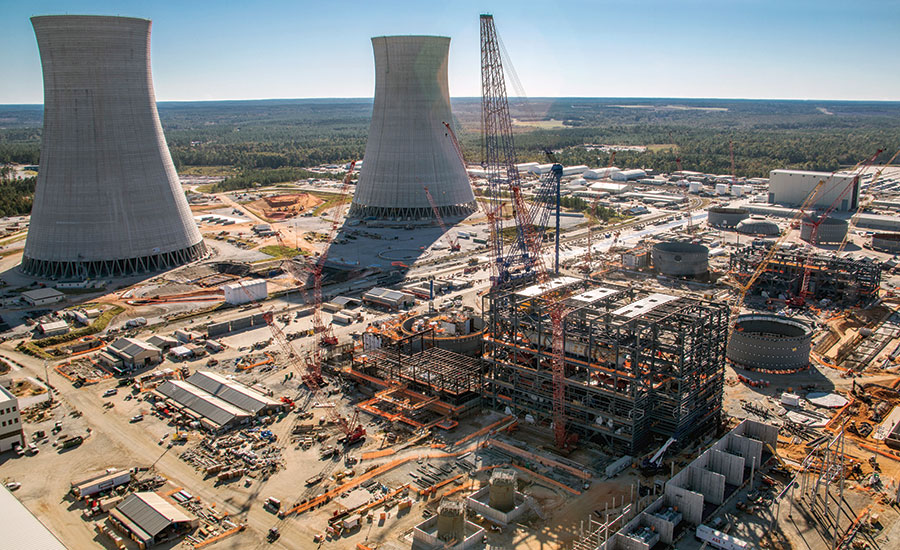 As for the Republicans, PSC Post 3 incumbent Chuck Eaton, has $131K on hand. His disclosure shows numerous contributions from Southern Company Natural Gas employees, attorneys with Georgia Power's law firm Troutman Sanders, telephone company owners, and lobbyists, of course. Just as obscene: the donor list of GOP candidate Tricia Pridemore, supposedly Gov. Nathan Deal pick to replace PSC Chairman Stan "Swamp Thing" Wise, who's resigning to spend more time with his utilities. Her donor list starts and ends with utility money.
Cosumer-friendly former Democratic State Senator Doug Stoner of Cobb County plans to challenge her. (Stoner, announced his candidacy after the filing deadline, has nothing to report yet,)
Over the past several years, Democrats haven't even bothered to challenge Republicans half the time. This year is shaping up to be much livelier, given the energy of Democrats and the PSC's Vogtle woes—$25 billion of them and counting. .
Here's a snapshot of where the PSC campaigns' finances stand, from the AJC's campaign finance roundup: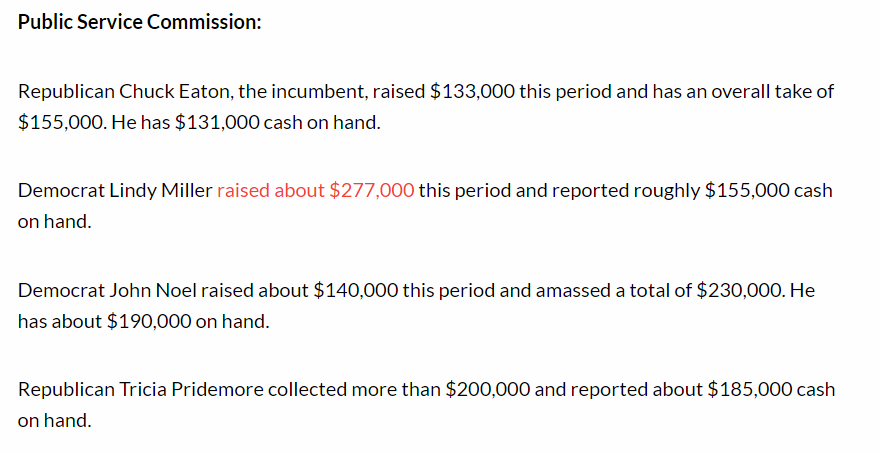 Liked this post? Follow this blog to get more.