Street rallies work, and Democratic candidate Jon Ossoff's supporters should be holding Vote Early, Vote Ossoff! rallies daily across Georgia's Sixth Congressional District from now through the end of early voting June 16. And then they should rally June 17-20. Then celebrate the flip!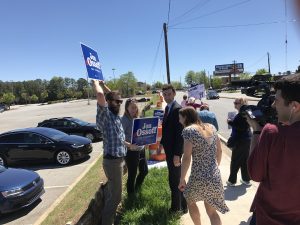 I've been staging and participating in street rallies since 2006, in Hank Johnson's inaugural campaign. Gave away 300 yard signs, worked street corners and polling places. Hank beat Ms. McKinney with nearly 60% of the vote. That was a good day.
The positive effect of rallies was on display this week: To kick off early voting, Midvale Road Precinct held three rallies at Northlake Mall, Jon Ossoff attended several events, including a rally near our local early voting site, Tucker Recreation Center on LaVista Road, and Progressive Turnout Project held an all-day rally at Pleasantdale Road, a heavily (80%) Democratic precinct with low turnout (just 24% in the primary). Tucker Rec had phenomenal turnout on opening day, as the chart below shows.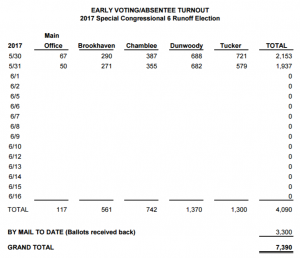 The following day, voting dropped off in all DeKalb EV sites, with Tucker having the largest decrease: 20%. This compares to single digit drop-offs in Brookhaven and Chamblee—and less than a 1% drop at Dunwoody, which contains DeKalb's reddest precincts. So there's that. Rallies matter.
The more early votes, the more votes overall because voting has a contagious effect. AND WE NEED A BIG TURNOUT! Especially in early voting. Seriously, we need to double the vote from apartment complexes. If we'd been able to get that in the primary, Jon would have won outright.
Right now, the race is a dead heat between Ossoff and Republican Karen Handel. It's within the margin of error, which leaves little or no room for mistakes. To flip a heavily Republican district, Democrats need several things to fall their way. Fortunately, we have a much better candidate to start with, so that makes everything else more doable. We also need support from independents and undecided voters.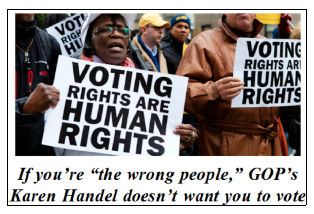 Then here's the one thing campaigns often neglect: the votes of people who don't always vote. Many of them are people Karen Handel doesn't want to vote. And if they don't vote, she'll win. Keeping minorities, the young, and the poor away from the ballot box is in the GOP play book. Sad but true. It's another reason to vote for Ossoff, a strong supporter of civil rights.
The heaviest concentrations of low-propensity voters are in apartments. You can certainly see this in my area of interest, the 13 Lakeside-Tucker precincts. There are several factors: Youth, wealth, minority status. Often they are new voters due to age, residency, or new citizenship.
Many apartment residents haven't been engaged by the campaign: They're new to the area, use cell phones, and live in gated communities, it's harder to canvass/call. It's simply more difficult to reach them.

Voting early, especially on Saturday, June 10, is key.
So, back to what I was saying. Whatever you call them—spontaneous street demonstrations, rallies, visibility events, or simple sign-waving—we should be doing more of that, taking it to the streets where people can see you, and delivering the message: "Vote Early! Vote Ossoff!" (BTW, I'll be out in DeKalb's apartment-rich Pleasantdale precinct with a small crew this afternoon, handing out flyers.)
The beauty part is you don't have to wait! All you need are signs, a few friends, a location, and early voting info to hand out. It's especially important to tell people where they can vote. Publicize your rally, large or small, on social media. Today. Tomorrow. Especially June 10, and then June 20. That's what it will take to flip the Sixth!
And there's not a minute to lose.

Liked this post? Follow this blog to get more.