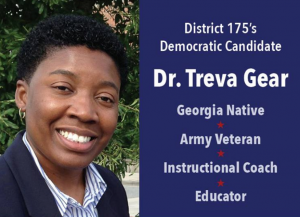 Treva Gear didn't win the special election to fill Georgia State Rep. Amy Carter's vacated seat in House District 175 (Lowndes, Brooks, and Thomas counties near Valdosta). Despite overwhelming support on Twitter (her RTs outnumbered her votes), it wasn't close. Then again, it was much closer than usual, since the longtime incumbent had no Democratic opposition for … a while.
Republican John Lahood won the race by a 3-1 margin. Looking at the 2016 results, those three counties voted for Trump 3-2. Without time or money, it would have been difficult to win under the most favorable conditions. But this is a start.
Treva didn't have much time. Her first donations came Jan. 18, and she'd raised about $8,000 by the end of January. Hopefully people opened up their wallets in February. It's a start. I hope she comes right back for another go at it this year. If Democrats want a shot at a district like this, it will take a lot of organization. But this a start. Welcome back to the fray, South Georgia Democrats!

Liked this post? Follow this blog to get more.