Contact: Sally Harrell
sally@sallyharrell.org
Twitter: @sallyharrellga
We need to adequately serve 100,000 DeKalb Sixth District early voters in the June 20 runoff. We can do this by enacting the following changes:
• Open Chamblee Civic Center EV Location May 30
• Open Tucker Rec Center EV Location May 30
• Open Dunwoody Library EV Location
• Keep polls open 7 a.m. – 7 p.m.
• Keep EV Locations open Saturdays
Problems and Solutions
• Many voters will be on vacation June 20 and will need to vote in advance.
• The Memorial Drive office is an inadequate EV site for the 6th. Several miles outside the district, it's inconvenient for ALL of the Sixth's 100,000 voters under the best of circumstances.
• The I-85 bridge collapse has made traffic a nightmare. We shouldn't add to it.
• The issue of EV sites was taken up at the Board's March meeting. The Board voted unanimously to add the Dunwoody Library for the second week of Early Voting.

• That didn't solve the problem. Early Vote totals south of Dunwoody were low, as noted by NY Times elections analyst Nate Cohn.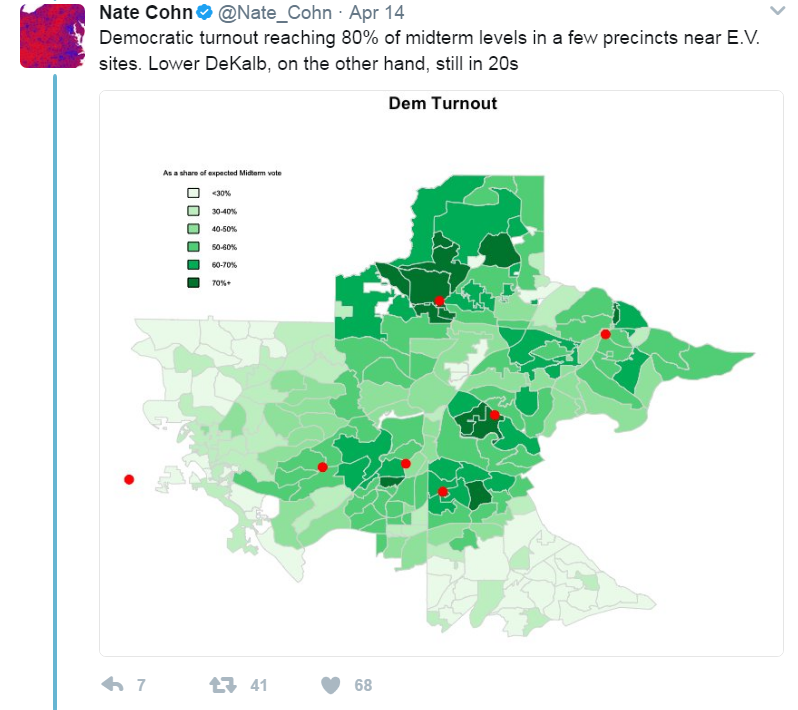 • DeKalb's elected officials are speaking out on this issue:
DeKalb officials demand new early voting sites for 6th District runoff
Click for article in AJC.com's Political Insider
• We need to work together and take the necessary steps to solve this problem today.
• The Board stated that it requires additional funding from the DeKalb Board of Commissioners to expand early voting operations. Yet, the minutes of the March meeting show that no such request has been made, and a board member confirmed that no action to gain additional funding has been made.
• Executive Director Maxine Daniels said that this issue would not be taken up until May 11. This statement is cause for concern, because it's difficult to see a positive outcome on such a short time frame, especially without the proper funding already approved. The DeKalb Board of Commissioners' next meeting is tomorrow, April 25, and after that, on May 9 and May 23. If the Elections Board takes no action today, the issue of funding couldn't be addressed until the May 23 County Commission meeting—in other words, on deadline, with early voting less than a week away. Pushing off this problem is a recipe for disaster.
• Therefore, I urge you to adopt an improved early voting plan in consideration of the suggestions made above and to approve a request for additional funding for the plan, with the cost to be determined by staff once a plan is in place. The plan could then be finalized at your May 11 meeting after the Board of Commissioners voted on it at either the April 25 or May 9 meeting. I believe you can count of widespread public support for this request. In any case, the Board of elections should approve additional early voting sites for the Sixth District runoff with expanded hours and days of operation.

Liked this post? Follow this blog to get more.