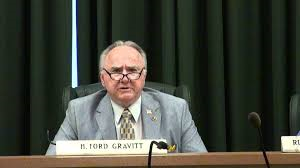 A bunch of old white men run Cumming, the Forsyth County seat. Last year, Mayor H. Ford Gravitt created a controversy by ejecting a citizen who was videotaping a City Council meeting–in clear violation of Georgia's open meetings act. Politifact even weighed in on the case.
Fortunately, Georgia Attorney General Sam Olens has gotten involved to enforce the law, but old ways die hard up in the hills. You can watch the video of the hearing of Olens v. Gravitt on the blog of local activist Nydia Tisdale (the woman with the camera in question), who has taken on the task of "Investigating Corruption in Forsyth County, GA" and does so in loving detail.
Given this, it's interesting to see the following passage in an Atlanta Journal-Constitution article on open records:
Most other counties promptly provided salary information for three top officials by email, and all but one of eight school districts emailed or mailed copies of the superintendent's employment contract without delay. A handful of mayors did not respond at all to requests for their travel expenses.

As the mayor of Cumming for more than 40 years, Ford Gravitt didn't respond to the emailed request because, well, he doesn't have email, according to City Manager Gerald Blackburn.

"You get me the request, and I'll get you the information right away," Blackburn said.
Ms. Tisdale, continuing her gadfly ways, recently requested information about  city officials' e-mail accounts.  In response, the city's law firm wrote:
"… no member of the City Council of the City of Cumming has a City of Cumming email address. Because of that, the City of Cumming does not communicate to members of its Council via email. Instead, members of the Cumming City Council live in close proximity to City Hall and visit City Hall regularly where they are informed of any needed information. Mayor H. Ford Gravitt does have a City of Cumming email address, and although I do not believe, as indicated above that the Opens Record Act requires a response when a request simply seeks "information" instead of a record, that email address is ford.gravitt@cityofcumming.net. However, you should know that Mayor Gravitt does not use that email address. And, to the knowledge of anyone associated with the City, Mayor Gravitt has never used that address. It was simply set up for potential use around the time that the City of Cumming located governmental functions to the current City Hall. Critically, any information or measures sent to that email address will not be answered."
That kind of has an "if elected, we will not serve" ring to it, doesn't it? You can click here to see the entire response, which was provided to me by Ms. Tisdale.
Back to the question posed in this post's headline: Why the reluctance to go along with late 20th century technology on the part of ALL of Cumming's elected officials? Well, they are old. Ms.  Tisdale, who watches Forsyth County politics pretty much like a hawk, says that Mayor Gravitt, at age 71, is the city's youngest elected official. So there's the whole newfangledness of computers and Internet tubes that they don't want to deal with.  However, given the mayor's vampirish attitude toward videorecording, I'm going to suggest that they may also have an aversion to the light. According to their legal representative, council members' preferred method of communication is essentially off the record: They go to City Hall and find out what they need to know.
Now, folks in Cumming apparently don't have a problem with this system of government. After all, many old-timers consider Ms. Tisdale an outsider. And the mayor, who has held that position for 43 years–in other words, he'd been in power for nearly a generation when Hosea Williams marched on Forsyth County in 1987–is running for reelection, and may very well end up unopposed. (The city doesn't have property taxes, so he's got that going for him, to be sure.)
In the end, I think the answer to the question is simple: They don't want to use email and you can't make them, whippersnappers. So there.
* * *
Jonathan Grant is the author of the novels Brambleman (winner of the 2013 Benjamin Franklin Award for popular fiction) and Chain Gang Elementary. He is also the co-author and editor of his late father's monumental history, The Way It Was in the South: The Black Experience in Georgia (UGA Press, 2001), named the state's nonfiction "Book of the Year" and Editors Choice at American Heritage magazine.
Grant, formerly of Peach County, graduated from the University of Georgia. The former journalist, Georgia Public Service Commission spokesman, PTA president, and soccer coach lives in Atlanta.
Contact him at info@thornbriarpress.com.

Liked this post? Follow this blog to get more.