Above: Line for early voting at Tucker Library, Oct. 27, 2019
---
Jonathan Grant
@Brambleman
DeKalb's Board of Registrations and Elections is in drastic need of an upgrade–increased staffing and technological improvements, obviously. It has operational and leadership issues as well, as people who deal with the Board can attest. And did. Eight DeKalb residents showed up today to speak in favor of an audit and election reform. One of today's speakers, Whitney McGinniss, made the news last fall over her absentee ballot issues in DeKalb and provided a brief recount today. As a regular Board observer, I had a few things to say, as well (see below).
The audit proposal for the Board, moved forward by DeKalb County Commissioners Larry Johnson and Mereda Davis Johnson was, as Chair Jeff Rader noted, "an item of heightened public interest." The Commissioners voted 7-0 this morning to approve an audit of the Elections Board, specifically:


Thank you, commissioners.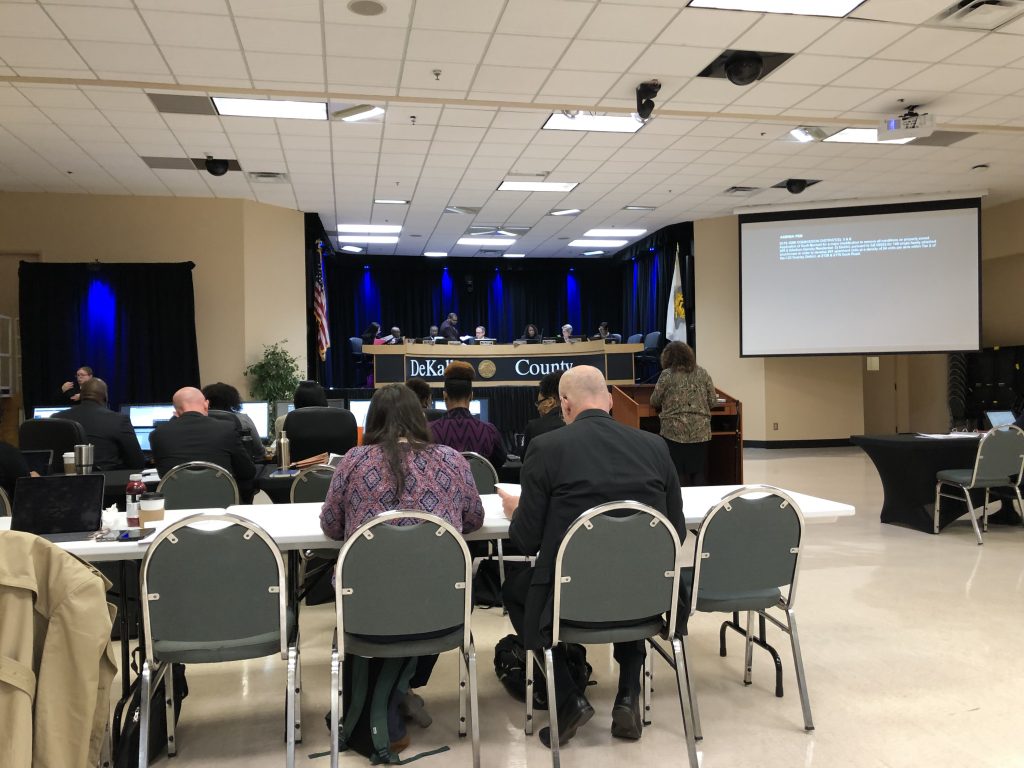 ---
There is no time frame for completing the audit. Chief Audit Executive John Greene told commissioners that developing the scope of the audit should take about sixty days. Estimate for the audit's length: six months, although the Board of Elections would have two months to respond, so I'd guess the audit may be completed early next year. Maybe.
Commissioner Larry Johnson said he hoped the audit would result in a local Board of Elections that "would serve as a model for the state."
If that's the case, we're gonna need a bigger audit. Good new: Commissioner Nancy Jester wanted to know more about the scope of the project, and Commissioner Kathie Gannon urged auditors to utilize public comments, some of which were "very specific."
Speaking of which, here are mine, most of which I delivered before buzzer sounded:
Statement to DeKalb Board of Commissioners
Supporting Board of Elections Audit
March 26, 2019
Good morning. I'm Jonathan Grant. I've been a DeKalb resident for nearly four decades. I live in unincorporated DeKalb between Chamblee and Tucker. I'm a writer—a former newspaper journalist and state government spokesman—and I blog about politics at Brambleman.com. I strongly support the proposal for auditing the DeKalb Board of Voter Registration and Elections. A thorough, wide-ranging audit should be part of an major overhaul that improves staffing, technological capabilities, and Board leadership.
I attended my first Board of Elections meeting during 2017's Sixth District special election, to advocate for more early voting sites in the runoff. When I realized that no one was watching the Board regularly, I decided I would. Over the past two years, I've had a better attendance record than most of its members. While poll workers and staff often receive praise from the public, the Board itself is teetering on the edge of dysfunction. Sad fact: the Board often struggles to make quorum. I would also suggest you look at how the Board is selected. While I'm no legal expert, the Board may face the same legal challenges the Board of Ethics faced, with appointments made by non-public officials. If that's the case, there could be severe repercussions. (Note added: There is a legislative fix in the works, SB 246, a piece of local legislation, passed the Senate, but its chances for passing the House this session are uncertain, says its sponsor, Sen. Steve Henson.)
While the Board bowed to public demand and opened up more sites for the runoff between Jon Ossoff and Karen Handel, DeKalb's election planning is stuck in the past, especially concerning early voting sites. During the 2018 primary runoffs, the Board reverted to form, opening only one early voting site—the main office—even though there were hotly contested runoffs in both parties, including the GOP gubernatorial nomination and the Democratic Sixth District race. Despite public requests for more early voting sites, not one was opened within the Sixth. I believe this affected the outcome in DeKalb, which eventual winner Lucy McBath narrowly lost.
And then there's this. During the 2018 primary, Doraville City Council member Stephe Koontz learned that she couldn't vote in Rep. Scott Holcomb's race. While she lived in House District 81, the Board had her listed in House District 79. I saw that her situation wasn't unique and brought the issue to the Board's attention at its May meeting, to no response. In fact, the issue festered until the media became involved the next month, and this is just one example of the Board's complete lack of public relations skills. Upon researching the issue, I found that 800 voters had been casting ballots in the wrong district over four election cycles due to the DeKalb Board's error. Later, I found a similar mistake in the Dresden precinct, affecting a similar number of voters. That was corrected before the 2016 election, without acknowledgment that I'm aware of. I wouldn't be surprised if other split precincts have been similarly butchered, and I'm afraid the problem will repeat in the next round of redistricting.
There are other problems. The agendas are empty, the decision-making process opaque, and open government issues include this one: After I made an open records request for the minutes from a monthly staff meeting, the agendas no longer listed the minutes as an information item. And now I've been told by Elections Director Erica Hamilton that the staff no longer has monthly meetings, therefore no minutes. These problems—and there are more, of course—reflect poorly on DeKalb government and erode citizen confidence in the electoral process.
This is an agency that has not adjusted well to public scrutiny. It desperately needs major improvements—among them, a change in attitude to come to the light.

Liked this post? Follow this blog to get more.