Above: DeKalb vote on ethics referendum by House district. Note: * denotes district with portion outside DeKalb
---
By Jonathan Grant
@Brambleman
My Twitter colleague Eli Spencer Heyman (follow @Elium2) loves data, maps, and politics. He's broken down results from November's DeKalb ethics referendum by House district (see maps). Here's what jumps out from his work: While DeKalb voters rejected the controversial proposal by a whopping 61-39 percent margin, several legislators were completely out of sync with their constituents on the issue. Eleven of DeKalb's House districts voted in resounding fashion against the controversial referendum that would, among other things, eliminate the county's ethics officer. However, only six DeKalb representatives opposed the bill that set up the measure. During the General Assembly session, only one Senator opposed the bill.
Legislation was necessary to reform the Ethics Board because it had been rendered inoperative following a state Supreme Court decision striking down its appointment process. SB7, as first proposed by Sen. Emanuel Jones, was designed as a simple fix to a legal flaw in board's appointment process. However, after this "clean fix" passed the Senate, things got complicated in the House. The bill was rewritten to weaken the board's staffing and authority in several ways. (Read background story.)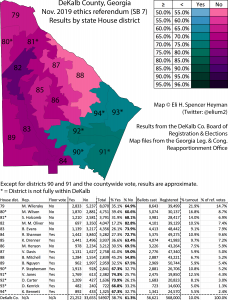 Because it was local legislation, most legislators outside DeKalb simply deferred to the local delegation's contentious 7-6 approval of the bill. When the changed version went back to the Senate for approval, Sen. Sally Harrell (SD40) cast the only vote against it.
In the House, DeKalb Reps. Mike Wilensky (HD79), Matthew Willson (HD80), Scott Holdcomb (HD81), Mary Margaret Oliver (HD82), Becky Evans (HD83), and Michele Henson (HD86) voted "No" on Senate Bill 7. Voters in the six legislators' districts followed suit.
And while ten DeKalb Representatives voted to pass SB7, five of them saw their constituents soundly reject the referendum: Reps. Renitta Shannon (HD84); Karla Drenner (HD 85); Viola Davis (HD87); Billy Mitchell (HD88); and Bee Nguyen (HD89). The vote in their districts wasn't even close. Case in point: Shannon's district, where a whopping 73% of voters rejected the measure.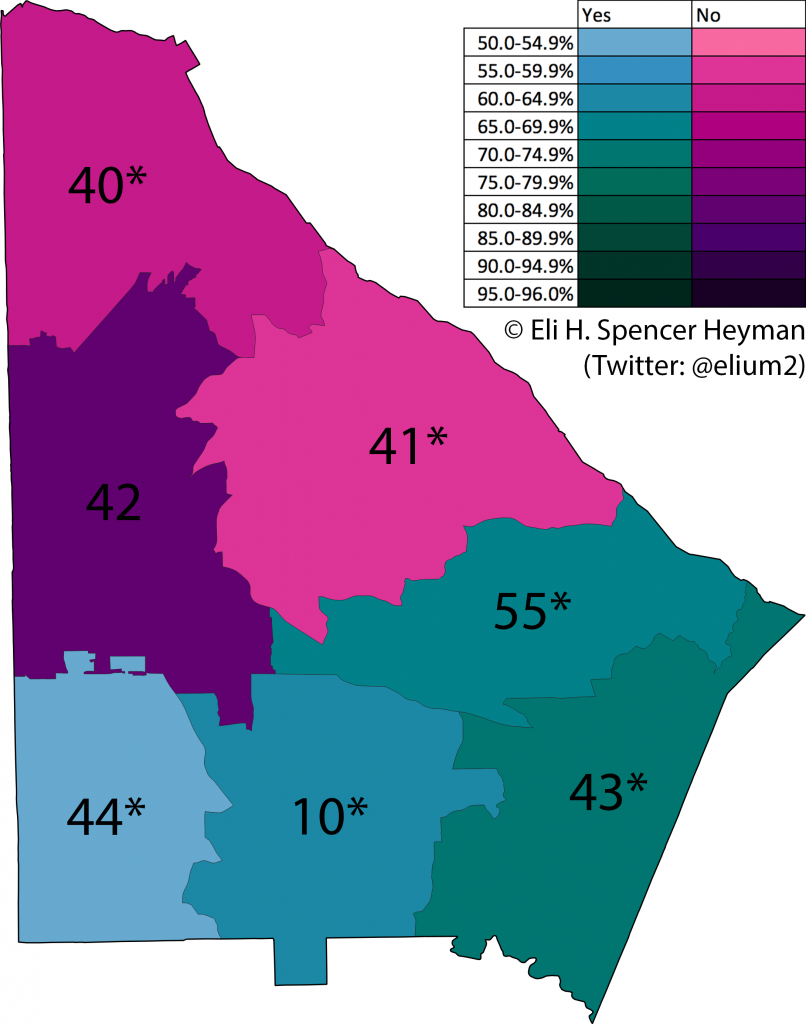 ---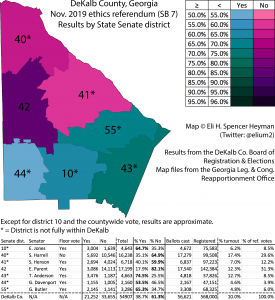 While Harrell stood alone, she stood with the voters in her district, who rejected the referendum by a 65-35 margin. However, Sens. Steve Henson's and Elena Parent's districts also voted against it. Late in the game, after facing overwhelming opposition to the referendum at town halls, Parent announced she was voting "No," finally coming in line with 82 percent of her constituents.
After the referendum, the DeKalb Citizens Advisory Council, which led opposition to the measure, put out a call for legislation that only changes the Board's selection process.
Wilson, an outspoken critic of the referendum, recently announced his plan plan to introduce legislation for this purpose in the 2020 General Assembly session. In addition, Davis, a longtime ethics crusader, has expressed interest in tightening up ethics rules to restrict gifts to county officials, notably gift cards, although that may be treated in separate action.

Liked this post? Follow this blog to get more.