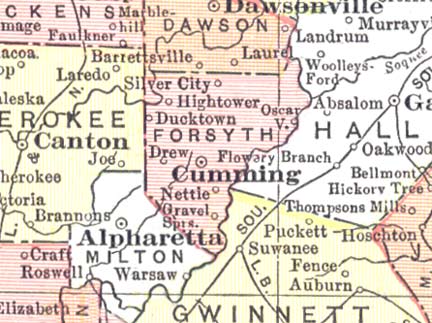 Forsyth County, famous as the birthplace of Hee-Haw's Junior Samples, has for most of the past century, existed as an intentionally all-white community bordering the black Mecca of Atlanta since 1912, following one of the 20th century's most violent racist outrages—including lynching, nightriding, and arson.
In 1987, the sleepy community gained notoriety when a small march led by civil rights firebrand Hosea Williams was broken up by rock- and bottle-throwing Klansmen, neo-Nazis, and their sympathizers. Bloody but unbowed, Williams returned the next week with 25,000 followers in one of largest civil rights marches in history.
There was talk of reparations. Oprah came to Forsyth and taped her show. Protests and counter-protests yielded a landmark Supreme Court case on free speech. But most importantly, white people flocked to Forsyth. It became the fastest- growing county in the nation, the richest one in Georgia, and one of the twenty wealthiest in the U.S.
Since 2000, members of ethnic minorities have moved to Forsyth County in increasing numbers. In 2010, approximately 85 percent of its residents were white—a dramatic change from the 99-plus percentages of decades past.

Liked this post? Follow this blog to get more.