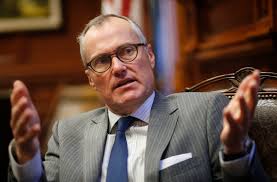 Georgia gubernatorial candidate Casey Cagle said in private conversation that he wanted to cut Georgia's poverty rate in half. Apparently, conservatives think this is a bad thing, and runoff rival Brian Kemp's allies are using a secret recording to smear him. Seriously.
For the record, he is talking about decreasing poverty through economic growth and doesn't mention new social programs. He actually sounded human and not horrible when he was talking about it, but the Kempites smell blood. (Former State Sen. Hunter Hill, who placed third in the GOP primary, has endorsed Kemp.)
Here's Cagle's reaction, along with the piece
25% of Georgia's kids live in poverty. 40 counties have 40% child poverty rates. I will NOT apologize for prioritizing my plans to expand our economy so it lifts everyone, put work over welfare, and create 500K jobs! I grew up in poverty, so yes this is personal to me. https://t.co/tvU0AQCb7k

— Casey Cagle (@CaseyCagle) July 16, 2018

Liked this post? Follow this blog to get more.