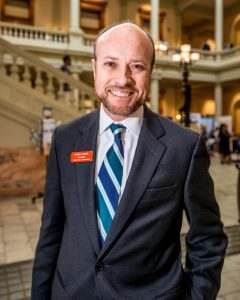 It's official: Democrat John Noel of Atlanta plunked down his money and signed the paperwork to run for Georgia Public Service Commission Post 3. His plan: unseat GOP incumbent and Plant Vogtle cheerleader Chuck Eaton. John wants Georgia to move away from "dinosaur thinking and dinosaur fuels" and supply our future energy needs with solar power and other clean, renewable resources. He also will be a voice for consumers, not utility lobbyists–which is what the current commission is all about. Here's the latest example of a commission that climbed into bed with the utilities a decade ago and hasn't woken up since.
John will face at least one opponent in the May 22 primary, Lindy Miller of Decatur.
From his news release:
Surrounded by friends and family, today at 10 a.m., John Noel officially qualified as a 2018 candidate for the Georgia Public Service Commission.

"It's fitting on a sunny day to file my candidacy, bringing sunshine to the backwater of the Public Service Commission (PSC). The PSC is part of a crooked and rigged system, whose Republican commissioners cozy up with the utility companies they were elected to regulate. It's time for a 20-year energy and business veteran to get in there and clean up this mess. Why should Georgians – specifically senior citizens – continue to choose between their gas & electric bills and prescription drug expenses?"

"We've got a lot of fire to take to these folks. The PSC is filled with people who are making decisions against our interest and it's time to take it back."
Here are some ways to keep up with John during the campaign:
Check out this video: "Sticking it to the Man!"
Read "John Noel is running with the sun"
Visit John's website
On Twitter: @NoelforPSC
Follow John on Facebook

Liked this post? Follow this blog to get more.