Huey Long, the "Kingfish" of Louisiana in the 1920s and 1930s was a skilled and shameless politician who had a plan to win the presidency of the United States, if he hadn't been gunned down by an assassin in 1936 (or his own bodyguards, depending on who's telling the story). He's a fascinating character. The definitive biography of Huey Long was written by T. Harry Williams. An excellent read, but no longer in print, but if you're a student of Southern history and ever see a copy, snatch it up. I won't try to tell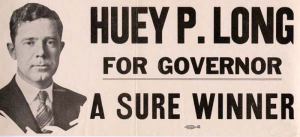 his story here, but let's just say he was equal parts corrupt and brilliant, financing his campaigns through deductions from state employees' paychecks. It's said that he'd accumulated $5 million in his "deduct box," and that his cronies clustered around his deathbed, pleading, "Tell us where you hid the deduct box, Huey."  Alas, he never did, the story goes. Maybe out there in the swamp somewhere.
Many people think All the King's Men, Robert Penn Warren's classic novel of Southern politics, is about the Kingfish. I don't, and neither did Warren. At least not for long. Once, when asked once if his book was indeed the story of Louisiana's fabled governor, Warren said it was—for the first few minutes he thought about it.
He was such a fascinating fellow. People still write about Louisiana's legendary pol. Ken Burns made his first documentary about Long. During its cinematic release in 1985, my parents were in Atlanta, and my wife and I took them to see it.  Excellent film, btw. Here it is:
Anyway, among his many claims to fame: He was America's most famous Public Service Commissioner. And he was certainly feisty about it.  Here's a passage from Every Man A King, Long's autobiography:
Immediately upon the Commission session being called to order, with the calling of the telephone case, the company's counsel stepped forward with a motion.

"I wish to file a motion," he said, "to recuse the new member of the Commission who is sitting on this case. I file herewith a campaign election card on which is his photograph with the statement, 'I will vote to reduce the telephone rates.' The motion reads…."

"Don't read the motion," I instructed, as the chairman. "We will not allow the motion to be read this time nor will we entertain it. There is no provision in the law to recuse a member of the Public Service Commission, regardless of what kind of campaign pledge he makes."

"Let it be shown on the record," the telephone attorney undertook to instruct, "that the chairman overruled this motion without consulting the other members."

"Let nothing be shown on the record except what I say will be shown on the record," I instructed the reporter. "And now I instruct the counsel…."

"I am going to have the record show…" the lawyer announced.

"You are going to jail if you infringe upon the Commission's procedure another minute," I announced.

The bedlam was thereupon ended.

Liked this post? Follow this blog to get more.