Above: A fews of Teresa Tomlinson's endorsements. See them all here.
---
Update: Watch Sunday night's Democratic candidate debate.
By Jonathan Grant
@Brambleman
I've written on this issue before, but the story needs updating.
Last week, the AJC reported on a poll of 591 Georgia voters conducted by the Georgia GOP House Caucus. The poll pointed to "troubling signs" for Georgia Republicans, especially Sen. Kelly Loeffler. The results were brighter for Sen. David Perdue. In a head-to-head matchup with Democrat Jon Ossoff, Perdue leads 45%-39%, with 12% of voters undecided. Those numbers aren't good for Ossoff, and fit with the grim narrative that he can't beat the incumbent. Interestingly, there was no polling of a matchup between Perdue and other Democrats, most notably former Columbus Mayor Teresa Tomlinson.
Republicans probably hope Ossoff is the nominee, due to his thin political resume and lack of strength outside Atlanta. Many Democrats see Tomlinson as a stronger candidate, for several reasons—not all of them relating to Ossoff's weakness. (While the GOP poll doesn't take Tomlinson into account, Perdue certainly has. In pre-pandemic days, his campaign sent a tracker to her campaign events.)
Ossoff wants people to see him as the Democratic front-runner and inevitable standard-bearer. That strategy worked for him in 2017, but maybe not so well now. There's been scant polling of the Democratic field. The only one out shows Ossoff leading with 29% of likely Democratic voters followed by Tomlinson at 15% and Sarah Riggs Amico at 14%. "Notably, 37% remained undecided, a stat that has left the path open for both Tomlinson and Amico," reported NPR's Elena Moore, who noted that due to lack of of public polling, Emory Political Science Professor Andra Gillespie declined to name a front-runner.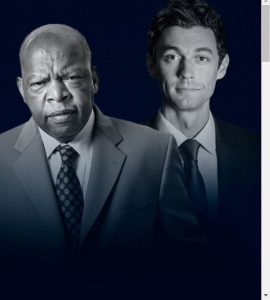 Ossoff's lead is a direct result of name recognition, which comes from the nationwide attention he gained during his historic and unsuccessful $30 million-plus campaign in Georgia's Sixth Congressional District in 2017. That effort gives him a huge mailing list and a fundraising edge outside Georgia. Here in the Peach State, Tomlinson has been running neck-and-neck with him in recent months as her campaign gains momentum. Amico's fundraising has lagged seriously, and she's talked about putting in more of her own funds, although she's already dropped $750,000 of her personal wealth into the campaign.
It grows increasingly likely that, given the fact that there are seven candidates in the race, Ossoff and Tomlinson will face each other in a runoff.
About those endorsements
Serious people are taking Tomlinson seriously. Among elected officials, civil rights, and community leaders across the state, Tomlinson is the clear favorite in the race, by a country mile. There are seven Democratic candidates in the race. Tomlinson has earned more endorsements than the other six combined. Amico has received several labor endorsements from union locals. (National unions will wait for a nominee before announcing their support.)
The great majority of Ossoff's endorsements have come due to his relationship with Congressmen John Lewis and Hank Johnson. Ossoff was a high-school intern for Lewis and a staffer for Johnson. Since releasing a batch of 20 endorsements last fall, there haven't been much. He has about 25 endorsements in all, with only a handful outside the Lewis-Johnson nexus—and that's being charitable.
Tomlinson, Ossoff, and Amico have all earned the designation of "Gun Sense Candidate" by Moms Demand Action.  Ossoff received an endorsement from "End Citizens United" and "Let America Vote," although the groups could just as easily endorsed Tomlinson, since both candidates reject corporate PAC money.
Tomlinson has 56, as well as these: The National Organization of Women's PAC, Democracy for America—which flipped from supporting Ossoff in 2017—and the Asian-American Advocacy Fund.
Tomlinson has attracted major, widespread African-American support:
Our campaign is honored to have the support of so many that have dedicated their lives to the service of others. I am inspired by their work and committed to ensuring everyone's rights are protected. I will make government work for all the people it serves. #gapol pic.twitter.com/dzRX1fWW0z

— Teresa Tomlinson (@teresatomlinson) April 23, 2020
"I've been in the civic field for years as a concerned citizen, activist and a public servant," Tomlinson told me."Our endorsers are people I've had the opportunity to work with in those endeavors. I'm one of those people who lets my work speak for me, and these endorsers know of that work because they had a hand in it or they were there and saw it.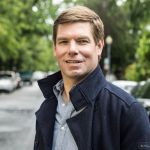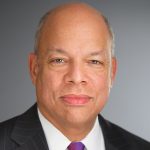 She's attracting national attention, too, gaining the support of Eric Swalwell and Obama's Homeland Security Secretary Jeh Johnson, a Morehouse College graduate. In his endorsement statement, Swalwell said: "These are serious times. We need a serious candidate like Teresa to beat David Perdue, a vulnerable Republican incumbent. Teresa is the only candidate in the field who has won elections in Georgia. She has governed with a proven track record of success. As Georgia's last Democratic Senator Max Cleland said: Teresa is the only candidate who will be ready to serve on Day One."
Most telling is the support she's drawn from across Georgia. Unfortunately for Ossoff, the Other Georgia is not his strong suit. A Democrat can't win statewide just by carrying Atlanta by a big margin, and politicians know that. As a sign of her strength among Democrats statewide, Tomlinson has endorsements from key political, civic, and civil rights leaders all across Georgia—in Athens, Augusta, Savannah, Statesboro, Fort Valley, Hinesville, and Columbus, to name a few points on the map.
And they keep coming, maybe creating endorsement envy. Recently, after a steady dose of Tomlinson endorsements hit the news, Ossoff retweeted old endorsements, include one from DeKalb Commissioner Merda Johnson, Hank Johnson's wife..
In speaking generally about endorsements, Tomlinson said, "Being mayor certainly gave me a larger platform to speak to and act on issues important to Georgia. I think holding elected office also separates the 'talk' from the 'walk'. So, as opposed to just pontificating on Democratic talking points or policies, I was implementing them sometimes against great odds, and that led to a wide awareness that I'm the real deal."
Besides her political experience and being a "pragmatic progressive," Tomlinson has made her strength outside Atlanta a key component of her campaign pitch:  "There's no way (Republicans) win if you run a formidable woman from outside Metro Atlanta who can shave those vote margins" in rural Georgia, she told another group of Sixth District Democrats last year, rattling off the names of counties she'd visited, some of which give Republican candidates 80 percent of the vote. "You don't have to flip this county," she tells rural Democrats in rural counties in both North and South Georgia. "That's not the objective in this election. You shave that four to five percent."
"I ain't chasing after MAGA hats," she said. "However, if some of those guys are tired of Trump, they're welcome to come on over."
As far as that Republican polling for Perdue is concerned, they may be looking at the wrong opponent
Disclosure: I endorse Teresa Tomlinson for U.S. Senate, too.

Liked this post? Follow this blog to get more.