---
By Jonathan Grant
@Brambleman
Several hundred supporters packed the semi-sweltering auditorium at Gwinnett County's Annistown Elementary School Saturday afternoon for the Georgia launch of Stacey Abrams' Fair Fight 2020. The venue—a poll location in 2018 that drew national attention, in a bad way—was chosen as a symbol of the brokenness of Georgia's voting systems.
"We know that even though Stacey Abrams is not our governor, we did win," declared Gwinnett School Board member Everton Blair, Jr., an introductory speaker at the event. That Georgia's election was stolen was an article of faith among the crowd. Not just faith. Reason. Brian Kemp didn't fight fair, and the deck was stacked to begin with. Georgia's voting system is filled with flaws, mistakes, and an unfortunate history of ill intent and voter suppression that has heightened after Republicans gained power, and has been ratcheted up as Republicans grow increasing desperate to hold onto it. Latest example: A $10 million plan to protect its gerrymandered turn in the Georgia House of Representatives.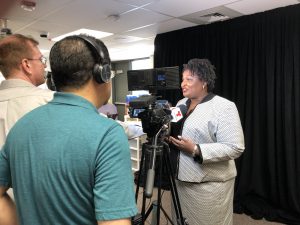 She did not concede Georgia's tainted gubernatorial race, and one thing is for sure: She did not get knocked down. She immediately launched Fair Fight to challenge Georgia's flawed election system. Fair Fight 2020 expands the scope of her operations exponentially, tackling voting rights and election issues in 20 battleground states. A nationwide effort, that, if successful, would help defeat President Trump and make governments across the nation more representative of an increasingly diverse population.
Does the GOP fear Stacey Abrams? You betcha!
And if you listen to her 17-minute speech, you'll know why.
She's going to need a lot of help to make elections sporting again. So, if you're looking to her to solve these myriad problems, she's looking right back at you. Her message: Donate, volunteer, convince your friends and relatives who have grown cynical or hopeless to rejoin the battle. Check out the Fair Fight website. Get involved.
Worth noting
State Democratic officials were there in force, including state party chair Nikema Williams, a state senator who noted her own 2018 arrest at the state Capitol for protesting voter suppression, despite state law that prohibits such treatment of legislators. (Charges were later dropped.) Listen to her remarks introducing Abrams here:

Liked this post? Follow this blog to get more.