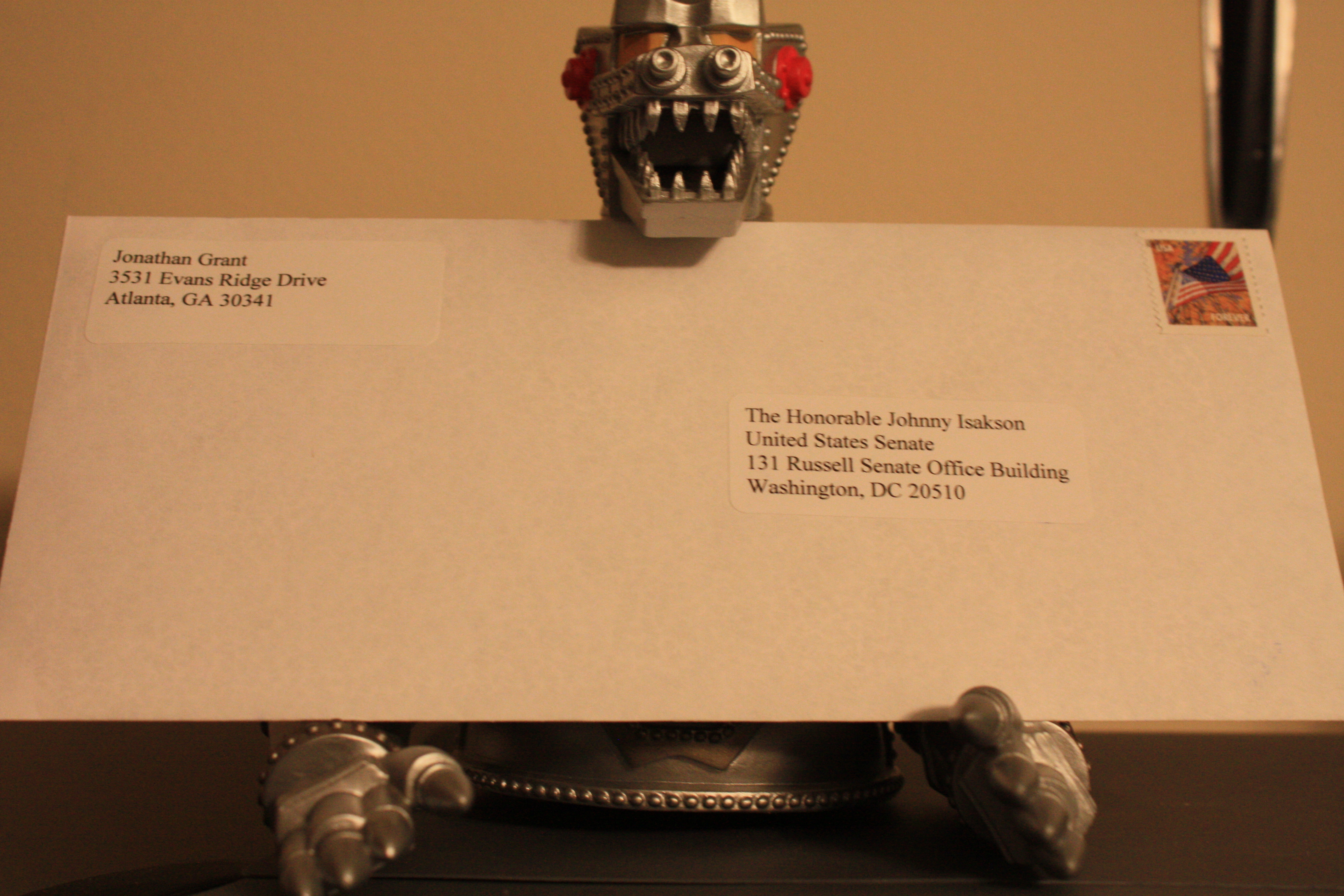 The Honorable Johnny Isakson
United States Senate
131 Russell Senate Office Building
Washington, DC 20510
Dear Senator Isakson,
I knew you back in the day, when I was a state government spokesman and you were a legislator. I admired you and voted for you in both gubernatorial and Senate races. We haven't spoken in thirty years, but I'm writing today because I'm deeply concerned about the turn our federal government is taking, especially considering many of the cabinet nominees President-Elect Trump has put forward.
Several of these picks are disturbing; they suggest that Mr. Trump has animosity toward a functioning government. Specifically, the EPA and Education nominees are at odds with the goals and functions of these departments to protect the environment and foster public education.
And to put a fast-food CEO in charge of Labor is an insult to working people everywhere. (If you want to cut food-stamp rolls, raising the minimum wage is the best way to do that. Currently taxpayers subsidize low-wage companies like Hardee's and Carl's to the tune of $8 billion a year by feeding their employees through SNAP.)
Mr. Trump has no mandate, having received nearly three million fewer votes than his opponent. Such an outcome should give Mr. Trump pause and bring on reflection. That is obviously not happening, and instead of "draining the swamp" he's appointing the very people who helped to wreck the economy eight years ago.
And then there are cronies (HUD) and major donors (Small Business Administration). Conflicts of interest in the administration-to-be are piling up, and Mr. Trump shows no signs of a desire to unite the country. Instead, he engages in Twitter wars with celebrities, refuses to acknowledge Russian hacking, and refers to opponents as "clowns," "losers," and "enemies."
It seems that Republican officeholders are terrified of retribution if they stand up to Mr. Trump. Which, as you know, is all the more reason they should.
You've been entrusted by the people of Georgia with a great responsibility. As a Red State's senior senator and a man known for his willingness to work across the aisle, you have credibility and capital to stand up and say: "Enough's enough. This isn't going to work."
So please, send a message to President Trump that we need good ideas that work for everyone, not just for the richest of the rich and his corporate interests.
Sincerely,
Jonathan Grant
P.S. Repealing Obamacare without having a replacement plan ready would be a disaster for everyone involved, including the politicians who support this move.

Liked this post? Follow this blog to get more.