By Jonathan Grant
@Brambleman
Families belong together. Across the United States, that was the message at 750 protests protesting the Trump Administration's horribly cruel immigration policies that includes separating families, keeping kids in cages and putting toddlers on trial without an attorney. The sheer ugliness of the "zero tolerance" plan is beyond belief, even surreal: Kafka for kids.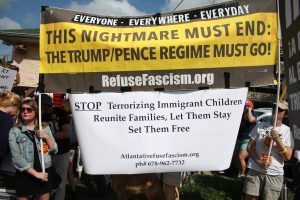 Several million marchers across the U.S. I haven't seen any authoritative crowd estimates for the march and rally here in Atlanta (AJC gave a lame "several thousand") but it was huge. I was in the middle of the march and I'd guesstimate it was at least 7,500 and maybe 10,000. (DIY crowd estimate.I didn't see the doll babies in cages some protesters marched with, but I saw lots of real kids with their parents protesting family separations at the border.
The crowd was diverse, with a lot of white folks and church people, including a banner-toting crowd from Atlanta Unity Church (now located in Peachtree Corners).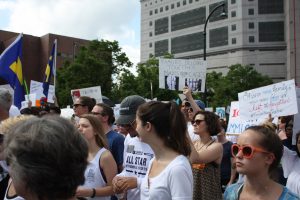 Atlanta's protest went off without a hitch. The starting point for the Families Belong Together March was the Atlanta Detention Center, just across the street from the Atlanta Detention Center (and across from that, the "Free at Last" Bail Bond company.
The march started on time–ish, and I'm sure people were still pouring off the MARTA train behind us as we started marching. We went up Peachtree and hung a left toward the Richard Russell Building, but speakers stood on the steps of the more appropriately named Martin Luther King Jr. Federal Building across the street. Immigration activists calling for the end of ICE, Rep. John Lewis spoke forcefully ("VOTE, VOTE, VOTE") and Reverend Warnock of Ebenezer Baptist Church, who closed out the speeches shortly after noon.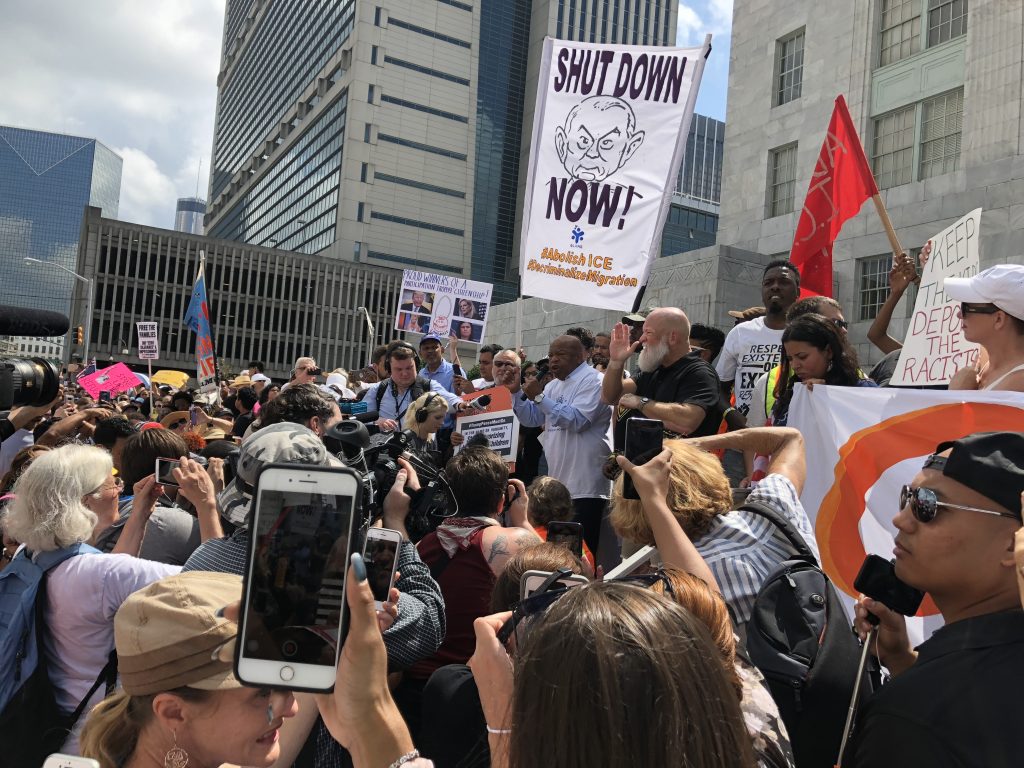 Lots of politicians were there, including Sixth District Congressional candidates Lucy McBath and Kevin Abel.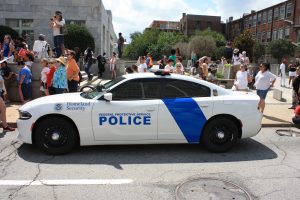 The protest was well-publicized on social media, well organized, with scores of volunteers staffing the event. Very peaceful. The Department of Homeland Security police car was as safe as if it had been valet-parked, and the only person I saw being led away by the its officer was a woman suffering from the heat.
My wife, Judy, was standing next to a nineteen-year-old who had recently registered to vote. When a speaker asked the crowd who was registered, he proudly raised his hand and then looked around in disappointment at the hands-down young people around him.
Yikes. Much work to do.

Liked this post? Follow this blog to get more.