---
By Jonathan Grant
@Brambleman
Having put on the red cap long ago, Republican Sen. David Perdue (D-GA) is locked into see-no-evil mode when it comes to Trump's faults and misdeeds. Their relationship goes back to a Trump Tower meeting in 2014. Back then, Perdue earned an endorsement tweet from The Donald, and in 2016, he returned the favor after Trump had sewed up the GOP nomination.
In the Senate he's been the president's most steadfast supporter/sycophant. Perdue stood in the Oval Office and managed not to hear Trump's racist comments about African and Caribbean nations that even Lindsey Graham—Lindsey Graham!—felt compelled to call out to the president's face. Perdue saw Trump's family separations at the border as nothing more than the "current shiny object of the day" to distract the media from his message on the federal budget. Ironically, that's Perdue's pet issue, even though he gleefully supported tax cuts for the rich that have caused the deficit to soar.
It's no surprise that, when it comes to grounds for impeachment, Perdue sees none. "There is absolutely nothing in this phone call that rises to the level of (impeachment)," he told The Associated Press. He's cosponsored a Senate resolution condemning House impeachment proceedings. Parroting Republican talking points, he's called impeachment a "sham" at least three times and "illegitimate" twice. He told Bret Baier on Fox News that there's "not a chance in hell" the Senate would remove Trump from office in a trial.
"You've already made up your mind?" Baier followed.
"Absolutely," Perdue said.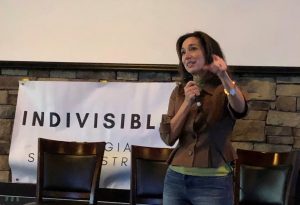 Democratic Senate candidate Teresa Tomlinson, former mayor of Columbus, is not impressed. "It is a breach of his honor, and his oath of office," she said in calling for Perdue to recuse himself from President Trump's impeachment trial. Though noting Perdue has tried to walk back his unequivocal support for the president, she remains skeptical and thinks, based on past statements and behavior, he should recuse himself from the trial. Not that he will, but it's a reasonable demand, considering. Read more about Tomlinson and her longstanding call for Trump's impeachment.

Liked this post? Follow this blog to get more.