Applications period opens for DeKalb's at-large Elections post
At right:  Ad in April 8, 2021 edition of The Champion. In 2019, a similar legal ad was the only mention of the

appointment process–a big reason why Sam Tillman is still a member. Hat tip to Eli Spencer Heyman for spotting this obscure notice. (He finds lots of stuff. Follow him on Twitter @elium2.) Scroll to bottom of post to read full text of the legal ad and share this information with people you think could improve operations of this crucial organization.
---
By Jonathan Grant
@Brambleman
Sam Tillman has been on the DeKalb Board of Elections for more than a quarter-century, and the longtime chairman's current appointment expires at the end of June. If he chooses not to seek another term, we should thank him for his service and wish him well. However, it's more likely that he'll seek another term, and in that case, DeKalb citizens should oppose his reappointment to the at-large post by Judge Asha Jackson, both by voicing their concerns and by applying for the post. The time for action is now.
Why? Because Tillman has become an impediment to progress and a source of friction in county government, among other things. He's thin-skinned, combative, and so protective of his turf that other board members regularly complain about being shut off from the information necessary to do their jobs. Under his control, the Board has a minimalist approach to providing public information. During the 2020 elections, board member Dele Lowman Smith called the board "a rolling violation" of open meeting laws. As a result, its reputation has suffered–to put it mildly.
It took action by the DeKalb Board of Commissioners–instigated by activist Betsy Schwalbach and others–to form a bipartisan county working group (consisting of three commissioners, two election board members, as well as two Democratic and two Republican members) to help the board up its game for the 2020 elections. Along the way, a performance audit was aborted by the Secretary of State. That's a head-scratcher when you consider that Senate Bill 202 encourages investigations and takeovers of local elections boards.
Despite obstruction by the elections board's leadership, a closed circuit consisting of Tillman and Elections Director Erica Hamilton, progress was made. Commissioners Larry Johnson, Mereda Davis Johnson, and Lorraine Cochran-Johnson kept up the pressure during the election season. (Along with Mereda Davis Johnson, Presiding Officer Jeff Rader and former Commissioner Nancy Jester were on the working group that pushed forward with reforms.)
Tillman was not pleased with what he saw as outside interference, complaining that people should "stay in their lane," even though the Commission funds the Board of Elections and takes the heat when a county department fails.
Needless to say, the stakes were high. Depite that, outside experts who were brought in to work with the board on the election received a frosty reception and found themselves stonewalled by staff. Consultants retreated from working with the board; while some of these relationships were patched up, the ACLU of Georgia decided working with DeKalb wasn't worth the effort.
From Decaturish:
The DeKalb County's elections board voted 3-2 to accept additional help on Election Day, Nov. 3, allowing in-person voters to cancel their absentee ballots at the polls. Notably, the board's Chair, Sam Tillman, voted against the plan.

Volunteers, attorneys recruited by the American Civil Liberties Union (ACLU), offered to serve as deputy registrars at each polling place to ensure the proper cancellation of absentee ballots.

Christopher Bruce, Political Director with the ACLU of Georgia, said that's no longer happening.

"We never had an agreement with them and they were being difficult, so we said we're not doing anything regarding our deputy registrars program," Bruce said.
More and more people became fed up with Tillman. Last year, DeKalb County Democratic Chair John Jackson publicly called for his resignation: "Our biggest problems for elections in DeKalb are Sam Tillman and Erica Hamilton," Jackson said. "They just refuse to do their job. And honestly I can't play nice about it anymore."
* * *
DeKalb's Board of Elections needs to improve both its technological capabilities and its attitude toward the public and partners. DeKalb needs board members with the skills, attitude, and dogged persistence to avoid, and if necessary, beat back challenges to local election autonomy and integrity. While Fulton County is the state's public whipping boy, don't think DeKalb–which provides Democratic candidates with larger vote margins than the state's largest county–isn't on the radar. An extraordinary DeKalb turnout–highlighted by a massive Get Out The Vote effort by county Democrats–put Raphael Warnock and Jon Ossoff over the top in January's Senate runoff. Warnock beat Loeffler by 238,423 votes in DeKalb, compared to Fulton's 220,361-vote margin, even though DeKalb had 140,000 fewer ballots cast in the election. DeKalb is very, very blue.
DeKalb needs a chairman who doesn't pick needless fights with voters, advocates, other board members, county officials, and even members of Congress. At the Board's most recent meeting on Thursday, Tillman railed against recommitting to participate in the aforementioned county working group that was crucial to improving election administration in 2020. You can see for yourself here and get a dose of Tillman's style. (His comments begin at about 29:00). During the meeting, fellow board member Susan Motter, a lawyer, objected to being blindsided by lawsuits over issues and actions she hadn't been informed about. Tillman responded by telling her to look for another job. She called his comments "insulting."
Bottom line: Tillman has become a liability for the citizens of DeKalb and Georgia. He needs to go.
Did Tillman abuse power and process to keep his seat?
Tillman was appointed and reappointed by DeKalb's Democratic Party for decades, but after the 2018 elections, he lost its support. One key incident: an angry post-election exchange with Rep. Hank Johnson at a local party meeting. The subject: thousands of missing absentee ballots.
Tillman had to know Dems weren't going to reappoint him. And sure enough, they didn't. Bot Tillman and board member Leona Perry sought another term in 2019, but DeKalb Democrats wanted new blood and chose voting rights activists Motter and Smith instead.
Nevertheless, Tillman was reappointed to the at-large seat under terms laid out in a just-passed law, one he essentially crafted. (He calls himself State Sen. Emanuel Jones' "chief of staff" and in this case, his connections under the Gold Dome served him well.)
Tillman's bill, sponsored by then-Sen. Steve Henson and Jones, was a reaction to the state Supreme Court's ruling that the DeKalb Ethics Board was unconstitutional because members were chosen by private entities, not elected officials. This created a problem for many local agencies, most notably election boards like DeKalb's, which relied on local Democratic and Republican parties to choose the majority of its members. Prior to 2019, DeKalb Democrats picked two members and Republicans selected two members, then those four members chose the fifth, at-large member. It's often referred to as the non-partisan seat, but there is no requirement that the odd member be politically independent.
Under the new law, Democratic and Republican party organizations each nominate two board members, who are then subject to appointment by the chief judge of Superior Court. (Asha Jackson currently holds that position.) The fifth, at-large member is appointed directly by the chief judge. Since she's an elected official, this satisfies Georgia's constitutional requirement. You can read the bill here.
DeKalb was probably the first county to reform its board, and the bill was not controversial. But here's the twist: For Sam, the fix was his chance to retain power, since he had fallen out of favor with DeKalb Democrats, and he applied directly to Jackson for the fifth slot. He was appointed on June 18, the day after Jackson approved the party nominees. Tillman's appointment came as a surprise to many, including me. I wrote Jackson and asked how the appointment was handled. She wrote back to say: "Mr. Samuel Tillman was the sole applicant and after review of his resume and credentials, he was appointed to fill the seat."
Tillman was the only person to apply because he was the only person who knew how to. That's where the Board of Election's minimalist attitude toward public information paid off for him. Other than a legal ad in The Champion, DeKalb's legal organ, there was no notice of when or how to apply for the post. It was truly a D'oh moment for DeKalb.
The July meeting was contentious. Tillman was re-elected chairman on a 3-2 vote, thanks to support from GOP board members Baoky Vu and Anthony Lewis. The new Democratic members had pushed for Smith, who happens to be a strategic thinker, to fill the role. And it's been contentious, off and on, ever since.
If you're eligible and support voting rights, consider applying for the at-large seat. I'll leave it to the Republican Party to recruit their own members without comment, but I hope Dems will reappoint Motter and Smith, if they're still willing after spending two years trying to work with Tillman. (Update: I've heard they will seek new terms.)
Want to replace Sam Tillman? Here's what you should know 
This legal notice was published in The Champion on April 8:
PUBLIC NOTICE
Pursuant to an Act approved June 2003, and amended May 2019, to provide for the DeKalb County Board of Registration and Elections, notice is hereby given that Chief Judge Asha Jackson of the Superior Court of DeKalb County, is seeking applications from interested qualified individuals for the appointment of one (1) member of the five (5) member DeKalb County Board of Registration and Elections. Applicants must be registered voters and residents of DeKalb County. Interested parties should submit the following for consideration:
• A resume.
• A letter of interest that includes any relevant or prior election work and experience.
• A list of up to three (3) references.
• Letters of recommendation not to exceed three (3).
• List any customer service and logistical coordination experience in addition to any present or past election work experience.
Interested parties should submit the above information to the attention of Chief Judge Asha Jackson via email 
kjmartin@dekalbcountyga.gov.
NO PHONE CALLS.
++Applications for member DeKalb County Board of Registration and Elections++
---
Note the ad's prominent display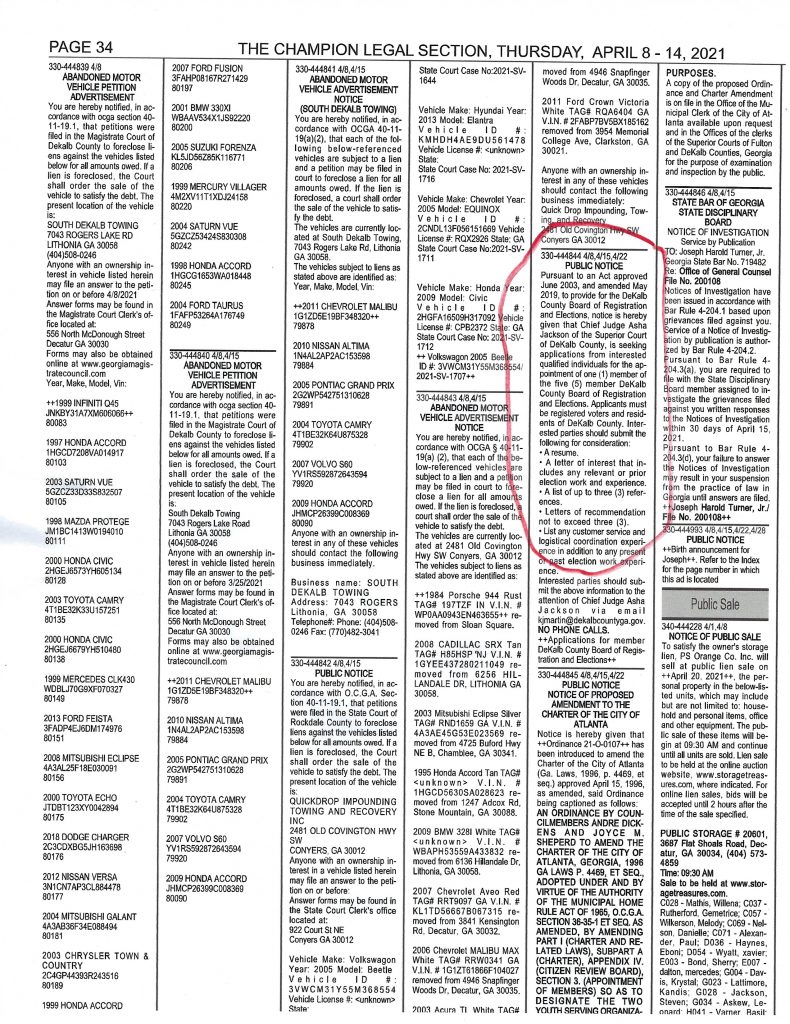 Liked this post? Follow this blog to get more.