Editor's note
This post was written for the Nov. 3 election. To read about early voting in DeKalb County, GA for the January 5, 2021 runoffs, click here. 
---
By Jonathan Grant
@Brambleman
Early voting in Georgia starts Monday, Oct. 12 and continues through Oct. 30. There will be twelve advance voting sites in DeKalb County, up from eight in this year's primary elections.
Not only has DeKalb County added capacity, most notably south of Interstate 20, but hours have been extended significantly from previous elections. All twelve locations are open for the entire three weeks of early voting and offer voting on two Saturdays and two Sundays. Another significant change: Weekday voting hours will run from 7 a.m. to 7 p.m., the same as you'll see on Election Day, Nov. 3,
NBA star Paul Millsap has rented his Core4 gym in Chamblee (above) for $1 to DeKalb County for early voting. A large venue, it will have 30 voting machines and four ballot scanners. Other new early voting locations: Agnes Scott College's Mary Brown Bullock Science Center (Decatur); The former Sam's Club (Stonecrest); Lynwood Recreation Center (Brookwood); and County Line-Ellenwood Library. Download the complete list of locations, addresses, and operating hours, or scroll down to view.
And if you live in another Georgia county, use this tool to find your early voting location.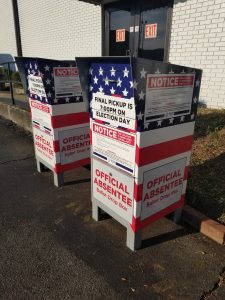 For those of you voting absentee by mail, there will be more than 20 ballot drop boxes for ballots throughout DeKalb. Click here for the list, or scroll down to view. In other Georgia counties, find them here.
Bear in mind, there will be mail delays, so it's crucial to get your request in as soon as possible, if you haven't done so already. DeKalb Elections Director Erica Hamilton said Friday that the county had a 24-hour turnaround on processing applications; however, there's a bottleneck at the Arizona outfit that mails out ballots, and if you've been following the news, President Trump's hand-picked Postmaster General has seen fit to hobble the USPS during this crucial time.
If you decide to vote in-person after ordering a ballot, you should notify a poll worker when you sign in. And if you've received a ballot, take it in with you when you vote. It's best to handle this during the early voting period rather than on Election Day.
If you want to avoid lines, the best time to vote early is during the first two weeks. However,  Monday, Oct. 12 may have longer lines due to numbers (enthusiasm!) and the greater-than-zero chance of first-day glitches to work out. If you wait until the last Friday of early voting, you could end up standing in line as long as you would on Nov. 3.

---
It's a sure bet that well over half of DeKalb's voters will cast ballots before Election Day. In the 2018 general election, about 150,000 DeKalb citizens voted early in-person at ten advance voting sites. In addition, about 20,000 voters mailed in ballots. These early-vote totals add up to slightly more than half of the total votes cast in DeKalb that year. This year, more than 160,000 DeKalb voters have already requested absentee ballots, according to Georgia Votes.
The county has added nearly 100,000 voters to its roles since the 2018 general election.  While the county anticipates handling 200,000 absentee ballots, the number could easily rise to 250,000 or more.
To make sure everything is cool, you should check your registration and absentee ballot status on the Georgia Secretary of State's My Voter Page.
As everybody's saying all over the place, make a plan to vote. For absentee ballot information, check this DeKalb Board of Elections webpage.
Problems? Call the Voter Protection Hotline at  888-730-5816.
Covid-19 Safety Precautions
The DeKalb Board of Elections has posted this notice on its webstie:
The health and safety of our voters and poll workers is important to us. For those who are planning to vote in-person, know that DeKalb County is implementing strict safety protocols at our polls.  All poll workers will be wearing masks and face shields and will be using hand sanitizer frequently. Voting equipment will be cleaned hourly or more and each voter will receive a disposable stylus to use as they vote. We're encouraging voters to practice social distancing while waiting in line, so do not be alarmed if lines look long. We strongly encourage all voters to wear a mask or face covering while they vote in person. Finally, for voters who use our drop boxes to return their absentee ballot, we recommend using hand sanitizer and washing hands after touching the drop box.
DeKalb early voting locations
Download or read:
Early Voting locations

DeKalb Absentee Ballot Drop Box locations
Download or read:
Drop box locations

Dekalb Nov. 3 poll locations (subject to change)
Downoload or read
November 3 Election sites

DeKalb Sample Ballot  
Download or read:
2020-11-03 Composite Sample Ballot


Liked this post? Follow this blog to get more.