Above: State Rep. Tommy Benton shares his thoughts about the late Rep. John Lewis
---
Part 1: "You can't fix stupid"
By Jonathan Grant
@Brambleman
Last week was not a good one for Georgia Republicans. Gov. Brian Kemp continued his stumble through a Covid-induced haze, and his plan for a special legislative session got pushback from the Lieutenant Governor and Speaker of the House. The party's image took a blow when crazy-talkin' Qanon supporter/purveyor Marjorie Taylor Greene won the party's 14th Congressional District runoff in a landslide. New polls show tight races for presidenta and senator, confirming Georgia's status as a swing state. To top it off (or bottom it out), unreconstructed State Rep. Tommy Benton burst back onto the public stage and said: Hold my beer. I got sumpin' to say about John Lewis.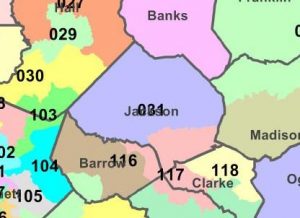 Speaking on a Commerce radio show last week, Benton, who represents House District 31 in exurban Jackson County (between Athens in Clarke County and Gainesville in Hall), denigrated the late Congressman's accomplishments, saying, "His only claim to fame was that he got conked on the head at the (Edmund) Pettus bridge. And he has milked that for 50 years–or he milked it for 50 years."
People took note when AJC's Jolt published his comments. Benton's Democratic opponent, Pete Fuller, posted audio of Benton's remarks, along with tributes to Lewis by prominent Republican politicians as reminder of how far outside the norm Benton's remarks fall.
For the record, besides being a civil rights leader and "getting conked on the head" (and along the way, arrested for his efforts), Lewis served on Atlanta's City Council, sponsored or co-sponsored more than 8,500 bills during 33 years in Congress, authored a series of graphic novels, one of which won a National Book Award, and crowd surfed at age 77. He was known as the "Conscience of Congress" and though stern and serious of visage, he was filled with a boundless Grace and generosity toward all.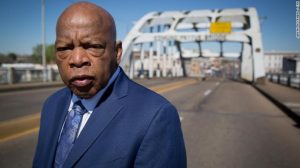 After Lewis and his fellow protesters were brutally beaten by Alabama state troopers on the Edmund Pettus Bridge, the horrified nation was galvanized to enact the Voting Rights Act; a new, stronger VRA pending in Congress now bears Lewis's name.
And when the horse-drawn caisson carrying the late Civil Rights hero's flag-draped coffin crossed the bridge, Alabama state troopers stood at attention and saluted him.
For Benton, not so much. Still why would he say such a thing? Well, as he said a few minutes before spouting off, "You can't fix stupid." This was in reference to his political opponents, but if the stupid fits …
For those people who aren't familiar with Benton, I'll give a brief rundown. He's not a big fan of civil rights. He's spoken favorably of the Ku Klux Klan, tried to restore Confederate holidays and strip Martin Luther King Jr.'s name from a street running by the Capitol, refused to have his name on a plaque commemorating a King statue at the Capitol, propagandized fellow legislators on behalf of the Confederacy's "Lost Cause" mythology, and was one of the relative handful of state legislators to vote against Georgia's hate crimes bill. I'm not saying he's a racist, but when you connect the dots, they lay out a straight line. Especially considering the fact he doesn't back down from the statements, no matter how asinine, by God.
Local Headline: "Rep. Tommy Benton again loses House chairmanship over racial comments"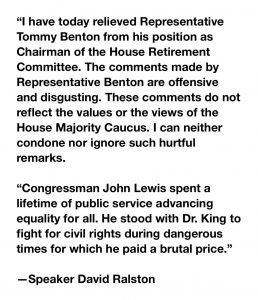 Consequently, Benton regularly embarrasses the Republican Party and his legislative colleagues. He was already on his second chance after a previous offense of pushing his slavery mythology on fellow legislators. This time, House Speaker David Ralston reacted with a big Oh Hell No and stripped Benton of his post as chair of the House Retirement Committee. So, he goes back to the back bench.
At the time of Benton's "slavery ain't no big thing" thing, Ralston also withdrew Benton's appointment to a panel that would recommend changes in Georgia's civic education curriculum. Benton could claim some expertise when peddling his propaganda, since he had been a public school civics teacher for decades, which meant indoctrinating a generation or more of Jackson County students with his "The South was Right" shtick. Poisoning future generations with Confederate claptrap makes his misbegotten beliefs more pernicious.
As far as Benton is concerned, it's no apologies … and no comment about his free speech outburst and the consequences thereof. "I don't have any comment on that," he told a reporter for Mainstreet Newspapers. "I'm not going to get into a contest with him, or you, or anybody else. That's all I've got to say."
And no apology or claim of misspeaking, cause he says what he means and he means what he says. Obviously, he's said quite enough. The question is: Are Jackson County voters going to keep giving him a platform to preach his pro-slavery, pro-Klan, and anti-civil rights rhetoric? Georgia will be watching.
Democrat Fuller "saddened but not surprised"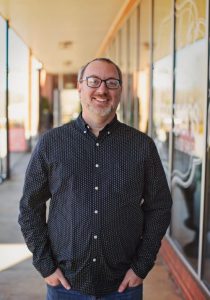 Fuller, who also serves as chairman of the Jackson County Democrats, is a computer systems administrator who spent many years working in the Jackson County School System. Taking a nuts-and-bolts approach to progress, his platform includes issues that impact his community: improving rural broadband, establishing more affordable housing, expanding Medicaid, and notably, making Jackson "more welcoming" as its population becomes more diverse.
On his website, Fuller states: "While the population is changing with the times, much of our leadership remains stuck in a past that isn't all that pretty." He's not talking only about Benton, but he's definitely including him in the hidebound mix. Fuller has said that working to remove Hoschton's racist mayor and her allies on City Council led to his decision to challenge Benton.
The unreported story was the displeasure shown by Jackson County House Rep Tommy Benton. He made his views well known that he did not support this effort at all. Rep Benton knew a direct line could be drawn between the views expressed by Councilman Cleveland and his own comments to the media. He's made his views very clear. That's why I made the decision to run this race against him this year.
And last week, after Benton reiterated his long-held views, Fuller issued a statement. In it, he said:
We were saddened, but not surprised by the dismissive statements by Rep Benton. Over his legislative career he has repeatedly taken actions to belittle the accomplishments of the leaders of the Civil Rights movement and these recent comments are unfortunately not out of the norm for him. Rep. Lewis was honored by state Republicans and Democrats alike at his passing, all making clear the profound impact he made in his long career. Rep Benton's statements just show how out of touch he is with the times in which he lives and why he is unfit to represent the people of Jackson County in the Georgia Legislature.
You can read the full statement here.
Part 2: Is Jackson County ready for change? (coming soon)

Liked this post? Follow this blog to get more.