There were protests of the Trump Administrations cruel and inhumane immigration policies all over the U.S. on June 30, including this one in Atlanta that featured a march and rally with speeches by Congressmen Hank Johnson and John Lewis. Peaceful and well-organized–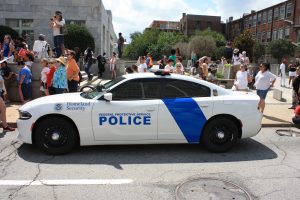 protesters were even nice to the Department of Homeland Security police car.
Meanwhile, there was also a less-publicized, more contentious Occupy protest of ICE at the Atlanta Detention Center that weekend. That was marked by mutual animosity between protesters camping out and Atlanta police who wanted to break up the protest by removing fixtures and banners. According to one protester, officers stood by while several trans protesters were physically attacked by a transphobic passerby, ignoring him as he landed blows and only intervening after he exposed himself. So, with police harassment as part of the deal, the protesters persisted for a couple of days, with the protest breaking up Monday, July 2.
Then, on July 4, there was another protest. On Facebook, Brandon English writes: "A peaceful ICE protest and march, culminated in several protesters being violently dragged from the sidewalk (which they were initially shoved onto) and into the street at which point they were arrested by the Atlanta Police Department."
And this happened:
For more, check out Brandon's Facebook post on the event.

Liked this post? Follow this blog to get more.