Jonathan Grant
@Brambleman
In 2016, four of Georgia's 10 Republican members of Congress ran unopposed in the November general election, and the rest faced only token opposition.
How bad was it? We were lucky if  our Democratic candidate had a Facebook page. In my district, the Infamous Sixth, there was debate over whether or not Tom Price's opponent, Rodney Stooksbury, even existed.
Not only that, but a statewide Public Service Commission seat went unchalleged by Dems.  That's changing, though. 
The other great, good news for 2018: Democrats in all 14 of Georgia's Congressional Districts have announced that they're running. Many candidates: 25 so far.
Since it's important to know stuff and network, I'm building a list of Twitter handles for Georgia's Democratic Congressional candidates. If you have a Twitter account, please follow them and amplify their voices. Do this even if you don't Tweet much.
So far, this is what I've got, by district (handles are live links, just click them):
1st District: @LisaRingGA
1st District: @ElectSteve2018
1st District: @BarbaraSeidman
2nd District: @SanfordBishop (Incumbent)
3rd  District: @OliverForGA3rd
3rd  District: @Vote_Chuck
4th District: @RepHankJohnson (Incumbent)
4th District: @Mr_Ryanguillorysr
4th District: @JuanParks4Ga
5th District: @repjohnlewis (Incumbent)
6th District: @kabelvoice
6th District: @keatley4change
6th District:@BobbyKaple
7th District: @KathleenAllenGA
7th District: @Carolyn4GA7
7th District: @DavisforGA
7th District: @DavidKim2018
7th District: @VoteEthanPham
7th District: @SteveReilly2018
8th District: @SwannforGA
9th District: @Mccallforall
10th District: @WinfieldForUS
10th District: @Montgomery4Cong
11th District: @DonWilsonGA
11th District: @AWynnForGA
12th District: @votetrent18
13th District: @repdavidscott
14th District: @Rosser14th
14th District: @FainLovett14
Note: I plan to do something similar, but bigger with all Democratic state House and Senate candidates.
Send info @Brambleman. My account is set up to take direct messages.
And under the "Ask and you shall receive heading," @PeachResist clued me into this document that lists websites and Facebook pages as well. Click to go to live link page.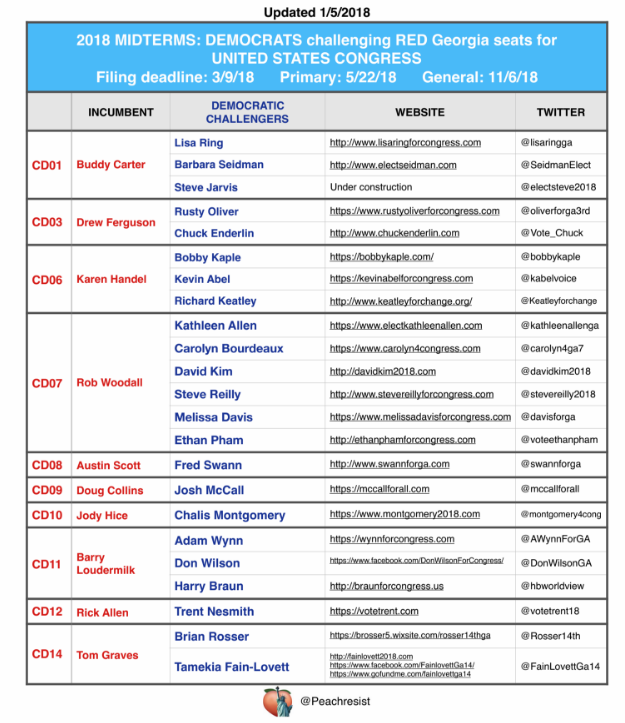 Liked this post? Follow this blog to get more.