Publicizing political smears should be beneath the dignity of a professional law enforcement agency 
By Jonathan Grant
@Brambleman
I wouldn't be writing this post if the Newnan Police Department hadn't decided for some reason to publicize the "event" depicted above:
"Book Burning Event, sponsored by Democrats for Social Change, ANTIFA, and B.L.M. Philosophy, history, poetry, theology, etc. all will burn this Saturday, 6 p.m. at the courthouse. BYOB." 
Poetry?
A moment's scrutiny should have told the Coweta city's finest that this was an act of malicious mischief. And the odds it was the work of a right-wing troll are approximately 100 percent. There's another photo of the sign below, showing an older white man practicing his golf stroke as he babysits the sign.
Sadly for Newnan, the police decided not to treat the sign as a likely prank. Instead, they treated it seriously–either due to gullibility, or something more malicious, a desire to participate in a smear (that those groups are fascist) and "owning the libs."
The police department's post went viral, at least locally. Fortunately, only brain cells were harmed during the the social media meltdown that followed.
Official Statement Regarding Possible Book Burning Event
The City of Newnan and the Newnan Police Department, along with the Newnan Fire Department is aware of several posts and images circulating on social media regarding a possible book burning event this Saturday, July 25 at 6:00 p.m. at the courthouse.

To be clear, no permit has been granted or issued by the City of Newnan (Government) for this event.
We will continue to monitor the situation, as our main priority is to ensure the safety of our community and keeping our residents, employees, businesses, and visitors safe.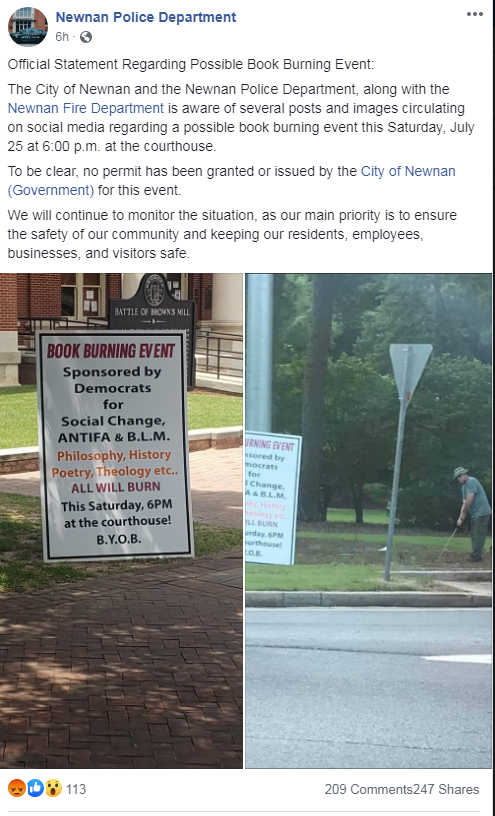 What's wrong with the picture?
For one thing, while most Democrats want to see some social change–like expanding Medicaid and removing children from cages, for instance–there's no such group as "Democrats for Social Change."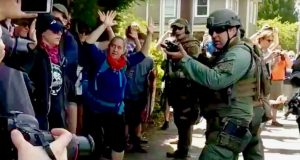 As for Antifa: Its members have some history in Newnan. Two years ago, the city hosted a National Socialist rally. Antifa lives to fight the fa, and there ain't nothing more fascist than Nazis, so they showed up to counter-protest. There was widespread criticism of the police response. Here's one headline: "Reporters at Georgia Neo-Nazi rally document cops brutalizing counter-protestors over bandanas." Georgia's anti-mask law goes back many decades, when it was used as a tool to fight the Klan. Now masks are de rigueur, unless you're Governor Kemp.
After that debacle, you'd think Newnan police would check out any plans Antifa had to come to town. Now, it just so happens, there's an Atlanta Antifascists Twitter account (DMs are open!) and a website with contact information, so the police could have checked if they'd … investigated. Soon after the police post went up, Atlanta Antifascists called the sign "an obvious hoax" and has some other thoughts to share.
All things considered, Antifa would much rather show up for a Klan rally than a book burning.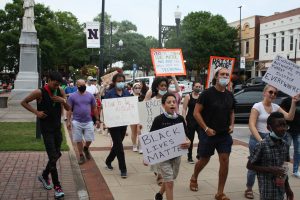 As for Black Lives Matter, c'mon. Who puts periods in the abbreviation? More seriously, there have been several peaceful Black Lives Matter protests at the Coweta County Courthouse on Saturday afternoons. Organizers had no plans to be there July 25, however.
It's easy to see something sinister at work. On July 4, armed right-wing militias and bikers showed up at Gettysburg National Park in response to an alleged Antifa flag-burning that was described in comical terms. It was a hoax, but the right-wingers were able to find someone in a Black Lives Matter T-shirt to harass. Friday and Saturday, people were in an uproar on social media. On the Times-Herald Soundoff Facebook page, a man asked, "Has anyone else heard of a blm and antifa permitted for protest in Newnan Saturday?" There was a Confederate flag in his profile. Just saying.
So it's easy to see the sign as an attempt to draw such folks to the courthouse square in Newnan. There are many such folks in Coweta County. One regular participant in the local protests noted, "This was started by someone wanting to hurt the peaceful protesters."And there were reports (unconfirmed) that a man with an AR-15 showed up at the courthouse Saturday afternoon to patrol the square.
Media and social media outcry 
The police department post had nearly 300 shares the time I saw it. Some of those who shared it thought it was mock-worthy. Many others saw it as an confirmation of their worst fears and welcomed the chance to denounce left-wingers. Some didn't know what to make of it. The sharpest folks pointed out that there is an outdoor burn ban in effect that includes Coweta County. Being law enforcement-types, why didn't the cops take that into account instead of saying "no permit has been granted or issued"?
The Newnan Times Herald covered the issue correctly at first, with this headline: "Book Burning Event Determined to be a Hoax." But then the headline was changed; the word "hoax" was removed, perhaps because the police never said it was a hoax. No, police were going to "monitor the situation."
Another case that was solved by everyone but the police.
"The sign placed at the square is a lazy and obvious attempt to sow hatred and dvision within our community," Coweta County Democratic Party Chairman Chuck Enderlin told the Times-Herald. "The CCDP strongly denounces any efforts to violate or deny Americans' 1st Amendment rights."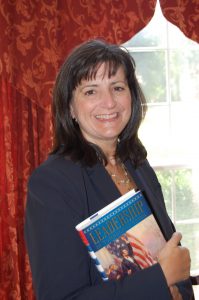 As for sowing hatred and division, it worked. Based on the comments I read, I'd have to say Coweta has a lot of haters (and several smartasses). Facebook is a site where people missing each other's points as they strain to make their own, and there was a lot of that going on this time around.
Here's the kicker. The most prominent Democrat in Coweta County these days is Jill Prouty, candidate for Georgia House District 71. She also happens to be Peachtree City's librarian. If there was a book burning, she'd show up to put it out. Over a photo of the sign, she tweeted: "The games people play. This is one of the dumbest. Book burning. By Democrats. And NPD is propagating this ridiculousness on their FB page. This librarian is calling BS."
Sometime during the weekend, after having stirred everybody up, the police department removed the post from its Facebook page "due to the nature of many comments," it stated in a subsequent post. Never mind that it shouldn't have put up in the first place. Then this: "If anyone recognized the golfer in the background, please let us know. He is the owner of the sign and we would like to speak with him." Why didn't they think of starting off with that in their original post?
After the Newnan PD pulled the post, the wind was gone. But you can still get a taste of the "debate" on NTH Soundoff's Facebook page.
Side note: The picture of the golfer (seriously, how many Antifa play golf?) was taken in Peachtree City on Wednesday, July 22. The Peachtree City Police didn't overreact or publicize the trolling. Then again, there's no courthouse in Peachtree City.
The good that comes out of this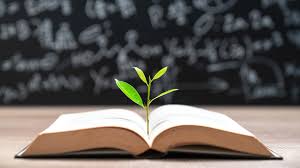 Despite all the consternation on Facebook, that showed a deep ignorance about what Democrats and their "ilk" do on the weekends, there is some good to come out of all this. In response to the collective dumbing-down, a newly formed local group, Citizens for Positive Reform, is holding its first annual "Hook'd on Books & Swap'n Drive" on Saturday, August 1 from 5:00 p.m. to 7:30 p.m. at 23 Richard Allen Drive, Newnan, GA 30263
Here's how they describe the event on Facebook:
Citizens For Positive Reform, along with our families and friends, invite you to join us to read your favorite book (socially distanced!), participate in a story time for children, and swap books with others for new reading material! We will also have a table set up with free book donations. We are also looking for community donations for school supplies to distribute to local students.
Jill Prouty says she'll be be at the Book Turning. Hopefully, the good librarian can convince the citizens of Newnan that Democrats are into reading books, not burning them. Y'all come.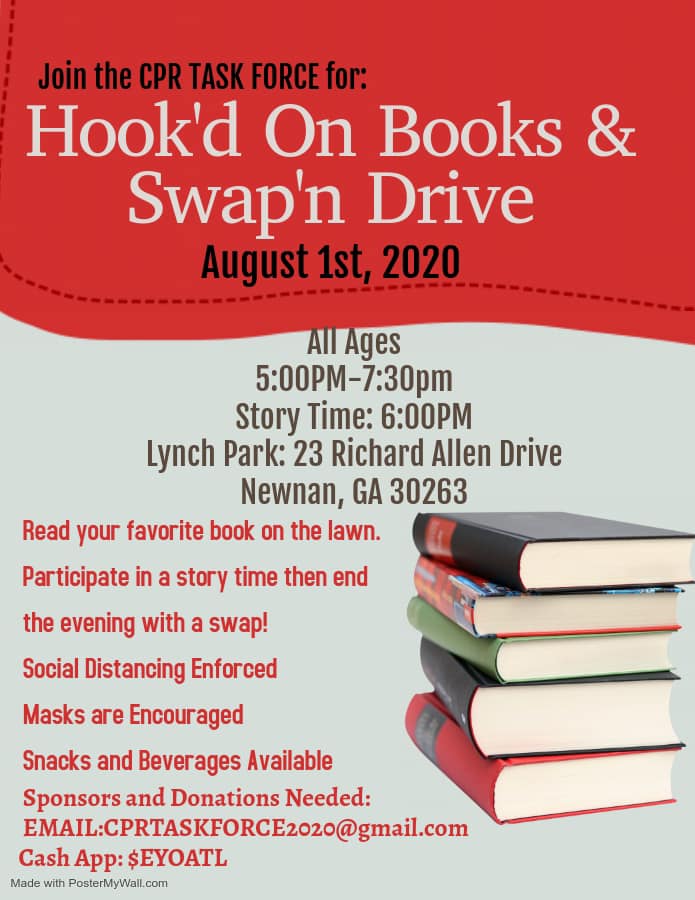 Liked this post? Follow this blog to get more.