By Jonathan Grant
@Brambleman
The DeKalb House delegation hosted a town hall at Porter Sanford Auditorium town hall Tuesday night.  The meeting was dominated by discussions of cityhood issues—Vista Grove and Greenhaven, but mostly Greenhaven. Discussion centered on the summary of a study, commissioned by the county. and presented at Tuesday's meeting by an official with the University of Georgia's Carl Vinson Institute of Government. Download the study here.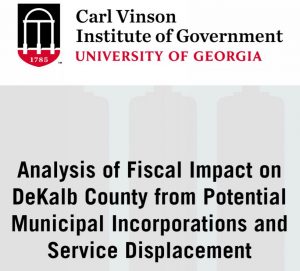 ---
While Vista Grove advocates spoke, there was plenty of comment about Greenhaven, along with some drama. Both cityhood proposals appear stalled in the General Assembly—as in not moving forward at this time.
Here's audio of the town hall, split into two parts. Please note I did not record every second of the meeting, but well over 95 percent of it. I believe some comments between recordings were missed, but not many. (I didn't know this would be a podcast when I was recording.) Exchange between Rep. Viola Davis and an angry Greenhaven cityhood advocate begins around 1:03;30 of Part 1:
Part 1
Part 2
There was discussion of the DeKalb's Ethics Board, which requires legislative action to restore as a functioning entity since the Georgia Supreme Court struck down the board's appointment process in 2017. The local delegation remains split on how to proceed. One bone of contention: whether or not to include a ban on giving  gift cards to county employee. Here's background on the controversy as well as a look at how voters in each of the county's legislative districts voted on last November's referendum.
Rep. Matthew Wilson introduced a bill that he considered a "clean fix" to board's appointment process to bring it in line with the Georgia Supreme Court ruling. Unfortunately, ethics has become another third rail in county politics.. "We will be moving forward with something," said Rep. Karla Drenner, the delegation's chair. "I can't say what that something will look like."
The meeting went over its time limit, which a few dozen people attended. To put a point on it, the crowd was played out to an instrumental version of War's iconic song, "The World is a Ghetto." Really.

Liked this post? Follow this blog to get more.