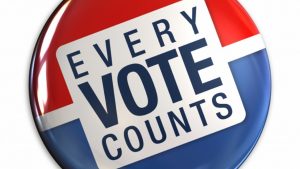 UPDATE: Download the complete early voting schedule from the DeKalb Board of Elections website.
Despite public protest over the proposed shuttering of Tucker Recreation Center as an early voting site, the DeKalb Board of Elections voted today to approve staff's early voting plan, which included a break away from using the center. So, no advance early voting starting April 30 in Tucker, although Tucker Library will open for voting May 14-18.
After discussion, the Board voted 4-0 to approve Director Erica Hamilton's proposal, which remained unchanged from the staff plan put forward at last month's meeting. There will be only three advance early voting polling locations opening April 30: Dunwoody Library and the Board's Memorial Drive offices will keep 7 a.m.-7 p.m. hours; The South DeKalb Mall polling site will keep the morning mall hours.
The best news of the day came when the Board also approved staff's firmed-up proposal for early voting on two Saturdays and one Sunday. This will make Sen. Fran Millar sad. He's not a big fan of Sunday voting—or Sunday voters. That's even sadder.
Here's the deal on weekend voting: Dunwoody, Memorial Drive, and South DeKalb will be open 9 am- to 5 pm. on two Saturdays—May 5 and May12—and Sunday, May 6, from noon-5 p.m.
The following locations will open 7 a.m.-7 p.m. the last week of early voting (May 14-18)
Berean Recreation Center, Lithonia
Brookhaven Recreation Center, Brookhaven
North DeKalb Senior Center, Chamblee
Coan Park Recreation Center, Atlanta in DeKalb
First Christian Church, Decatur
Stonecrest Library, Lithonia
Tucker Library, Tucker.
More on Tucker: Nearly 300 DeKalb residents signed petitions circulated by Sally Harrell volunteers (including me) and grassroots voting rights activists over the past two weeks around Northlake and Tucker precincts:

Ms Hamilton said after the April meeting that the staff had decided to drop Tucker Rec because it was "under new management," meaning that the county had turned the building over to the City of Tucker. Apparently, all was lost, or something. I spoke to the facility manager the next day. No one from the county had contacted him about using the facility, which is old and rundown but familiar and very convenient, hence a traditional place to vote for many locals. Suppressed vote totals from last year's Sixth District primary, when Tucker was not utilized, show its value. Dropping it has been an unpopular move with many voters, a fact noted by Board Member Michael Coveny, who called on Ms. Hamilton to investigate the possibility of opened Tucker Rec for November's general election. Coveny spoke of a "thoughtful" letter board members had received from from  former State Rep. Sally Harrell, who's trying to unseat Sunday voting foe Millar in Senate District 40, which covers much of North DeKalb. In the letter, Harrell wrote: "Early voting at Tucker Rec is a tradition for many DeKalb voters. Its sudden disappearance as a polling place would have a negative impact on the community, and therefore should be avoided."
BTW, I was one of four people who spoke out against staff's plan to snuff Tucker Rec as a voting site, along with two members of IndivisibleGeorgia04. When I presented the petitions, I also pointed out that shutting down Tucker Rec without notice would cause confusion. I also noted that Lithonia was obviously shortchanged due to its distance from both Memorial Drive and South DeKalb sites. I called on the Board to open up Saturday voting all over DeKalb, not just the three advance Early Voting centers. But if it wasn't in staff's plan, it wasn't going to happen.
Worth noting: During the April meeting, Ms. Hamilton told the Board that she plans to open up more sites with longer hours for the General election. So we'll see. Don't be surprised if the petition keeps circulating.

Liked this post? Follow this blog to get more.