Sen, Kelly Loeffler joined PSC member Jason Shaw in his Georgia Power rate hike victory tour
---
Or, how can someone so rich be so owned?

By Jonathan Grant
@Brambleman
Freshly sworn-in Sen. Kelly Loeffler, hand-picked by Georgia Gov. Brian Kemp to replace retiring Sen. Johnny Isakson, has, under terms of service, sworn her undying loyalty to Trump. She seems to have all her talking points—I mean beliefs—handed to her as part of the process. In a recent interview, Democratic Senatorial candidate Teresa Tomlinson, running against now-senior Sen. David Perdue, didn't talk about Loeffler's appointment, and complimented her past good works, but noted, "To the extent that she's said she's prejudged the circumstances, she shouldn't serve on this impeachment trial."
Spoiler alert: Loeffler has jumped through hoops since her appointment to telegraph her vote in a Trump trial Trump, calling the constitutional process a "hoax," a "circus" a "sham," and a "distraction and sideshow." She has tweeted "my first vote will be to end the impeachment sham." This will come after solemnly swearing "that in all things appertaining to the trial of the impeachment now pending, I will do impartial justice according to the Constitution and laws: so help me God." Seems like there might be a problem here.
Former Columbus Mayor Tomlinson has little patience for senators who won't do their job, "The fact that (Loeffler) has determined this to be in her political interest speaks to the fact that she's not a serious person and she's not (going to be) a serious senator. She needs to rise to her better self."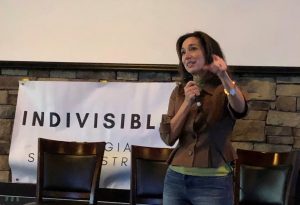 I just gotta say: Give Tomlinson credit for being optimistic about human character.
Still, she finished up on the subject with some strong words. "This is so important, and the fact that (Perdue and Loeffler) are demeaning it as a political football just speaks to the fact that they don't deserve to serve. They don't understand the gravity of it, that they think it can be brushed away with an appearance on a cable news show or a quip … shows that they don't have the political maturity and experience to govern this country."
Read more about Tomlinson and her longstanding call for Trump's impeachment.

Liked this post? Follow this blog to get more.