Teresa Tomlinson has the floor at January Democratic candidate forum in Dunwoody
---
By Jonathan Grant
@Brambleman
Jon Ossoff has been using a bagful of cash and the endorsement of one man, Rep. John Lewis, in an attempt to convince people that he's the inevitable Democratic nominee to face Sen. David Perdue in November. It's the tactic he used to muscle his way to the front of the line among Democrats in the 2017 Sixth Congressional District special election.
That year, the strategy worked–up to the jungle primary, at least. After spending more than $30 million—while refusing to live in the district–Ossoff lost the runoff to Karen Handel. A year later, Democratic gun-reform advocate Lucy McBath beat the pedestrian Trumpist Handel by a point. In his race, Ossoff relied heavily on out-of-state donations. In fact, many of his staffers came from out-of-state, too, and knew virtually nothing about Georgia or the Sixth District when they hit the ground.
Will same tactics yield different result?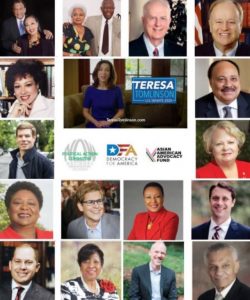 Fast-forward, and Ossoff is using the same two-dimensional tactics in Georgia's Senate race. This time it isn't working so well. The other candidates haven't backed down, chief among them, former Columbus Mayor Teresa Tomlinson, the first candidate to enter the race. While Ossoff opened his campaign with a huge edge in name recognition, Tomlison has been steadily building momentum and gathering support of leaders throughout Georgia, casting doubt on Ossoff's largely self-proclaimed status as a front-runner.
As I noted previously: "Serious people are taking Tomlinson seriously. Among elected officials, civil rights, and community leaders across the state, Tomlinson is the clear favorite in the race, by a country mile. There are seven Democratic candidates in the race. Tomlinson has earned more endorsements than the other six combined. "
In a very real sense, Ossoff is relying on low-information voters to get him through the primary. He has avoided answering questions in debates. Until recently, he didn't have a "positions" page on his website in stark contrast to Tomlinson, who posted fourteen position papers early in her campaign. Now it's sixteen.
More than 60% of Ossoff's money comes from out of state 
Monday, Tomlinson released some stunning–though not surprising–figures from Open Secrets, the campaign finance tracking website.They show a glaring weakness in Ossoff's campaign: his reliance on out-of-state donations. While Ossoff has raised more money than Tomlinson, most of it comes from out-of-state donors who likely haven't heard of Tomlinson. Low-information donors, to be blunt about it. Tomlinson has received about $400,000 more in-state contributions than Ossoff: About $1.3 million for her campaign; $900K for his.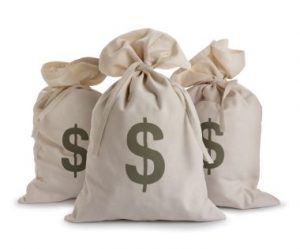 This morning, she texted: "We far outpace Mr. Ossoff with (the) number of Georgia voters who have contributed to this campaign: Tomlinson 2258;  Ossoff 735." That's a three-to-one margin. It's also nothing new. In 2017, just 14 percent of his donations came from Georgia. Bottom line: He still hasn't built a strong base in the state.
While there are several candidates in the race, only three have raised substantial cash. Sarah Riggs Amico, who ran for Georgia Lieutenant Governor in 2018, lags behind both Tomlinson and Ossoff in fundraising (See table below.) She has augmented donations with $750,000 of her own money.
---
Tomlinson's  campaign released this statement:
Columbus, GA — In the hotly-contested June 9 Democratic Primary race for U.S. Senate, candidate and former Columbus, Georgia Mayor Teresa Tomlinson, has significantly outraised Jon Ossoff in Georgia contributions. As of the March 31, 2020 Federal Election Commission filings, Tomlinson had bested Ossoff in the State of Georgia $1,292,529 to $905,692. This nearly $400,000 Georgia donor advantage is starkly reflected in the percentage of Georgians who have given to the respective campaigns. Tomlinson has raised 70% of her contributions from inside the State of Georgia compared to Ossoff's 39%.

"As we head into the final month of this primary, Georgians of all walks of life and some 133 counties are demonstrating their vote of confidence in this campaign by contributing to it financially," said Tomlinson. "Our contributors are largely Georgia voters. Georgians know the stakes are high. We must nominate the strongest candidate to beat David Perdue and flip the U.S. Senate. This strong showing of financial support in Georgia will be followed by a strong showing at the ballot box as more and more Georgians hear our message of proven, progressive, winning leadership."
Tomlinson also provided this graphic:
Source: OpenSecrets.org

Liked this post? Follow this blog to get more.