Click for info on voting in Tuesday's election
Download the flyer:Jill Prouty Stands out
I'm not against gun ownership," Jill Prouty says. "But I want people to be educated about guns. They should know a family member is more likely to be shot than an intruder."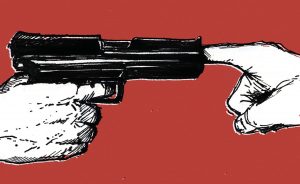 The Peachtree City library director is the only candidate in the Sept. 3 House Dristrict 71 special election who supports common-sense gun legislation, such as universal background checks. Recent polls show that a vast majority of Americans (and 84% of Republicans) approve of instituting background checks for sales at gun shows and other private sales. Even in the wake of mass shootings, all three Republicans in the race stand firmly with the gun lobby. "They are completely unwilling to confront the issue," Prouty said. They don't want to do anything."
Prouty also supports "red-flag" legislation to block people convicted of misdemeanor domestic violence from gaining access to firearms. She'd like to repeal Georgia's "campus carry" law, because, after all, people walking around with guns unchallenged is cause for concern, especially to police. "You can walk into a public library with a gun," Prouty notes. "We can't do anything about it. And we can't afford to have armed guards everywhere."
About the special election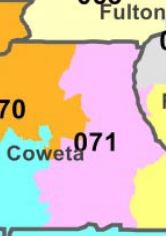 Georgia House District 71 covers part of eastern Coweta County and a slice of Peachtree City in Fayette. The special election to replace replace David Stover is Sept. 3, with an Oct. 1 runoff, if necessary. Click for voting information in Coweta and Fayette.
Learn more about Jill Prouty: Visit her website or follow her campaign on Facebook and Twitter.
You can read more about Prouty's candidacy below.
Former Republican Jill Prouty stands out from MAGA hopefuls in Georgia special House race

Liked this post? Follow this blog to get more.