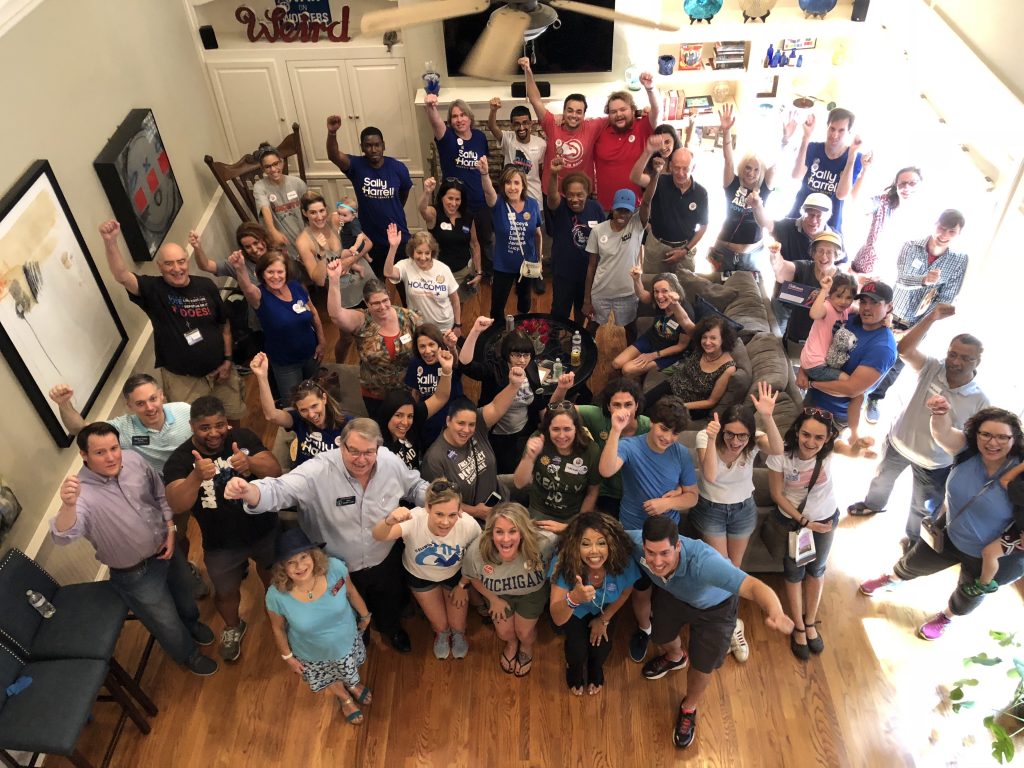 Lucy McBath and Friends at Tracy Prescott's House
---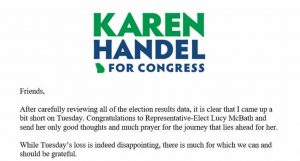 Jonathan Grant
@Brambleman
Nearly a year and a half after Jon Ossoff's failed $30 million campaign, Karen Handel  conceded Georgia's Sixth District Congressional race to Lucy McBath.
It is a great victory for Lucy. It is exciting to have her as my representative in Congress. I wrote a few weeks back: "Having transcended a tragedy, she exudes hope and graciousness—in sharp contrast to her opponent, a career politician, uninspiring at best, who believes crying children should be gaveled into order."
But now I concede that Handel is capable of graciousness. "Congratulations to Representative-Elect Lucy McBath and send her only good thoughts and much prayer for the journey that lies ahead for her," she said in a statement this morning.
After such a close loss, I suspect Handel will be back on the campaign trail before long.

DeKalb's Blue Wave
To me, the most interesting thing about the election results in this race is the oversized role DeKalb County played. Like Ossoff, McBath lost Cobb and Fulton counties but won DeKalb.  DeKalb–which has fewer Sixth District voters than Cobb or Fulton–punched above its weight  class.
McBath didn't just win DeKalb. She won BIG, with 43,379 votes and a 60-40 margin, with 10,000 more votes than Ossoff received, although his percentage was close to hers, at 58.5 percent. The difference is explained by a phenomenon known as the "Blue Wave" and nowhere in Georgia was it more powerful than in North DeKalb—specifically, Senate District 40 and environs. Besides Sally Harrell's great victory over GOP incumbent Fran Millar in the Senate race, four State House seats that share turf with the 40th were flipped.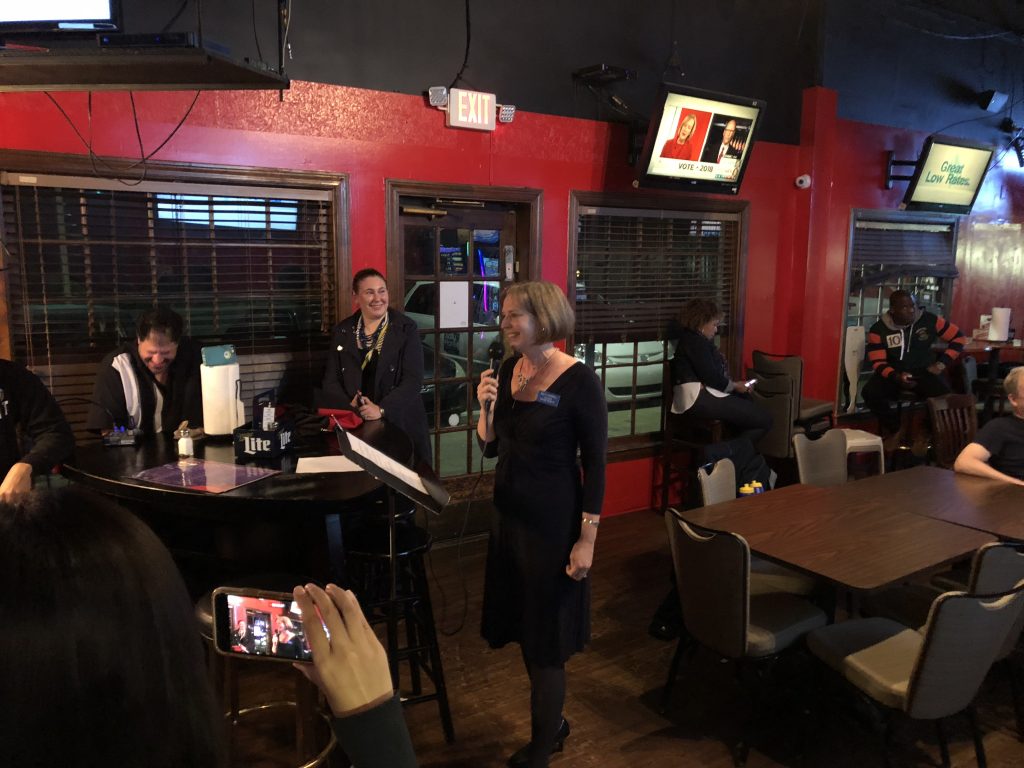 ---
With five energetic challengers and popular incumbent Scott Holcomb—who won in a landslide against a hardcore Trumpist and Muslim hater—both McBath and Stacey Abrams had an army of grassroots allies to Get Out The Vote. McBath's most prominent supporters in DeKalb have been hardcore Democratic activists Tracy Prescott and Jeff Corkill. Their involvement was so crucial, McBath's campaign put its DeKalb headquarters within walking distance of their house.
It worked! This time, battle-hardened grassroots and an inspirational candidate were enough.
Couldn't have done it without Fran
But we should also give credit where credit is due. The other most interesting thing is Fran Millar's role in this. Remember him saying this last year? "I'll be very blunt: These lines were not drawn to get Hank Johnson's protégé to be my representative. And you didn't hear that. They were not drawn for that purpose, OK? They were not drawn for that purpose."
He thought he was off-record. Still, I don't think he was being completely honest, unless he was being dumb. No, I think he was whistling through the graveyard. Because what he did when he set those lines was make the Sixth less Republican, because the reddest part of DeKalb became the bluest of the Sixth. He'd seen the 40th's leftward slide: In 2016, a vanity challenger without money or campaign took more than 40 percent of the vote.
Tick, tock.
In 2018, Millar faced his first serious challenge in 20 years, when former State Rep. Sally Harrell decided to challenge him. He got beaten rather badly. Not quite a landslide, but they're still counting absentee ballots.
Back to the Sixth: Fran has maintained that he "saved" his constituents from the perils of being represented by Hank Johnson by shifting boundaries. Which sounds kinda racist because it is. But what he really was protecting was himself from having to deal with Johnson, whom he hates, on state-federal issues by removing all his constituents from Johnson's district.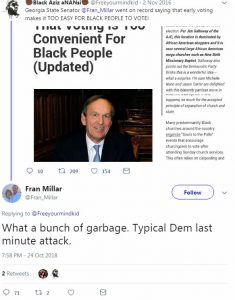 Over the past several years, we've seen more and more dog whistling from the senator, along with race-baiting Democratic candidates this year. He also kept bring up the issues of Johnson and another code word—the dreaded "MARTA"—on the campaign trail. In addition to improving mass transit, If Sally Harrell won, he claimed, Dunwoody would go back into the Fourth District. For Millar and his Dunwoody Country Club followers, this would be a terrible, horrible, no good, very bad thing. Never mind that Dunwoody wasn't in the Fourth in 2010. It's the fear that counts!
A couple of things about that: First of all, Democrats aren't going to control redistricting in Georgia following the 2020 census. Furthermore, Dems would have to be stupid or crazy to want to go back to a safe Dem seat when they can make a difference in the Sixth, especially now that we have turf to defend!
Bottom line: Thanks Fran, for laying the groundwork to flip the Sixth! Your racism and fear have made the world a better place. How's that for irony?
Disclosure: I would much prefer being represented by Johnson than Karen Handel or Tom Price, and actually campaigned for him twice, because he's a decent fellow and he was running first against Cynthia McKinney and later Vernon Jones, who are not, in my opinion, folks we need in elected office.

Liked this post? Follow this blog to get more.