Supporters at Athens MLK Day Parade (photo courtesy of @MokahforGeorgia
---
By Jonathan Grant
@Brambleman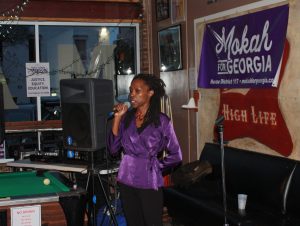 Mokah Jasmine Johnson is an activist's activist—so much so that she's hard to keep up with. Saturday, she announced her campaign for the Georgia House of Represntatives. Monday, she was overseeing the Athens MLK Day Parade. And Tuesday night, the Athens-Clarke County Board of Elections member sent a ripple through the election security crowed–and a message to Georgia's Secretary of State's office, which has been stumbling through the rollout for the state's new voting system.
When I say people …
This started out as a campaign announcement story, but it turns out to be about something and someone special. Mokah for Georgia, y'all. This is how she greeted her supporters Saturday: "When I say people, you say power. People!"
"POWER!" roared the crowd,
She's not kidding about having a people-powered campaign. More than a hundred people braved the cold wet afternoon, shifting from the original venue of the City Hall steps to Max Canada, a downtown bar. A big crowd, really–it would have been a good showing for a Congressional candidate. And the more people learn about her, the bigger the crowds will be.
Local progressives had known about her intention to run against GOP Rep. Houston Gaines since last August, when she filed campaign paperwork. She already has a large and apparently well-organized volunteer staff, young and enthusiastic, as befits a university town. Athens is home to the University of Georgia, and Clarke County is one of the bluest counties in Georgia. Stacey Abrams received 70 percent of the vote there in 2018.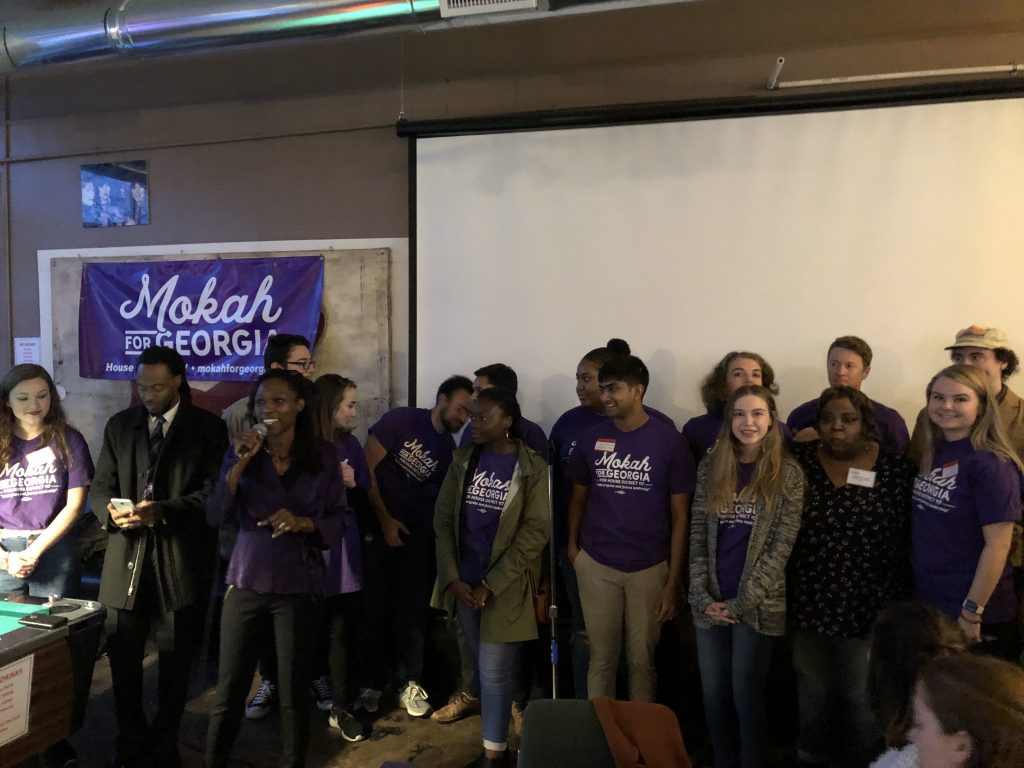 ---
Flagpole has posted video of the event, which is worth watching, because Johnson is an inspirational candidate. And the people she's inspired … are inspiring. One of the highlights, a poem by Marcus Mincey:
---
And when she says people, she means everyone. She made it clear that this is a campaign for equity and justice, and inclusion, and love. The featured speakers at her rally proved it: white, black, Hispanic, LGBTQ.
Therefore, it's no surprise. In that she's a strong advocate for hate-crime legislation. While a hate-crime bill passed the Georgia House last year, it's currently stuck in the Senate. Even if it passes, that should be more. In a recent Medium post, she wrote about additional reforms she wants: "A hate crime law would include mandatory reporting of hate crimes by local law enforcement and increased funding for police training on how to handle hate crimes."
A watermelon-flavored drink started it all
Johnson, a music promoter and educator ("I've got a Master's degree and the college debt to prove it") spent the last few decades raising a family, but things changed for her four years ago. During her campaign kickoff, she said, "This day is very, very special, because four years ago, on this very day, is when my life completely changed … and made me start questioning where do I live, and do I really want to stay here."
She was referring to the controversy of an offensively-named drink offered at a downtown Athens bar named after Confederate General P.G.T. Beauregard.
In response, Johnson organized a protest on the following MLK day, Jan. 18, 2016. She makes it clear that she didn't intend it as a King Day celebration. (She said that, at that time, Athens didn't have a King Day parade, although people participated in a Day of Service.)
She changed that, too. For the past three years, Johnson and her husband Knowa  have organized the MLK Day Parade. This year, she said that that there were more than 200 participants, including the mayor and city officials, and estimated the crowd at more than 1,000. (Photos)  "It was beautiful," she added. "It's always nice to see so many people come together within the community.
The co-founder and president of the Athens Anti-Discrimination Movement has become a force in local politics. Tackling the issue of mass incarceration, she helped push the local government to drop curtail cash bail requirements for minor offenses. (Her Republican opponent has a donation from a bail bond company on his financial disclosure.) She's also worked to establish an Athens-Clarke County Inclusion Office. 
And last year, the local Democratic Party nominated her to a seat on the Athens-Clarke County Board of Elections. As a board member, she responded to public concern over the state's ability to have a new voting system in place, making a motion (which passed 3-2) to have a backup plan using hand-marked paper ballots in the March 24 presidential primary. This move is drawing accolades from election-security advocates. Voting rights advocate Jeanne Dufort attended the meeting and tweeted out the news.
Johnson said she proposed a motion to use paper ballots as "Plan B" for Athens-Clarke County voters Tuesday at the county Board of Elections meeting. The motion passed 3-2. She pointed out that her plan is modeled after a successful pilot program in Cobb County last year, and would be used if Athens-Clarke County is not prepared to execute March primaries. "We need to make sure that everyone who comes to the polls gets the opportunity to vote securely—without the burden of long lines and delays," Johnson said.
Johnson said she would be stepping down from the Board of Elections next month as she pursues her legislative campaign. She has noted the contrast with Brian Kemp, who refused to step aside as Secretary of State while he was running for governor against Stacey Abrams. Instead, he oversaw his own election in a contentious race that included allegations of systemic voter suppression, incompetence by his office, and this stunt, when his office issued a baseless charge against Democrats on the eve of the election.
---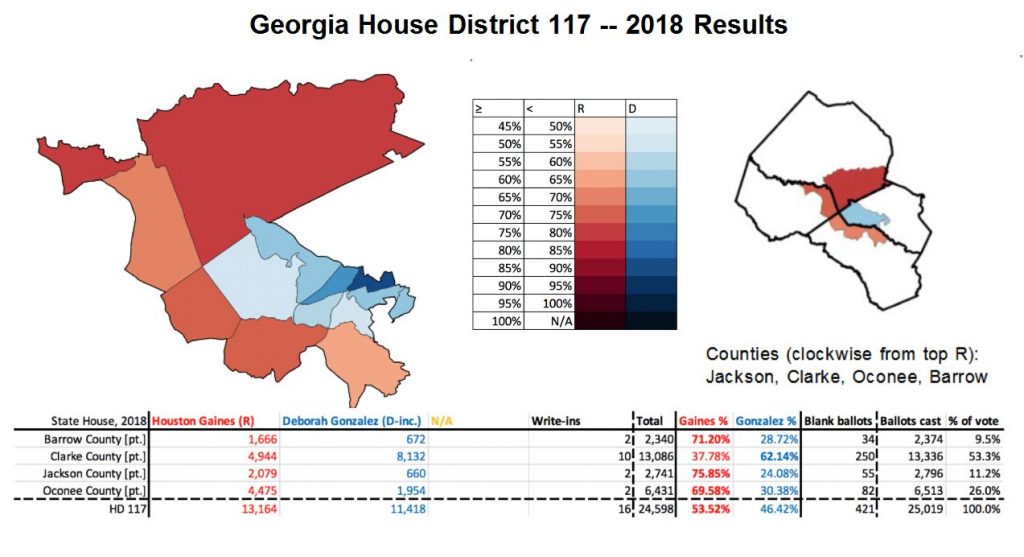 ---
The race for House District 117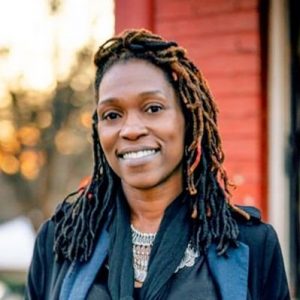 "I'm already doing it," Johnson told supporters Saturday. "I want to do it on a bigger level, and fight for it on a state level."
To do that, she'll have to unseat Gaines, a Fraternity Brother and former UGA Student Government Association president who jumped into politics shortly after graduation. He lost a special election for the seat to Deborah Gonzalez in 2017 thanks to an outrage-inspired blue wave in a low-turnout election. He came back to beat her in 2018.
He and Johnson couldn't be more different on the issues. She fights hate crime. He voted against the hate crime bill that passed the House. She's pro-choice. He voted for last year's abortion ban. She fights mass incarceration. He takes money from bail-bond companies. He's also endorsed by the NRA, which gives him a 93 rating (out of 100) in a town that has issues with Georgia's Campus Carry law.
Clarke County contains most of the voters in the district which was gerrymandered to include sections of deep-red Jackson, Barrow, and Oconee counties to make it more difficult for a Democrat to win. However, there is a strong likelihood of a blue wave locally in 2020. Expect to see a concerted effort to get UGA students to register to vote in Athens this year. And while Gaines may have gotten a pass from old schoolmates on his way to a legislative seat, his voting record puts him at odds with many of them. As for UGA voters, Johnson said with a chuckle. "I heard they're mad at him."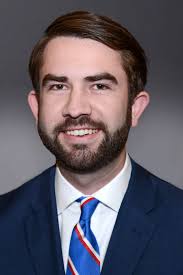 It will be an interesting race, and a crucial one. Johnson told supporters Saturday: "To flip the House, you have to put me in the House." Which is exactly true. Democrats currently hold 75 seats in Georgia's lower chamber, and they need a net gain of 16 to take control. This is an essential goal in 2020, since the next class of legislators will handle redistricting after the 2020 census; Dems need a seat at the table to avoid the map butchery the GOP engaged in last time around. Both HD117 and neighboring HD119, currently held by GOP Rep. Marcus Wiedower and challenged by former State Rep. Jonathan Wallace, are high on the list of seats targeted by Democrats.
Gaines and Wiedower can count on a lot of GOP support in their effort to hold their seats, which have each flipped twice in the past three years. Gaines has raised more than $355K over the past two election cycles, and with the Republicans' "Mojo Campaign" there's little doubt he'll see a lot more. Johnson is just learning the ropes on fundraising. The money disparity is "nothing new for me, " she said. "He's already coming from a privileged place."
If you want to help even the odds, donate here.
Follow Mokah Johnson on Twitter, Facebook, or visit her website

Liked this post? Follow this blog to get more.